Update, 2:30 p.m. ET: Kenya's disaster operations center and interior minister have increased the death toll to 147 in attack on college.
---
Update, 12:30 p.m. ET: Interior Minister Joseph Nkaissery updated the death toll to more than 70 people, two of them are gunmen involved in the attack.
In a statement on Twitter, the ministry said Thursday: "Two terrorists have been neutralised in the ongoing operation. Security agencies intensify rescue operation."
Most students at Garissa University College remain unaccounted for, more than 11 hours after the attack started.
Nkaissery said: "Garissa University college has a student population of 815 and about 60 members of teaching staff, as of now we are able to account for 292 students and all the staff."
One of the survivors of Thursday's attack, Collins Wetangula, told The Associated Press he was preparing to take a shower when he heard gunshots coming from Tana dorm, which hosts both men and women, 150 meters (yards) away. The campus has six dorms and at least 887 students, he said.
When he heard the gunshots, he locked himself and three roommates in their room, said Wetangula, who is vice chairman of the university's student union.
"All I could hear were footsteps and gunshots. Nobody was screaming because they thought this would lead the gunmen to know where they are," he said.
He added: "The gunmen were saying, `Sisi ni al-Shabab,'" - Swahili for "We are al-Shabab."
He heard the attackers arrive at his dormitory, open the doors and ask if the people who had hidden inside were Muslims or Christians.
"If you were a Christian, you were shot on the spot," he said. "With each blast of the gun, I thought I was going to die."
—
Update, 9:50 a.m. ET: President Uhuru Kenyatta said more security forces have been deployed to try to end a hostage situation more than nine hours since Al Shabaab gunmen attacked Garissa University College in northeast Kenya.
Kenya's Interior Minister Joseph Nkaissery says one suspected extremist was arrested as he attempted to flee the scene. One survivor said he personally saw five gunmen at the college.
Kenyatta said in an address to the nation he had directed the police chief to fast-track the training of 10,000 police recruits whose enrollment is pending, adding that the country has "suffered unnecessarily due to shortage of security personnel."
Update, 6:40 a.m. ET: At least 15 were killed in the attack and 60 others injured.
"All I could hear were footsteps and gunshots nobody was screaming because they thought this would lead the gunmen to know where they are," Collins Wetangula, the vice chairman of the student union at Garissa University College, told the Associated Press. "The gunmen were saying sisi ni al-Shabab (Swaihi for we are Al Shabab)."
"If you were a Christian you were shot on the spot," he added. "With each blast of the gun I thought I was going to die."
—
UPDATE, 5:49 a.m. ET: Al Shabaab took credit for the attack and have reportedly taken Christians hostage:
Al Shabaab attacked #GarissaUni because "it's on Muslim land colonized by non-Muslims"

— Anne Soy (@Anne Soy)1427966577.0
Al Shabaab to BBC: We've killed many people; Kenyans will be shocked when the go inside #GarissaUni

— Anne Soy (@Anne Soy)1427966371.0
—
UPDATE, 5:10 a.m. ET: A mortuary attendant says at least 15 are dead:
—
Story by the Associated Press; curated by Oliver Darcy.
NAIROBI, Kenya (AP) — Gunmen attacked a college campus in northeast Kenya early Thursday, shooting indiscriminately in dormitories and killing at least two people and wounding 29 others, police said. The attack bore the hallmarks of a Somali Islamic extremist group.
29 injured from the Garissa attack have been admitted at Garissa Level 5 Hospital. 4 in critical condition. Majority have gunshot wounds.

— Disaster Operations (@Disaster Operations)1427957006.0
Terrified students streamed out of buildings, some young men shirtless, as arriving police officers hunkered down, taking cover. The gunmen had opened fire at guards, triggering a "fierce shootout" with police guarding student dorms, Kenya's National Police Service said in a written statement.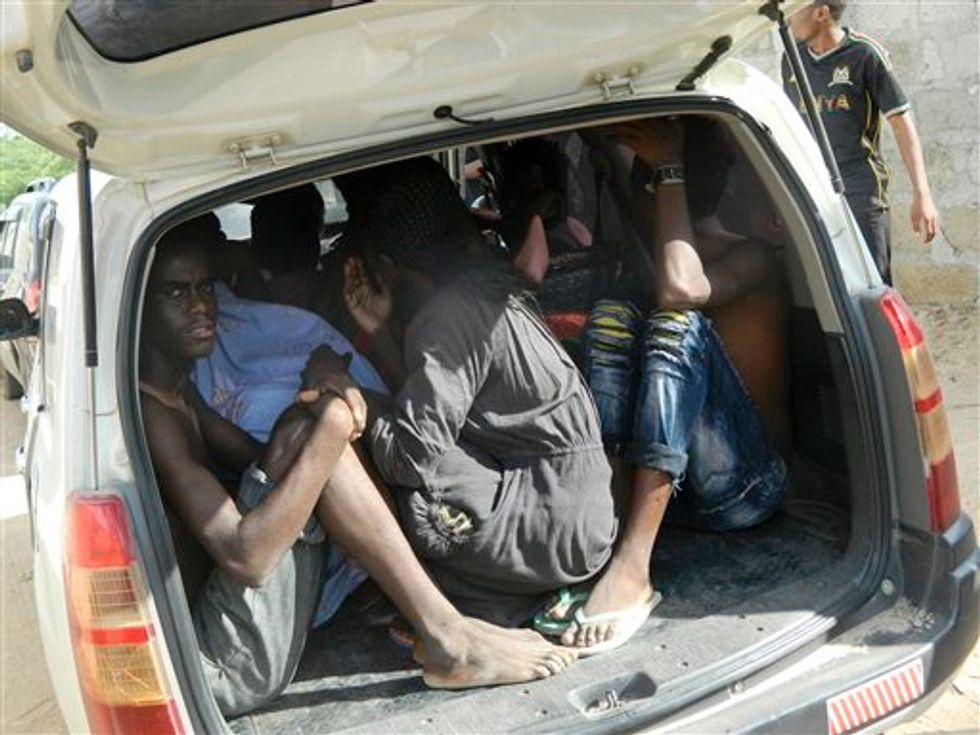 Students of the Garissa University College take shelter in a vehicle after fleeing from an attack by gunmen in Garissa, Kenya, Thursday, April 2, 2015. (AP Photo)
The attackers managed to get into the dorms of Garissa University College, raising the possibility of hostage-taking.
Kenya's National Disaster Operations Center said 29 people wounded during the attack have been admitted to a local hospital, four of them in critical condition. Most have gunshot wounds, the center said.
Police and military surrounded the buildings and were trying to secure the area, police officer Musa Yego told The Associated Press.
Abass Gulett, head of the Red Cross in Kenya, said fighting was ongoing as the security forces try to retake some university blocks from the gunmen. "We understand (the security forces) have secured some blocks of the university," he said.
The National Disaster Operations Center said on Twitter that three of four dorms have been evacuated, with the gunmen cornered in one dorm. No further details were immediately available and Kenya Defense Forces have surrounded the area, journalists said, impeding their access.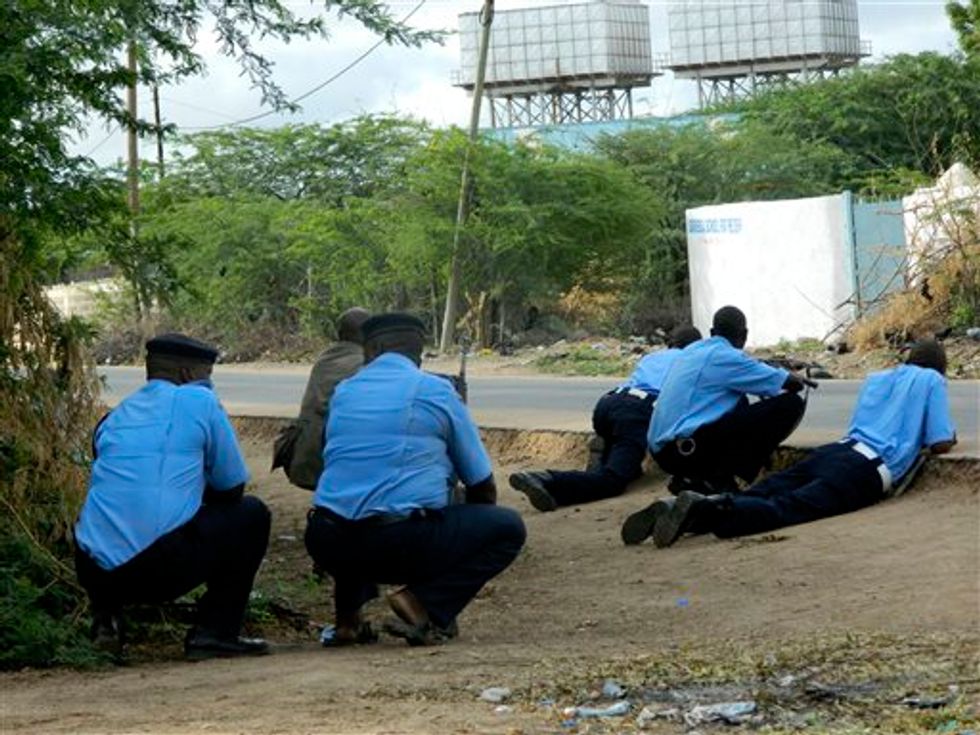 Kenyan police officers take cover outside the Garissa University College during an attack by gunmen in Garissa, Kenya, Thursday, April 2, 2015. (AP Photo)
Kenya's northern and eastern regions, which are near the Somali border, have suffered many attacks blamed on the al-Qaida-linked Somali group, al-Shabab, which has vowed retribution on Kenya for sending troops into Somalia to fight the militants. Kenya sent its troops there in 2011 to fight al-Shabab militants following cross-border attacks. Al-Shabab responded with a deadly attack on a mall in Nairobi, Kenya's capital, in 2013.
We are saddened & angered by today's terrorist attack @ #Garissa Univ. Our deepest condolences 2 family/friends of victims. #CowardsNeverWin

— U.S. Embassy Nairobi (@U.S. Embassy Nairobi)1427955474.0
Last month, al-Shabab claimed responsibility for attacks in the county of Mandera on the Somali border in which twelve people died. Four of them died in an attack on the convoy of Mandera County Governor Ali Roba.
Police statistics show that 312 people have been killed in al-Shabab attacks in Kenya from 2012 to 2014. Thirty-eight people were killed and 149 wounded in Garissa in the same period, according to police statistics.
—
The Associated Press contributed to updates in this report.