The city of Madison, Wisconsin, is believed to be the first municipality in America to add atheists as a specific class of protected citizens in its equal opportunities ordinance.
The city's common council unanimously adopted an amendment to its legal code on Tuesday night with no objections and with 14 of the council's 20 members signing on as co-sponsors, according to NPR.
"This is important because I believe it is only fair that if we protect religion, in all its varieties, we should also protect non-religion from discrimination. It's only fair," Anita Weier, a member of the common council, told WISC-TV. "There are many categories that are protected. And it did occur to me that if religion was then perhaps the opposite should be."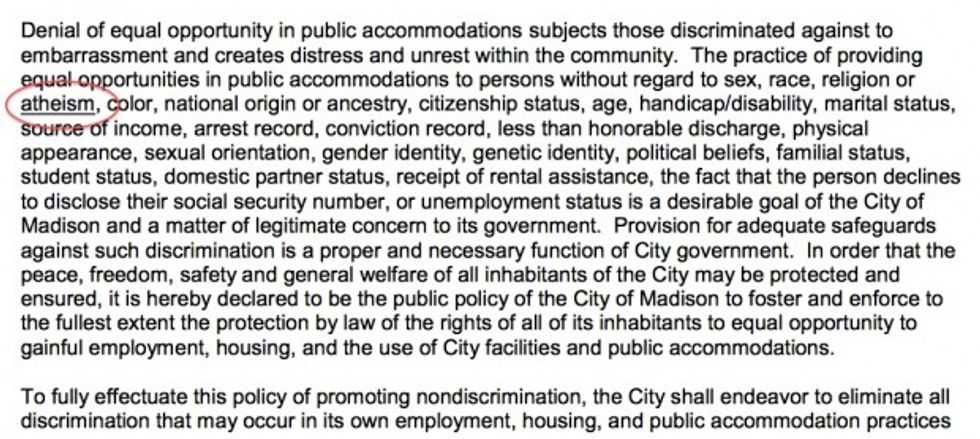 City of Madison
Atheists will join a plethora of other individuals who fall under protected classes, which include race, sex, color, religion, marital status and physical appearance, among a plethora of other categories.
The language will follow the words "religion" in specific sections of Madison's legal code, NPR reported.
Consider the proposed text from one version of the ordinance that has circulated:
"The practice of providing equal opportunities in employment to persons without regard to sex, race, religion or atheism, color, national origin or ancestry, citizenship status, age, handicap/disability, marital status, source of income, arrest record, conviction record, credit history, less than honorable discharge, physical appearance, sexual orientation, gender identity, political beliefs, familial status, student status, domestic partner status, receipt of rental assistance, the fact that the person declines to disclose their social security number, or unemployment status is a desirable goal of the City of Madison and a matter of legitimate concern to its government."
While no one spoke out at Tuesday's meeting against adding the language to the ordinance, five atheists did deliver addresses detailing claims of discrimination that they have seen in housing, employment and other public venues.
Among them was Annie Laurie Gaylor, co-president of the Freedom From Religion Foundation, an atheist activist group based in Madison.
"It's really making a big statement that we're not going to put up with discrimination in the name of God," she said. "That being a believer doesn't mean you can discriminate."
The language protecting atheists will officially go into effect after the mayor signs the bill and the text is subsequently published. 
(H/T: NPR)
--
Front page image via Shutterstock.com