Iran has sent Hamas tens of millions of dollars to help rebuild tunnels between Gaza and Israel and to replenish its missile stock, Britain's Sunday Telegraph newspaper reported.
The assistance was being extended to the Palestinian terrorist group even as Iranian negotiators were meeting with U.S. officials and representatives of five world powers over Iran's nuclear program.
Intelligence sources told the paper that Iran was "intensifying efforts to support Hamas in Gaza."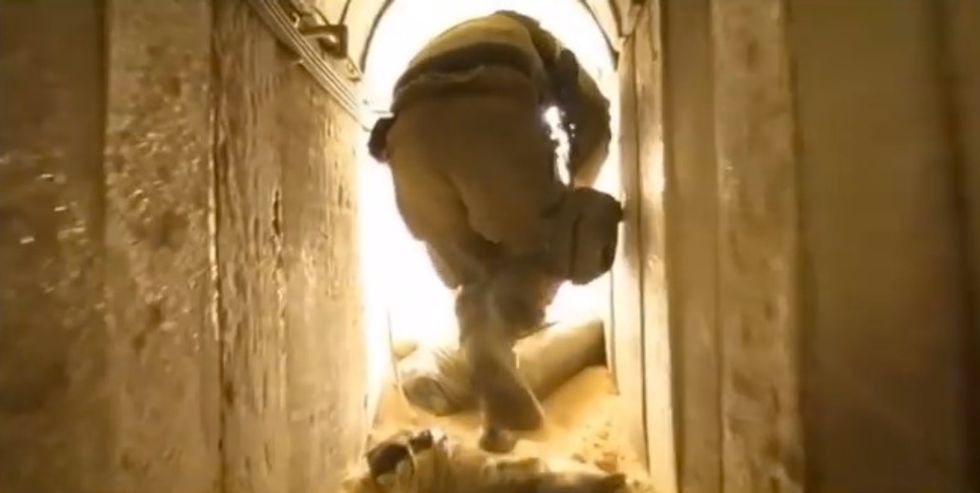 One of the tunnels used by Hamas during last summer's war with Israel. (Image source: YouTube)
The aid included funding for new missile supplies to help Hamas restock following last summer's war with Israel during which the militant group launched thousands of projectiles at Jewish communities.
During the summer war, Israel destroyed dozens of tunnels that had been dug under the border between Gaza and Israel and used to smuggle weapons and to attack Israelis.
The Israeli media in recent days have reported that Hamas has been focused on a concerted effort to rebuild its military capability, suggesting a new conflict could be around the corner.
The Times of Israel last month reported that Israeli military officials believe some newly dug tunnels extend to the Israel-Gaza border.
The news site also quoted an Israeli parliamentary report which concluded that it's only a matter of time before the next round of fighting between Israel and Hamas begins.
Egyptian security forces facing a terrorist challenge in the Sinai Peninsula have destroyed tunnels running from Gaza into Egypt. The Telegraph's sources did not say if the tunnels to Egypt were part of the Iran-backed reconstruction effort.
Egypt last week uncovered the longest tunnel yet, spanning nearly 2 miles.
Shortly before the framework agreement with Iran was announced Thursday, Israeli Prime Minister Benjamin Netanyahu warned of Iran's efforts to export terrorism. He said that any deal "must significantly roll back Iran's nuclear capabilities and stop its terrorism and aggression."
Netanyahu attached a map to his Twitter message showing the parts of the Middle East where Iran has spread its influence, including Yemen, Syria, Lebanon, Iraq, and notably in light of the Telegraph report, Gaza.
On Friday, Netanyahu said that any final agreement over Iran's nuclear program must include Iranian recognition of Israel's right to exist.
"Israel demands that any permanent agreement with Iran will include a clear Iranian recognition of Israel's right to exist," Netanyahu said.
The State Department rejected that demand, spokeswoman Marie Harf telling reporters Friday: "This is an agreement that is only about the nuclear issue."
"This is an agreement that doesn't deal with any other issues, nor should it," she added.