Fired "Opie and Anthony" host Anthony Cumia got painfully honest about his strained relationship with his former on-air partner of 20 years, Gregg "Opie" Hughes, during Monday's episode of "The Anthony Cumia Show." He even titled the show, "Walking on Greggshells."
Cumia began the show by proclaiming, "I don't like it when things are said about me that aren't true." He then went over several statements made by Hughes that he found to be either seemingly untrue, or at least things that he was completely oblivious to.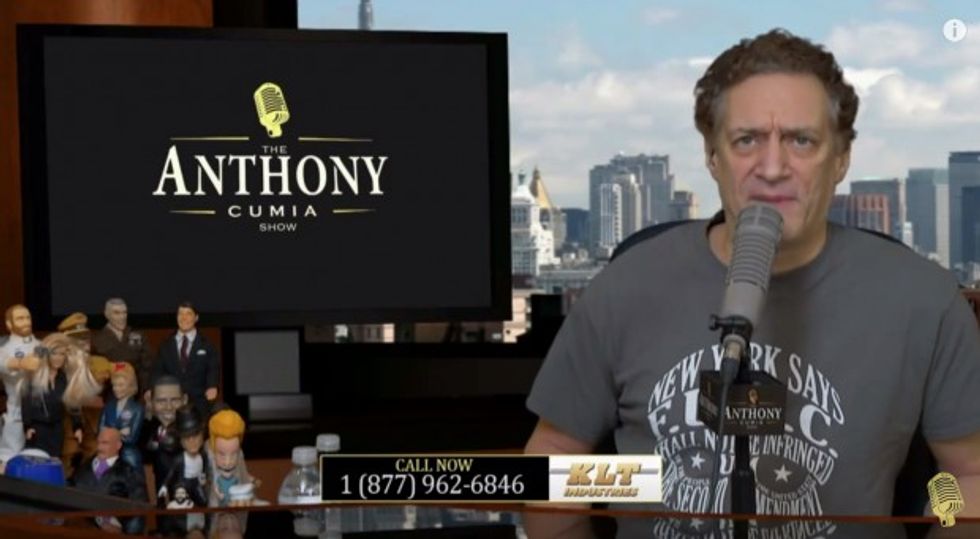 (Screengrab via the Anthony Cumia Show)
"Opie had brought up that he saw this 'Opie and Anthony' coming to an end," Cumia said. "One of the ideas were splitting the show. I've got to tell you, in all honesty, I have never heard of this. This was never discussed. It makes no sense. Is Jimmy [Norton] supposed to be there for 15 hours a day perhaps to do a morning show and an afternoon show? I don't know."
Cumia also took exception to Hughes' repeated assertion that he was actually "ready to move on" prior to his firing last year.
"Not a hint!" Cumia said. "I was never ready to move on."
He continued: "I never wanted to leave the show. I was having a great time. This wasn't a purposeful thing. I would've stuck it out there. Like I said, dream job."
The former SiriusXM host then got even more personal, speculating that he's not sure if "anything was said down the hall that would've made an impact to get me back."
"I truly believe that Opie was ready to move on," he added. "And that was a good opportunity."
But he was clear that his splintered friendship with Hughes has been "years in the making." Things have gotten to the point, he explained, that his former co-host wants to have a private discussion before they appear on the air together again. Cumia said he'd be happy to host Hughes on his show or appear on SiriusXM to talk it out on the air.
"I don't want to sit and have a beer with him and discuss something -- what, why? And it's not a radio bit to put it on the air. It's just an honest airing. I think we owe it to the people that made us successful to not go behind some closed door because we have a fear, of what, airing our dirty laundry? We've done it for years," Cumia ranted.
Eventually, the show's title gained much-needed context. Cumia claimed that Hughes tended to take jokes made at his expense or criticisms personally, and that the staff -- and even comics -- had to "walk on Greggshells."
But even as the tensions behind the scenes built up, he said the show was always somehow great and they managed to maintain their chemistry.
Messages left for Hughes seeking a response to Cumia's remarks weren't immediately returned. He did, however, post this tweet on Monday:
. @AnthonyCumia you still are human garbage. Might want to look into what really is eating at you. I'm not the problem in the end.

— opie radio (@OpieRadio) April 6, 2015
Watch the full "Walking on Greggshells" episode via "The Anthony and Cumia" show below (Warning: Strong language):
---