Utah has the most economically competitive policies in the United States, while New York has the least, according to a new study by the American Legislative Exchange Commission that examines state economic policies across the country.
The annual report by the conservative state policy think tank is titled "Rich States-Poor States" and ranked all 50 states based on 15 variables that includes tax rates and regulatory policies. It was prepared by noted economists Arthur B. Laffer and Heritage Foundation economist Stephen Moore, as well as Jonathan Williams, ALEC vice president for state fiscal reform.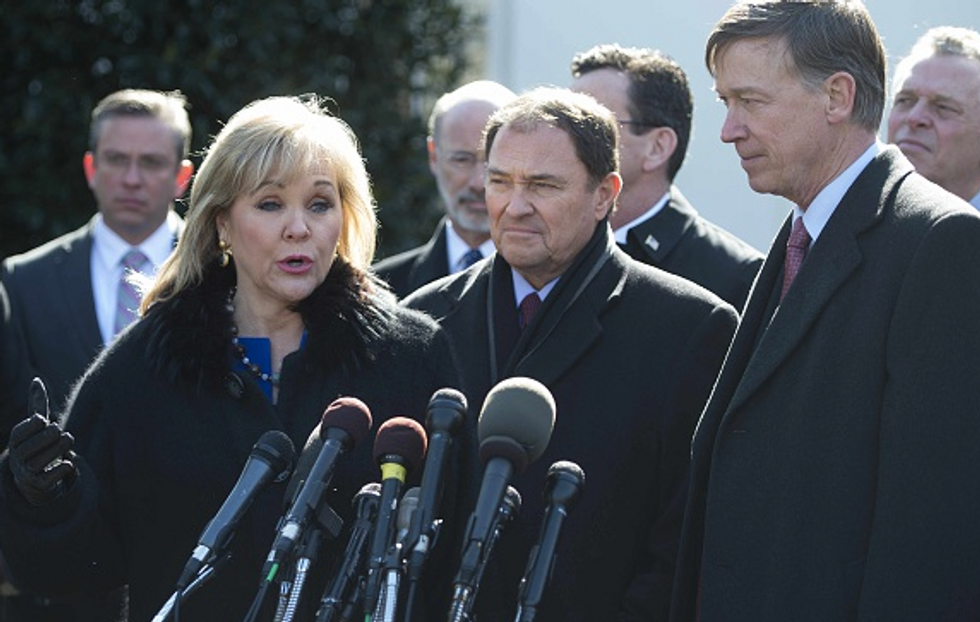 Oklahoma Governor Mary Fallin (L) speaks with Colorado Governor John Hickenlooper (R) and Utah Governor Gary Herbert (C) after a meeting of the National Governors Association at the White House in Washington, DC, February 23, 2015. AFP PHOTO/JIM WATSON (Photo credit should read JIM WATSON/AFP/Getty Images)
The biggest winners were the states of Kentucky and Illinois, increasing by eight and nine spots respectively. The losers were Michigan and Delaware, which fell 12 and 11 spots respectively.
Here's the top 10:
1. Utah
2. North Dakota
3. Indiana
4. North Carolina
5. Arizona
6. Idaho
7. Georgia
8. Wyoming
9. South Dakota
10. Nevada
Bottom 10:
41. Pennsylvania
42. Maine
43. Montana
44. California
45. Oregon
46. New Jersey
47. Connecticut
48. Minnesota
49. Vermont
50. New York
For full list, click here.
—