It has been about a year since the extent of the issues at hospitals caring for veterans was revealed, and since then major reforms have been instituted. But how are they playing out now?
The Associated Press took a look at the data and found that wait times for patients at facilities run by the Department of Veterans Affairs is largely the same as it was before and, in some cases, the number of patients waiting more than three months for an appointment has nearly doubled:
Nearly 894,000 appointments completed at VA medical facilities from Aug. 1 to Feb. 28 failed to meet the health system's timeliness goal, which calls for patients to be seen within 30 days.

That means roughly one in 36 patient visits to a caregiver involved a delay of at least a month. Nearly 232,000 of those appointments involved a delay of longer than 60 days — a figure that doesn't include cancellations, patient no-shows, or instances where veterans gave up and sought care elsewhere.

[...]

The AP examined wait times at 940 individual VA facilities from Sept. 1 through Feb 28 to gauge any changes since a scandal over delays and attempts to cover them up led to the resignation of VA Secretary Eric Shinseki in May and prompted lawmakers to pass the Veterans Access, Choice and Accountability Act in August. The analysis included all VA hospitals and outpatient clinics for which consistent wait time data was available. It excluded residential treatment centers, homeless dormitories and disability evaluation centers. Data for individual facilities were not available for August.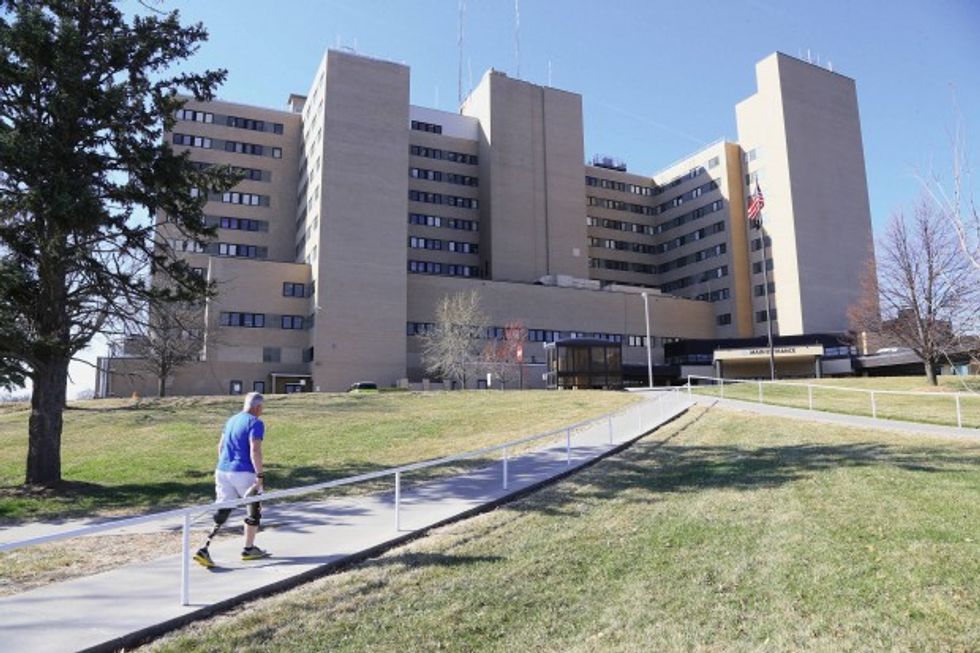 In this April 1, 2015 photo, an unidentified person with a prosthetic leg walks to the VA hospital building in Omaha, Neb. Nebraska's veterans are much more likely to quickly see doctors and other health care providers at the state's VA facilities than their counterparts around the country. (AP/Nati Harnik)
Deputy Secretary of Veterans Affairs Sloan Gibson told the Associated Press that in some cases more veterans are coming in for services as access is improved by the system.
"We are doing a whole series of things — the right things, I believe — to deal with the immediate issue," Gibson told AP. "But we need an intermediate term plan that moves us ahead a quantum leap, so that we don't continue over the next three or four years just trying to stay up. We've got to get ahead of demand."
Watch the AP's report about care since reforms have been enacted:
Vets going through the system though still say they're being treated poorly.
"I served my country. I'm combat wounded. And to be treated like I'm nothing is unconscionable," 47-year-old Rosie Noel told the AP after she said it took the VA 10 months to get her in for an appointment following an abnormal test for cervical cancer. Even after that wait, her appointment was further postponed.
Within the VA's system of more than 1,000 facilities, some regions saw longer wait times than others over the six-month period analyzed by the AP.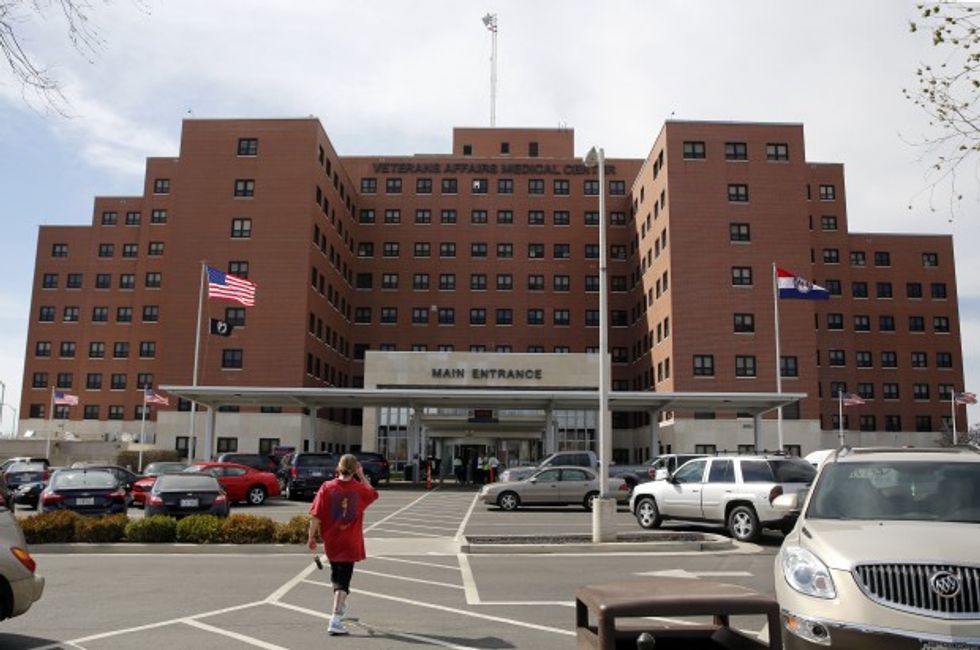 This photo made Wednesday, April 1, 2015 shows the John Cochran VA medical center in St. Louis. VA records reviewed by The Associated Press show that 8,125, or 1.6 percent, of the more than 520,000 appointments completed at Missouri VA medical centers from September through February involved waiting times of 31 days or longer. (AP/Jeff Roberson)
The VA clinics in Jacksonville, Tallahassee, Panama City and Pensacola, Florida, collectively completed 250,000 appointments during the six-month period. Nearly 13 percent of those visits involved a wait of longer than 30 days, well above the national average of 2.8 percent.
Of the 100 VA hospitals and clinics with the most patients waiting more than 30 days for care, 10 are in Georgia. Nine percent of patients going to the Veterans hospital in Tuskegee, Alabama, had a wait longer than 30 days.
The AP also cited long wait times at institutions in Tennessee, Kentucky, North Carolina and Hampton Roads, Virginia.
If patients cannot be seen by their VA facility within 30 days or if that facility is more than 40 miles away, the VA started a new Choice Program in November 2014 that allows patients to receive care at non-VA facilities.
Though reform of the system to get those who served our country the care they deserve are underway, scandals involving the VA are not over. Last month, an investigation began into how it cost more than a quarter million dollars to relocate a a top VA official to another office. This week, TheBlaze's Pete Kasperowicz reviews eight of the questions that have followed in the wake of this latest scandal.
—
The Associated Press contributed to this report.