The White House said it's not concerned about recent comments by Iran Supreme Leader Ayatollah Ali Khamenei, who challenged the U.S. assessment of the Iran nuclear deal reached last week.
"The supreme leader has said many, many things over the years that we have strong objections to," deputy national security adviser Ben Rhodes told reporters Friday in Panama City, where President Barack Obama is attending the Summit of the Americas.
Rhodes referred to the interim agreement between the United States and Iran reached in November 2013, which he said Iran abided by despite making a lot of noise.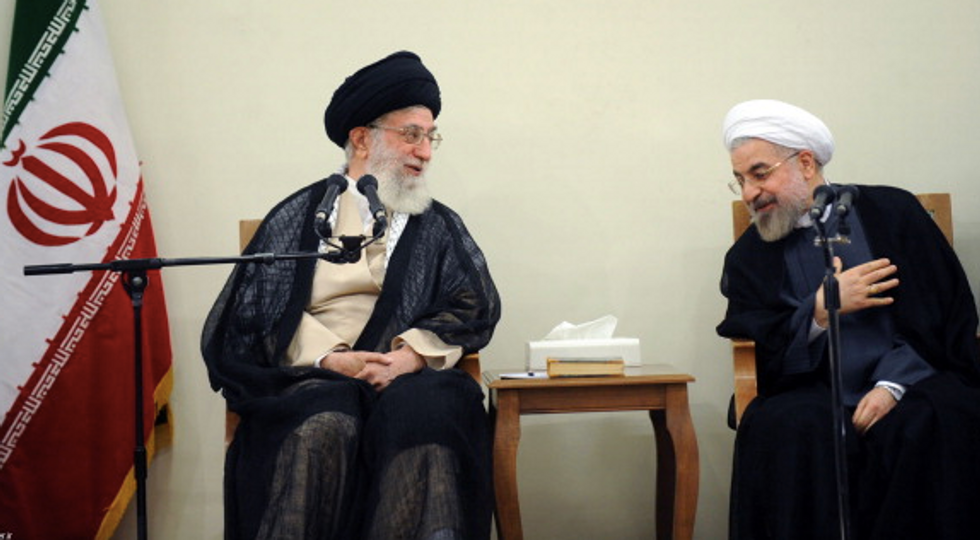 Iran Supreme Leader Ayatollah Ali Khamenei, left, meets with Iranian President Hassan Rouhani in Tahran, July 14, 2014. (Anadolu Agency/Getty Images)
"We released the information about that joint plan of action knowing we still had to finalized the implementation details, which were not done until January," he said. "Between November and January, the Iranians criticized the information we put out and they said that it did not reflect the deal. The fact of the matter is, they then implemented the deal."
The United States, Britain, France, Russia, China and Germany agreed last week to the outlines of a deal to limit Iran's nuclear development. While the United States says sanctions will be phased out as Iran opens up to international inspections, but Khamenei said that is not what Iran agreed to.
"All sanctions should be removed when the deal is signed. If the sanctions removal depends on other processes, then why did we start the negotiations?" said Khamenei, who has the final say over all matters in the country. He added, "Americans put out a statement just a few hours after our negotiators finished their talks…this statement, which they called a 'fact sheet', was wrong on most of the issues."
The parties reached the parameters for a final deal that must be agreed to by June 30.
"They have abided by every commitment that they made to the United States and the P5+1 in the joint plan of action," Rhodes said, referring to the interim deal. "So we've been through this before, where the Iranians fully want to highlight certain aspects for their own public. They have their own hardliners who are skeptical of this deal. But that cannot change the facts of what not just the United States but the P5+1 agreed to in terms of this framework."