The victims of the 2009 Fort Hood shooting will be honored Friday with Purple Hearts, yet some of them are still having to fight for their injuries to be recognized as combat-related and thus eligible for benefits.
Shawn Manning, who was a staff sergeant at the time when then-Army psychiatrist Nidal Hasan killed 13 people and injured more than two dozen others at the Texas base, told Fox News that it's "almost unheard of for someone to receive the Purple Heart but not have their injuries deemed combat-related."
"I know that was not what Congress intended to have happen, but it is what currently the Army has determined is going to happen," he added.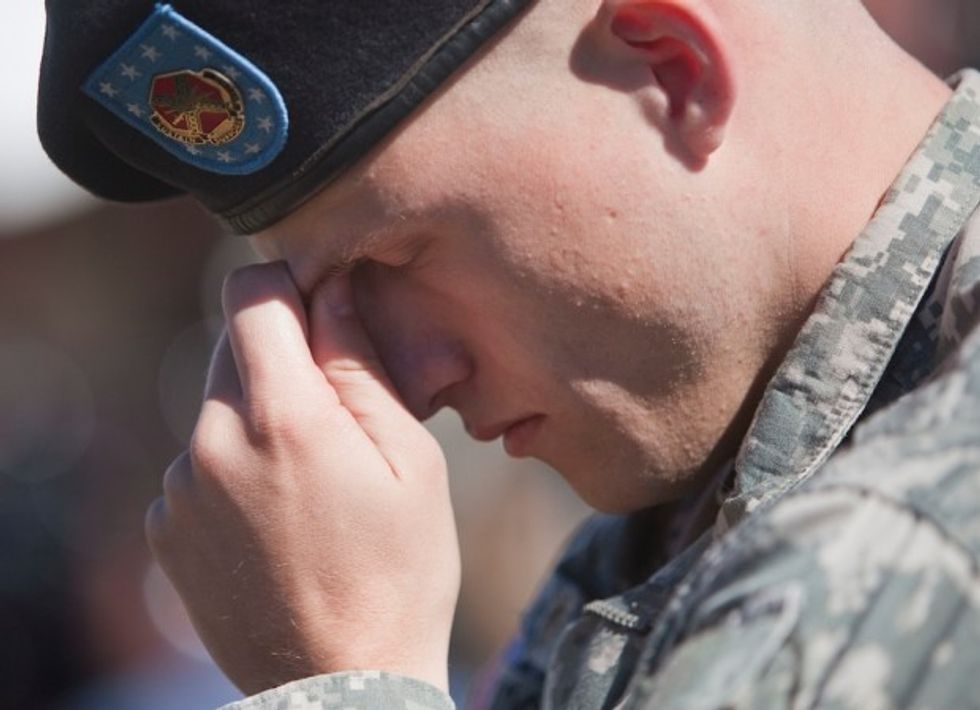 Cpl. Eric Skoog observes a moment of silence at a remembrance service recognizing the 13 victims killed in the Fort Hood attacks on the one-year anniversary in Killeen, Texas, Nov. 5, 2010. On April 10, 2015, the victims of the attack are being awarded the Purple Heart. (Ben Sklar/Getty Images)
"It is outrageous that Shawn Manning, one of the Purple Heart recipients today, is being denied benefits for injuries sustained in the terrorist attack on Fort Hood in 2009," Rep. Louie Gohmert (R-TX) told TheBlaze in an emailed statement. "Shawn was shot six times by an evil perpetrator who committed an act of violent jihad against fellow American soldiers."
Gohmert cited Hasan's warnings to Army officials as "clearly [showing] he was participating in the war against the United States military."
"If the Army needs money to pay the benefits Shawn needs, they should fire the people denying benefits to such a worthy American soldier and give the pay and benefits of those incompetent administrators to Shawn," Gohmert said.
Until earlier this year, the Department of Defense denied the Purple Heart to Fort Hood shooting victims, calling the November 2009 attack an act of workplace violence, not terrorism. In February 2015, that changed.
At the time, the Associated Press reported that bestowing the Purple Heart to Fort Hood victims would open up combat-related services and increased retirement benefits.
Criteria outlined in the 2015 National Defense Authorization Act include attacks on service members by foreign terrorist organizations. With the criteria retroactive to Sept. 11, 2001, the Department of Defense is reviewing other potentially qualifying incidents, the office of Army Secretary John McHugh said in the letter to Congress at the time.
According to Fox News, Manning submitted his paperwork for review and it was rejected:
"Section 571 of the 2015 National Defense Authorization Act addresses both the awarding of the Purple Heart to service members killed or wounded in attacks inspired or motivated by foreign terrorist organizations and the Defense of Freedom Medal for those members and civilians killed or wounded during the Fort Hood attack on 5 November 20009," the April 6 letter states.

"Nowhere in the act, however, does it offer combat benefits for service members permanently disabled in attacks inspired or motivated by foreign terrorist organizations. Although subsequent legislation and guidance may change, currently, the Board has no authority to award V1/V3 (service related) designation to soldiers disabled during the Fort Hood attack. "

[...]

It went on to state Manning's injuries were not caused by an "instrumentality of war" because Hasan's "weapon was a private semi-automatic pistol. The army did not issue this weapons to the soldier."
Manning told Fox the rejection was "a huge let down," and means his family will not receive back pay or $800 each month in benefits.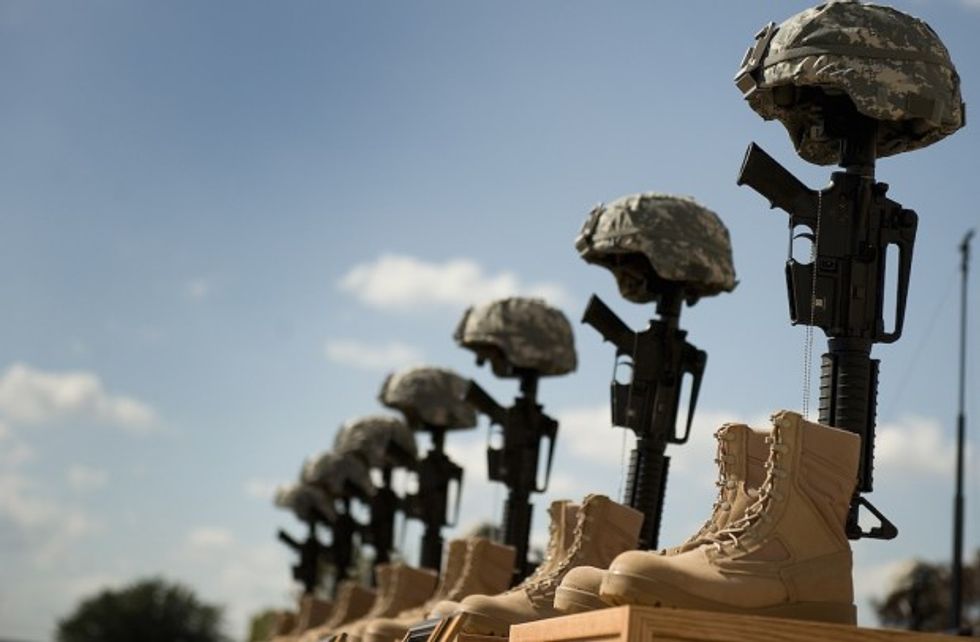 A fallen soldiers memorial is seen in front of the podium where the memorial service that President Barack Obama and first lady Michelle Obama attended for the 13 victims of the shooting rampage by U.S. Army Major Nidal Hasan on Nov. 10, 2009 in Fort Hood, Texas. (JIM WATSON/AFP/Getty Images)
Army spokeswoman Cynthia Smith told Fox News that this is not a "final decision" and that Manning would have "a full opportunity to present evidence at a formal hearing."
Attorney Reed Rubinstein, who represented some Fort Hood victims in their effort for the attack to be recognized as more than just workplace violence, said earlier this year that the government had finally admitted the truth.
"For five years, the White House and the political echelon at the Department of Defense pushed the workplace violence line. And it's a lie," Rubinstein said. "To admit the truth — that it was a terrorist attack by a jihadist — is a small but important first step toward making the victims whole."
According to the Army Times, the Purple Heart ceremony will take place at 9 a.m. CT Friday at III Corps headquarters, which is on base at Fort Hood. It reported that up to 47 Purple Hearts and Defense of Freedom Medals will be awarded.
"It means a lot to me," Sgt. 1st Class Paul Martin told the Times. "I'm like a kid waiting for his Christmas present the day before Christmas. I feel it's an honor to be honored by my country that I love to serve and I fought for."
—
The Associated Press contributed to this report.
—
This post has been updated to include more information.