ORANGE, N.J. (TheBlaze/AP) — A New Jersey school district has suspended a teacher for asking her third-grade class to write "get well" letters to Mumia Abu-Jamal, an ailing former Black Panther serving life in prison for the murder of a Philadelphia policeman.
Mumia Abu-Jamal (Image source: Philly.com)
Orange School Superintendent Ronald Lee said in a statement Friday that school administrators "vehemently deny" any knowledge of teacher Marilyn Zuniga's assignment. Lee says preliminary inquiries found that Zuniga didn't seek approval nor were parents notified.
A supporter and history professor, Johanna Fernandez, brought him the letters. While Zuniga's Twitter account apparently has been taken down, screenshots of her tweet about the letters seem to have survived: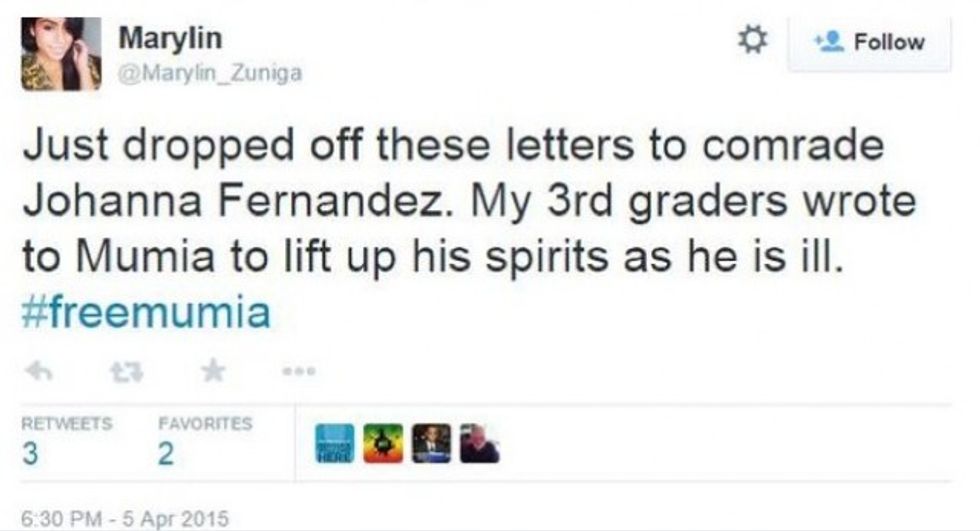 Image source: Twitter
Another tweet from Zuniga in regard to Abu-Jamal's "targetization by the state over his life":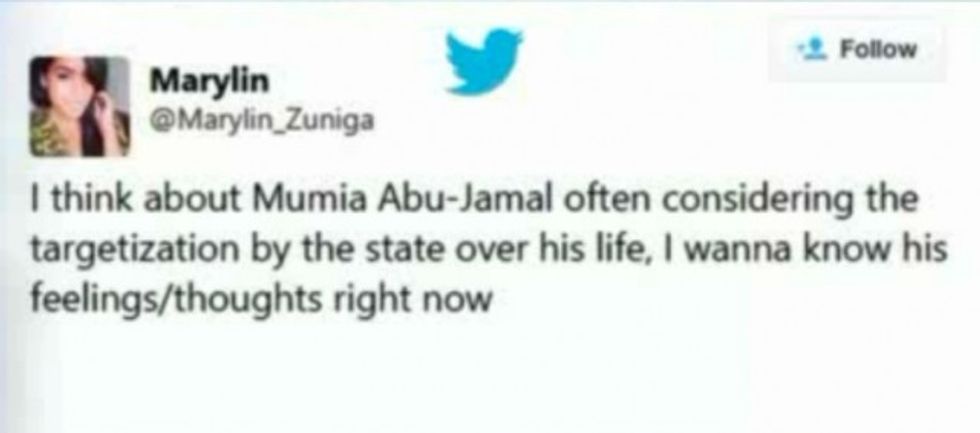 Image source: Twitter via WPIX-TV
Fernandez said Abu-Jamal, 60, was released from a hospital in Pottsville, Pennsylvania, on April 1, and returned to prison. He has been under care for diabetes complications, NJ.com reported.
Abu-Jamal was convicted of the 1981 murder of white Philadelphia Officer Daniel Faulkner. He has claimed he's the victim of a racist justice system.
Last October, as Abu-Jamal gave a controversial college commencement address via video, Philadelphia police gathered at Faulkner's murder site for a solemn, silent protest.
Here's more on the letters to Abu-Jamal:
—
Follow Dave Urbanski (@DaveVUrbanski) on Twitter