Washington, D.C., dog owners Roger and Annemarie Horowitz are taking down the missing dog flyers they posted around the city earlier this month, but it's not because they found their four-legged friend, Ollie.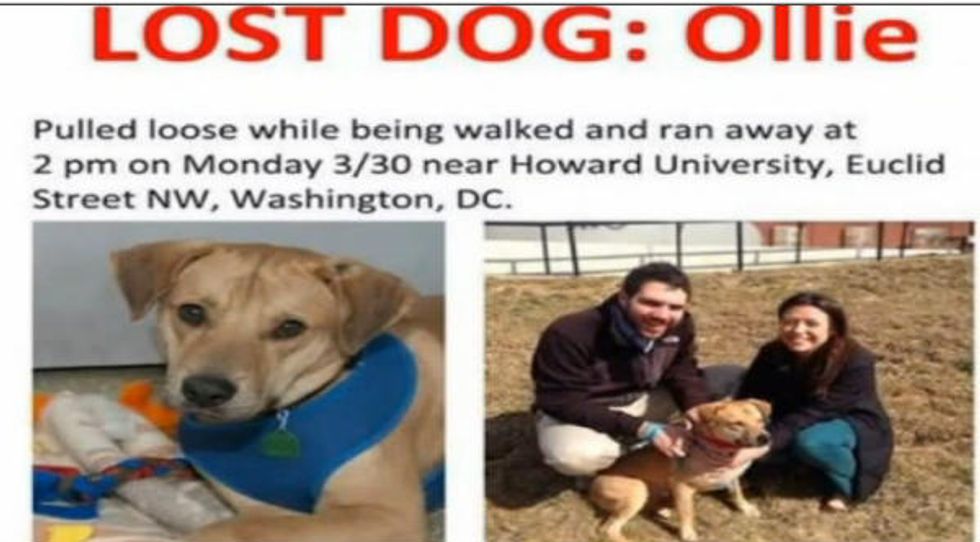 Image source: WRC-TV
Roger Horowitz had taken their pooch for a walk March 30 when Ollie was spooked by a car that backfired. Horowitz lost his grip on the leash and Ollie took off, WRC-TV reported.
Just like that, the dog the couple had only recently adopted was gone. Ollie's previous owner had abused him and when the Horowitzes got him, they noticed he'd had been shot.
"So he has about 23 pellets still in his back," Roger Horowitz said.
In order to find him, they did what anyone with a missing pet might do: They posted fliers on light posts and telephone poles around the city, hoping that someone might recognize him. They said police even encouraged them to post the signs when they went to file a missing dog report.
So imagine their surprise when they got a call from a police officer telling them that if they didn't take down the signs, they could be fined $750,000.
Making sure all of the signs came down, however, proved to be quite the task, as Roger and Annemarie weren't the only ones who posted them. Some of their friends and neighbors also went around pinning them up.
"He told me that regardless if we put up the fliers, or if other people put them up, we had made the original flier that had my phone number, and that we could get fined up to $750,000," Horowitz said.
The couple has started a social media campaign called #FindOllie. They told WRC-TV they would like to see the city change the laws that prohibit residents from putting up missing pet fliers. 
(H/T: WRC-TV)
–
Follow Jon Street (@JonStreet) on Twitter