Last year Glenn Beck revealed that he had acquired an American D-Day 48 Ensign flag that flew on the USS LST-493 landing ship throughout the Normandy invasion. At the time it was reported that he paid around $350,000 in conjunction with his charity Mercury One for the incredible piece of history. Beck confirmed the amount during a recent trip to Heritage Auctions in Dallas with historians David Barton and Reid Moon.
Beck was shocked when Barton told him he also had a flag that was part of the D-Day invasion, and he paid just $7,500 for it.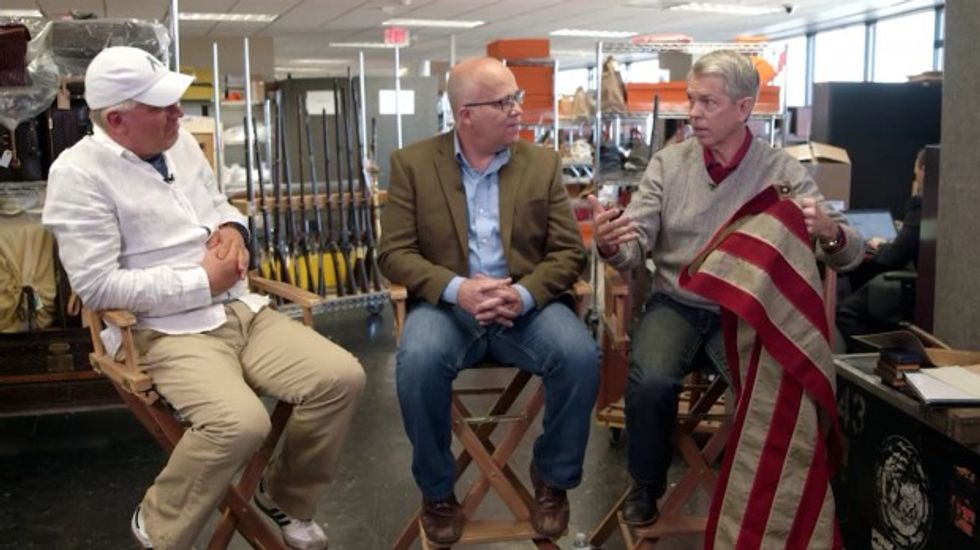 Glenn Beck speaks on his television program April 13, 2015. (Photo: TheBlaze TV)
"David how much did you pay for the flag?" Beck asked. "This is why auctions are so -- depending on who shows up. Because I have one from the first ship that dumped the guys out. What did you pay?"
"A lot less than you," Barton said with a laugh. "We paid, for that, $7,500. Are you going to say yours?"
"$400,000," Beck responded. "I guess it depends on who shows up for the auction. ... It's amazing."
"It's who bids against you," Barton agreed.
Barton said his flag came from a minesweeper whose men were told to remain near the shore to draw the enemy's fire. It was the third ship to approach Normandy, he said.
"So this ship is going up and down, and [the enemy opens] up," Barton said. "What's happening is about five miles behind them, all of the destroyers and battleships and cruisers are watching where all of the shooting is coming from, and they're targeting. ... They're marking every spot where they're seeing fire come from. And then the armada opens up and starts pounding the shore. This is actually the flag off that ship."
Barton said the lieutenant from the ship was awarded a bronze star for the valor he showed in drawing the enemy fire to his ship and, while there were still massive casualties, the bravery of the men aboard that ship significantly reduced the number.
[mlbvideo content_id=72120983]
The full episode of The Glenn Beck Program, along with many other live-streaming shows and thousands of hours of on-demand content, is available on just about any digital device. Click here to watch every Glenn Beck episode from the past 30 days for just $1!