The so-called "free range" children of Maryland parents, who made headlines late last year when they were called out for letting them walk a mile home unaccompanied, were taken into protective custody for several hours Sunday.
The parents in question are Danielle and Alexander Meitiv of Silver Spring, Maryland. The couple's 10-year-old son and 6-year-old daughter were allowed to go to the park alone Sunday afternoon and were expected to return home at a certain time. When they didn't show, the parents got worried and later learned they were taken to Child Protective Services after a report was made by a concerned citizen, according to WRC-TV.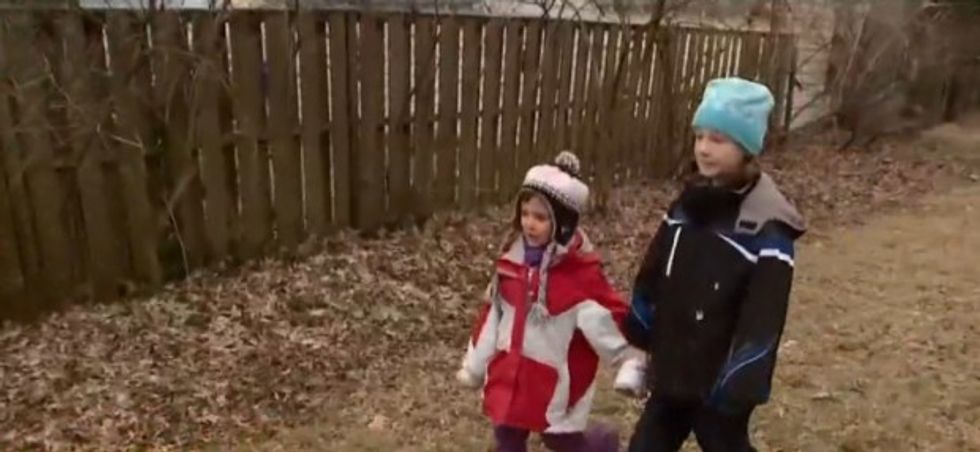 The Meitiv children were allowed by their parents to go play at a park without adult supervision, but a concerned citizen apparently called the cops and the kids were taken to CPS. (Image source: WUSA-TV)
In a Facebook post, Danille Meitiv said she and her husband were not immediately informed by authorities of their children's whereabouts.
"I AM AT MONTGOMERY COUNTY CPS BECAUSE THE POLICE PICKED UP RAFI & DVORA AND DIDNT BRING THEM HOME!!!!!! WE HAVE BEEN SEARCHING FOR THE KIDS FOR HOURS AND HAVE BEEN HERE at CPS FOR 30 MINUTES AND THEY STILL HAVENT LET US SEE OR TALK TO THE KIDS!!!!!!" the mother who describes herself as an "opinionated parent of kids who roam" wrote Sunday night.
In a separate post on her community Facebook page, Meitiv wrote Monday her children were returned home at 11 p.m. after they were held for three hours.
"The police coerced our children into the back of a patrol car, telling them they would drive them home," Meitiv wrote. "They kept the kids trapped there for three hours, without notifying us, before dropping them at the Crisis Center, and holding them there without dinner for another two and a half hours. We finally got home at 11pm and the kids slept in our room because we were all exhausted and terrified."
On Twitter, Meitiv wrote that she and her husband didn't see their children until 10:30 p.m. after they had to "sign a 'safety plan,'" as a stipulation to let them go home.
Watch WUSA-TV's report with further comments from the parents on the situation:
The Washington Post reported Montgomery County Police Department Capt. Paul Starks said no charges have been filed but the case is still under investigation. The newspaper mentioned that the December 2014 incident of the children walking alone prompted a CPS investigation that accused the parents of "unsubstantiated neglect," which means there wasn't enough evidence to reach a concrete decision.
Since being accused of neglect, Meitiv has been a vocal advocate of "free range" parenting.
"When did Americans decide that allowing our kids to be out of sight was a crime?" Meitiv wrote in a piece for the Post back in February. She went on to explain that allowing her children to roam, within reason, is "the best way to prepare them for adulthood — and that it is safe for them to do so."
Meitiv and her husband aren't the only parents who subscribe to the "free range" philosophy. Back in 2008, Lenore Skenazy's family made national news for allowing her then 9-year-old to ride the New York City subway system on his own. Since then she has been "fighting the belief that our children are in constant danger from creeps, kidnapping, germs, grades, flashers, frustration, failure, baby snatchers, bugs, bullies, men, sleepovers and/or the perils of a non-organic grape."
Meitiv did not immediately respond to TheBlaze's request for comment.
(H/T: Daily Mail)