The barricades were down, yet some cyclists participating in a race Sunday still skirted around the bars before a high-speed train flew through the intersection, finally forcing the pack to come to a full stop.
Now, France's national rail company is filing a lawsuit calling the incident that took place during the Paris-Roubaix race "irresponsible," the Associated Press reported.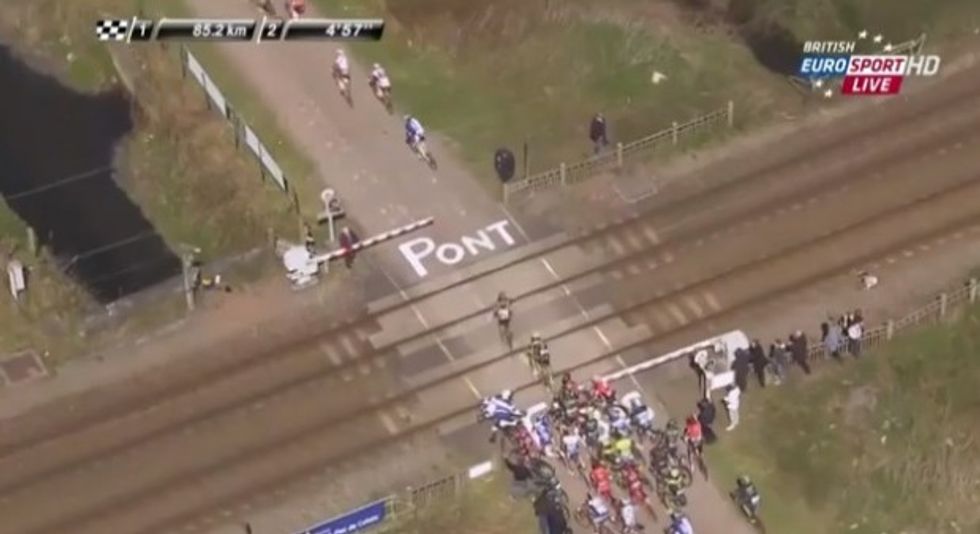 Cyclists continued to cross the tracks despite the barrier. (Image source: YouTube)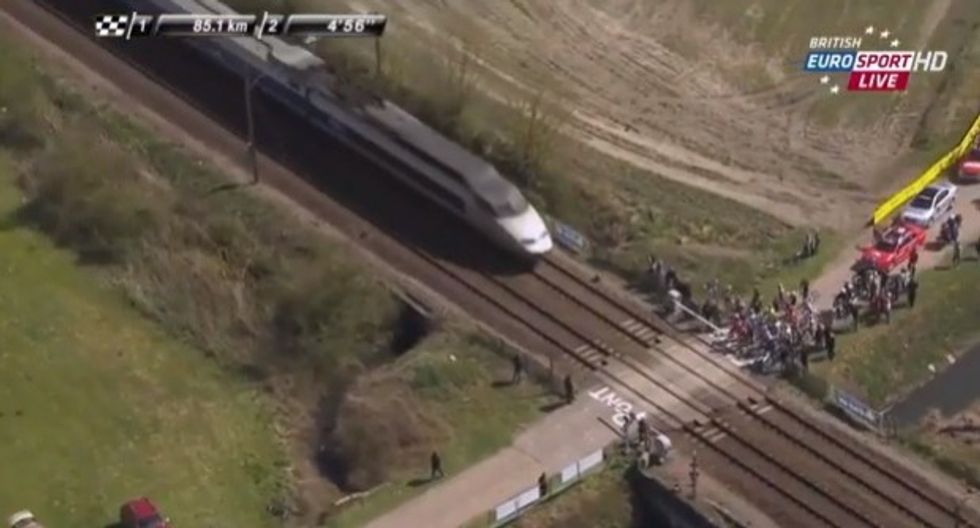 A sportscaster said the high-speed train slowed down as it passed through the intersection. (Image source: YouTube)
Just watch as a police officer manning the course seemed to allow dozens of riders across the tracks, despite the traffic barrier, before he stopped racers moments before the train whizzed by:
"That's not what you want to see," a race commentator said in the video. "And we were just saying this can happen."
"That's a TGV train. Thankfully, it slowed down," the announcer said.
France's the Local reported that a Belgian cyclist was hit by the barrier as it came down.
SNCF filed the lawsuit, which the AP noted didn't name anyone specifically, Monday.
"Several riders deliberately crossed a level crossing, which is against all safety regulations," the rail company said in a statement Monday, according to the Local. "Millions of TV viewers were able to watch this unauthorized crossing which was extremely serious and irresponsible, that could have ended in tragedy.
"SNCF has decided to lodge a legal complaint and will leave it up to the investigation to determine who was responsible and we regret that such foolhardiness took place."
Race organizers though defended their position somewhat.
"It wasn't possible for the leading riders to stop sufficiently safely," Guy Dobbelaere, president of the jury of race commissioners, said, according to the Local.
TGV trains can reach top speeds of 320 kph (close to 200 mph), the rail company's website stated.