The Christian owners of a flower shop, restaurant and wedding venue in Grimes, Iowa, have decided to no longer offer any wedding-related services after facing a contentious legal battle following their refusal to host a gay couples' ceremony.
Betty and Dick Odgaard, owners of Görtz Haus Gallery, have been in business for 13 years, though they told The Church Boys podcast that they now find themselves facing business challenges after they turned Lee Stafford and his fiancé Jared Ellars away back in August 2013 — an act that quickly turned into a national controversy after it drew the ire of gay rights activists.
"It was just so hateful and so awful and personally it took me down. I didn't want to be on this Earth anymore. It destroyed me," Betty said of the public response to their refusal to host the wedding. "I was ready to quit. I wanted to … move out of the town. I knew that this gallery that we had built together would never be the same again."
Considering a sampling of angry emails that the family shared with TheBlaze just days after the refusal went viral back in 2013, it's no surprise that Betty, the daughter of a Mennonite pastor, and Dick, a life-long Lutheran, felt beaten down.
Listen to the Odgaards share their story below:
One angry e-mail said that the family is "finished" and "doomed." "You are mean, rude, selfish, mother f***er racist sons of b**ches from hell," it read, with the writer later adding, "F**k you, f**k your God, f**k your religion."
Another person who went by the name "Micky" wrote, "Betty, you're very old and almost dead.  How do you both feel, knowing that America, and the world, will be a better place without you?"
Boycotts accompanied these responses, which the couple said left them devastated.
"Psychologically, when you get beat up like we did … it takes a lot of hugs to neutralize that," Dick said, noting that there was also some support from the community along the way. "So, as much as you appreciate [the support], what you remember at the end of the day is all the ugly."
In addition to the public scrutiny, the Odgaards also faced a legal battle after Stafford and Ellars filed a complaint with the Iowa Civil Rights Commission. The Christian business owners, who were represented by the Becket Fund for Religious Liberty, filed a lawsuit against the state of Iowa in the process in an effort to "get [their] liberties back."
In the end, the lawsuit against Iowa was dismissed until the administrative process moved forward. That process resulted in a conciliatory agreement in which the couple agreed to pay $5,000 to Stafford and Ellars after being found guilty of discrimination last December.
Due to fatigue and fears that other refusals to host gay nuptials would end in the same manner, the Odgaards decided to step out of the wedding business after serving out their contracts for the 2014 season.
"The precedent had been set," Dick explained. "Obviously, everybody knew where we stood, so we would be targets for a sting type of a deal, so we just decided to get clear out of the business which was financially very hurtful — painful, but we just had to do it."
While Görtz Haus Gallery — previously the home to the  St. Peter Lutheran Church — still has a flower shop and serves lunches, business has been hit pretty hard, the couple said.
"Weddings were the larger income stream of course and now we have to just rely on lunches and flowers," Betty said. "And the lunch business went down by about half when all of this came out, so that's been suffering quite a bit … there were a lot of boycotts out not to come to our place."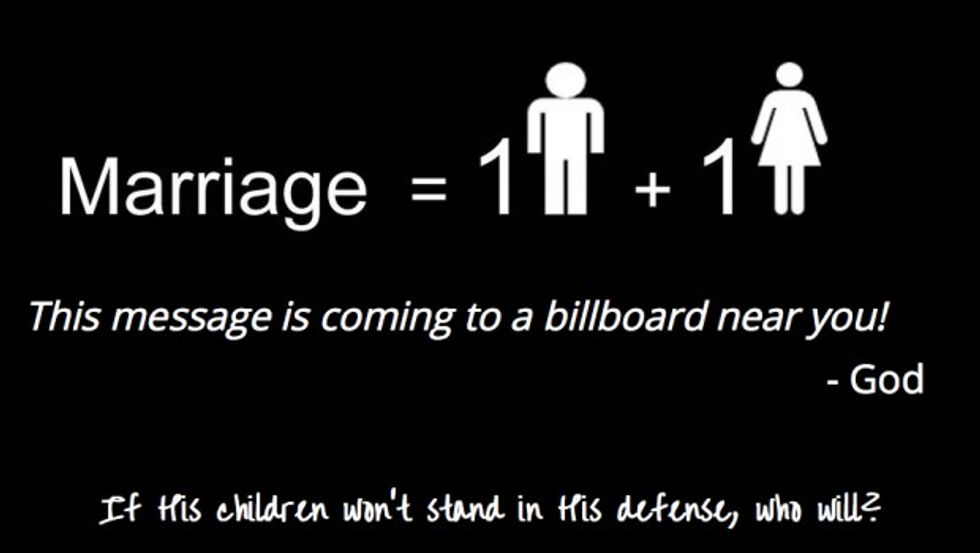 God's Original Design Ministry
Betty said that she and her husband have always operated their business in accordance with their faith. Despite the negative fallout from their decision to decline hosting the gay wedding ceremony, she and Dick are launching a non-profit organization called God's Original Design Ministry, which has already been granted its 501(c)(3) status.
"Our pulpit is going to be multimedia with a lot of billboard activity," Dick said. "We're extremely excited about it. The response we've gotten is fantastic. Things are going very, very fast."
According to the ministry's website, it was "established to advance Christian teachings, Biblical ordinances and natural laws as God intended." The couple plan to place billboards all over the country in an effort to defend traditional marriage and biblical values.
"I feel like God has just put a sense of no fear in us. He wins in the end, so what are we afraid of?" Betty said. "And we would like for other Christians to feel the same way, because what are we afraid of, really?"
Find out more about the ministry here.