An orphan whose tragic story went viral after he stood before a church congregation in 2013 and pleaded for a family to adopt him will  officially be welcomed into his former caseworker's family later this month.
As TheBlaze previously reported, Davion Navar Henry Only, 16, made headlines after he stood before parishioners at St. Mark Missionary Baptist Church in St. Petersburg, Florida, in September 2013, and delivered a heartbreaking appeal for a family to officially take him in.
While Only, who spent his entire life in foster care, didn't find a family inside the church, Connie Bell Going, the caseworker who started working with the child when he was just 7 years old, will become his legal guardian on April 22, the Daily Mail reported.
Only has been spending weekends with Going and her children — an adopted 14-year-old son named Taylor and two daughters, Carley, 17, and Sydney, 21 — since August. His former caseworker began taking steps to adopt him back in December.
This development comes after Only was previously sent to Ohio to live with a pastor. That arrangement seemed promising, but unraveled after the orphan had a fight with one of the preacher's kids, with the Tampa Bay Times reporting that Only was soon sent back to live in Florida.
At that point, Going, who was no longer a case worker, began to worry about Only. She wanted to reach out, but did not want to make the child feel as though he needed to explain what unfolded in Ohio. So, she waited for the teen to contact her.
Now long after, Going's cell phone rang one night over the summer, and it was Only.
"Do you remember what I asked you before?" he said after she excitedly answered the phone. "Well, how do you feel about adopting me now?"
Going, who said that she had previously declined this request due to the fact that she is a single mother and wanted Only to also have a father, said that she would take him in.
To facilitate the arrangement, she moved into a four bedroom home and began the adoption process, according to the Tampa Bay Times.
Despite the joy that the situation has brought, it does come along with some challenges, as fighting, furniture flipping and other issues aren't uncommon inside the family home, with a therapist regularly meeting with family members to help ease tensions.
But challenges aside, Going said that the chaos is manageable and that the situation is improving.
"I'm okay with messy and difficult. You just have to have your armor on all the time, but it's more than worth it," she told the Tampa Bay Times. "And every day things get a little bit better."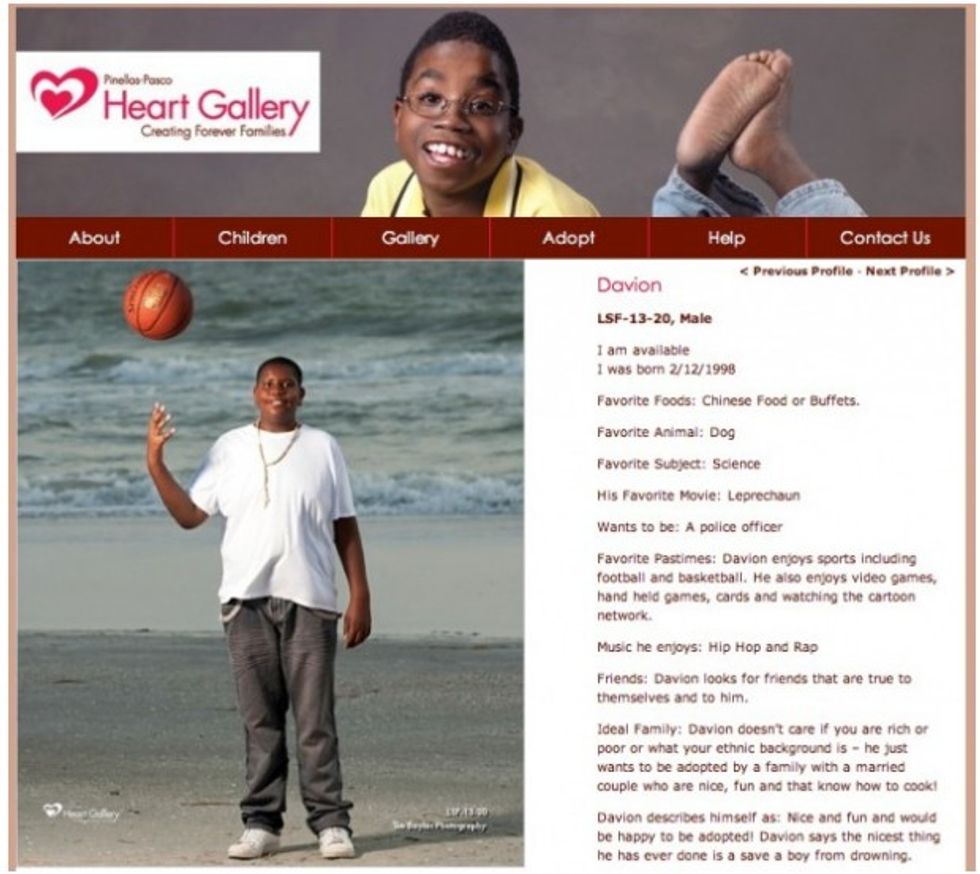 Davion Navar Henry Only's profile on Heart Gallery
As TheBlaze previously reported, millions have been touched and inspired by Only's story, which they learned about after local media reported about his pleading at St. Mark Missionary Baptist Church in 2013. Coincidentally, Going had accompanied him on the trip to the church.
"My name is Davion and I've been in foster care since I was born … I know God hasn't given up on me. So I'm not giving up either,"  he told the church congregation. "I'll take anyone. Old or young, dad or mom, black, white, purple. I don't care, And I would be really appreciative. The best I could be."
Now, it seems his wish has become a reality.
(H/T: Daily Mail)