When a woman decided to boisterously berate a Muslim couple on an Australian train, a bystander decided that enough was enough, and boldly spoke up to defend them against the "horrible and hurtful" things she was saying about their faith.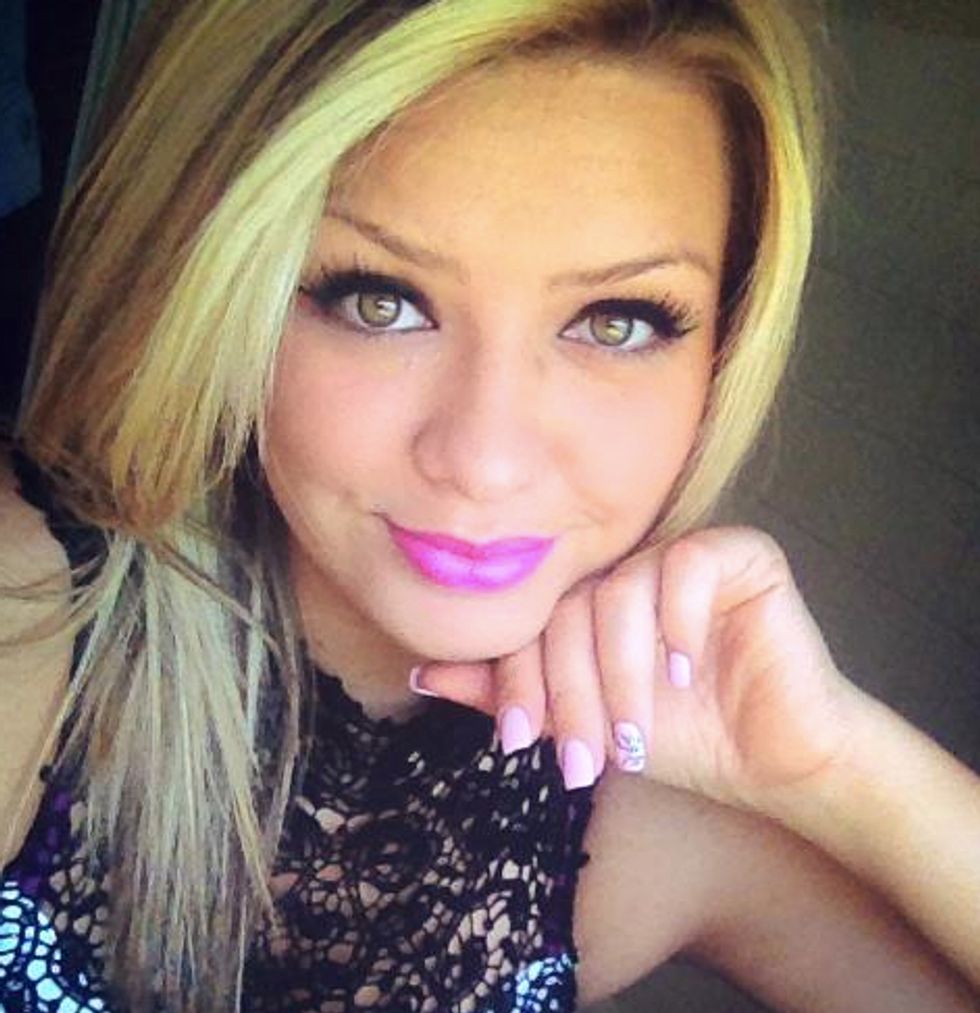 Stacey Eden defended a Muslim couple on a recent train ride in Australia (Image via Facebook/Stacey Eden)
Stacey Eden, 23, jumped in to speak up for the couple, using her cellphone to record a short portion of her clash with the unnamed, middle-aged woman who had reportedly launched an anti-Islamic tirade, according to the Daily Mail.
Eden posted the video to her Facebook page on April 15, explaining that she sat for 10 minutes and listened to the woman "bad mouth Muslims" before responding.
The breaking point for Eden came when the woman reportedly said that all Muslims support the Islamic State and then went after the Muslim woman's clothing.
"She wears [a hijab] for herself, OK!" Eden can be heard telling the woman in the clip. "She wears it because she wants to be modest with her body, not because of people like you who are going to sit there and disrespect her."
Eden went on to defend the woman and her husband against the woman's Islamic State claims, saying that it isn't the Muslim couple's fault and that terrorists are "a minority of people."
"Have some respect, have some respect," Eden continued, as the woman's tirade forged on. "What's that got to do with this poor lady? What's that got to do with her?"
The woman also reportedly told Eden that she would be "stoned to death" in a Muslim country over the fact that she was wearing a dress.
Eden battled back and forth with the ranting woman, with both telling the other to "shut your mouth."
"You've got nothing nice to say, don't say anything. Simple," Eden countered.
She later wrote on her Facebook page that the woman also told her to "go join ISIS," because she defended the couple.
"People like this make me sick," Eden wrote. "People who are so ignorant and disrespectful to other people who were clearly sitting there minding their own business."
Watch video from the clash below:
So i sat there for a good 10 minutes before i started recording this, while i listened to this woman bad mouth muslims and call the lady sitting opposite me an ISIS supporter because she wore a scarf, then she told me to go join ISIS because i was sticking up for her. People like this make me sick. People who are so ignorant and disrespectful to other people who were clearly sitting there minding their own business. She was saying some pretty horrible and hurtful things before i spoke up then as soon as i started defending them she stopped. People need to stop judging and putting others down over religion! EVERY RELIGION HAS GOOD AND BAD but if you take it back to the foundations, every religion is also built on LOVE. To LOVE one another.The purpose of religion is to control yourself, not to criticise others.

Posted by Stacey Eden on Wednesday, April 15, 2015
The Muslim couple was grateful that someone spoke up for them. As for Eden, she has been surprised by an outpouring of support over her standing up for the couple, taking to her Facebook page to thank the public for the kind response.
"Wow, I'm so overwhelmed with appreciation. Thank you to all who have commented the video or sent me private messages of thanks, and love. I didn't realize how something so small would end up becoming so important," she wrote. "I genuinely have tears in my eyes at the messages people have sent me. You are all so lovely and kind."
(H/T: Daily Mail)