ST. PAUL, Minn. (TheBlaze/AP) -- Six Minnesota men have been charged with terrorism in a criminal complaint unsealed Monday, the latest Westerners accused of traveling or attempting to travel to Syria to join the Islamic State group.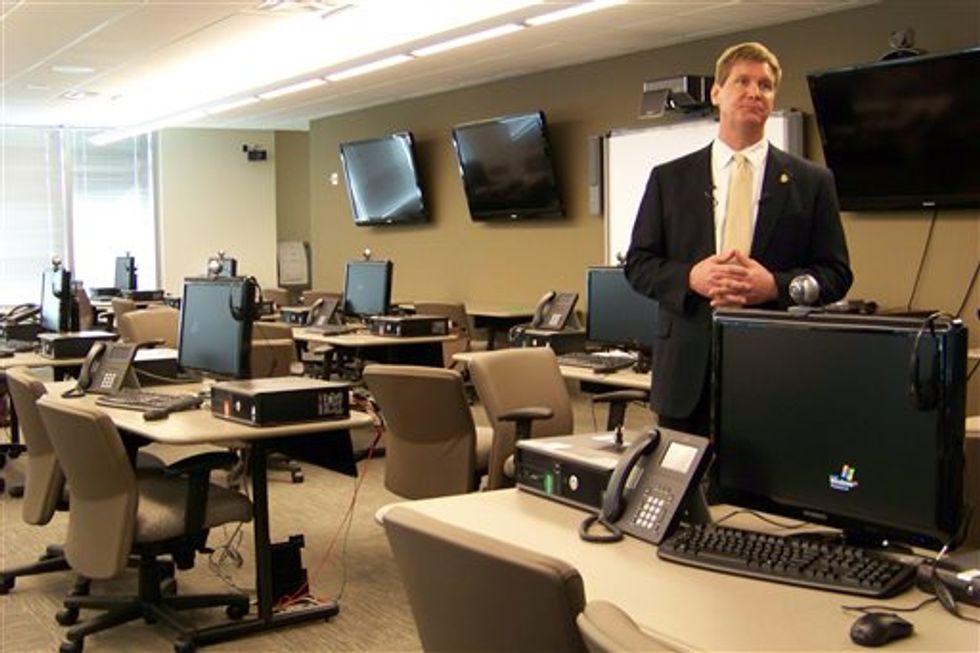 FBI spokesman Kyle Loven gives a tour of the Emergency Operations Center at the new Minneapolis-area field office in Brooklyn Center, Minn. Loven, spokesman for the Minneapolis office of the FBI, said six people were arrested Sunday, April 19, 2015. (AP Photo/Amy Forliti, File)
The six are accused of conspiracy to provide material support and attempting to provide material support to a foreign terrorist organization. The complaint says the men planned to reach Syria by flying from San Diego or New York City to nearby countries, and lied to federal investigators when they were stopped."
Charged are: Mohamed Abdihamid Farah, 21; Adnan Abdihamid Farah, 19; Abdurahman Yasin Daud, 21; Zacharia Yusuf Abdurahman, 19; Hanad Mustafe Musse, 19; and Guled Ali Omar, 20.
Authorities were detailing the charges in a news conference later Monday. The six were arrested Sunday in Minneapolis and San Diego.
They are the latest from Minnesota to be charged in a months-long investigation into recruiting of Westerners to join the Islamic State. Authorities said earlier that a handful of Minnesota residents have traveled to Syria to fight with militants in the past year, and at least one has died.
Three of those charged in the newest complaint - Mohamed Farah, Abdurahman and Musse - were stopped at a New York City airport in November along with 19-year-old Hamza Ahmed but not charged until now.
Ahmed was indicted earlier on charges of lying to the FBI during a terrorism investigation, conspiring to provide material support to the Islamic State group, and attempting to provide material support. He has pleaded not guilty.
The Minneapolis area is home to the largest concentration of Somali immigrants in the U.S. Since 2007, more than 22 young Somali men have also traveled from Minnesota to Somalia to join the militant group al-Shabab.
Officials said they were able to trace the Islamic State recruits after one of the men left the group and contacted the FBI. Luger said the investigation of the alleged terrorists began in spring 2014 and that the men have been trying to go to Syria since about that time.
"We have a terror-recruiting problem in Minnesota," U.S. Attorney Andrew Luger said at news conference Monday. "The problem will not go away unless we address it head-on. It's not a Somali problem, it's not an immigrant problem. It's our problem. It's a Minnesota problem."
The charges came just one day after the terrorist group released a 29-minute-long video online that purported to show the killings of captured Ethiopian Christians in Libya.
This post has been updated.