For the guy clinging to the hood of this SUV, it was a harrowing ride through seven towns at speeds up to 85 mph.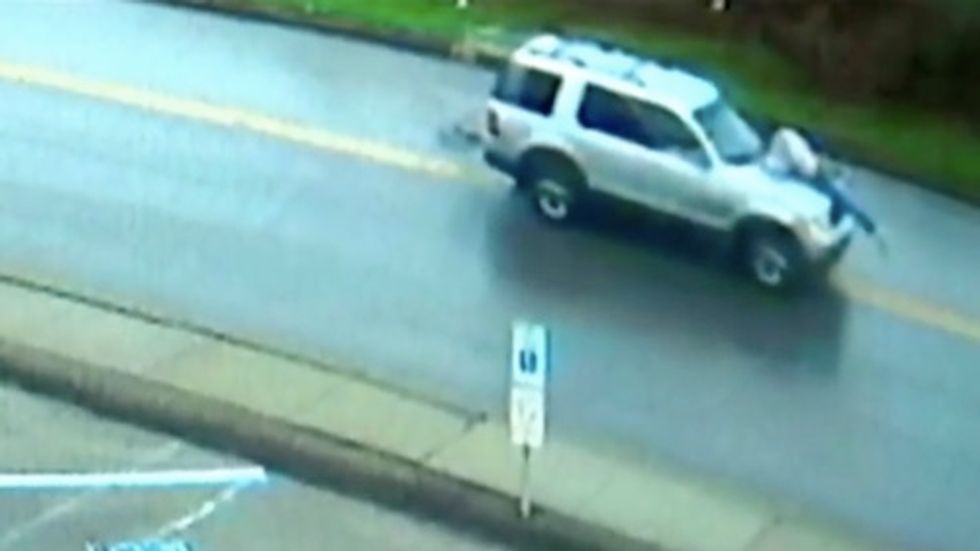 Image source: YouTube
Why didn't the car stop? According to the driver, the man clinging to the hood was threatening to kill him and the passenger beside him, WPXI-TV reported.
Dwayne Harvard, 46, was behind the wheel and told reporters he feared for his life and the life of his friend, Anna Mazzetti.
The incident started Sunday night when Harvard gave Mazzetti a ride home. Her boyfriend, Steven Sutton, was allegedly furious about Harvard driving Mazzetti home and attacked both of them.
They locked themselves in Harvard's car as Sutton allegedly approached the vehicle with a cinderblock and a large knife.
Harvard was driving away when Sutton jumped on the hood of the SUV.
With 911 on the phone, directing Harvard to police officers, the wild ride passed through seven small towns along Route 28.
"He got completely violent like he was going to kill us both," Mazzetti told WXPI. "Nobody in their right mind would stop the vehicle."
When the trip ended, Pennsylvania State Police arrested Harvard and charged him with aggravated and simple assault, plus reckless endangerment and driving under the influence. NBC News reported Harvard was being held on $5,000 bail and will be in court on May 4.
Harvard told the local news outlet he plans on fighting those charges.
—
Follow Mike Opelka (@Stuntbrain) on Twitter.