More than a dozen House Republicans say the federal government is routinely downplaying the national unemployment rate, and have proposed legislation that would force the government to report a higher rate that they say is more accurate.
Rep. Duncan Hunter (R-Calif.) introduced the bill last week, and it's similar to a bill he proposed in the last Congress that he said would require a "true" government report on unemployment. His bill would make the Bureau of Labor Statistics report an unemployment rate that factors in people who have given up looking for work entirely because of the bad job situation, or for other reasons.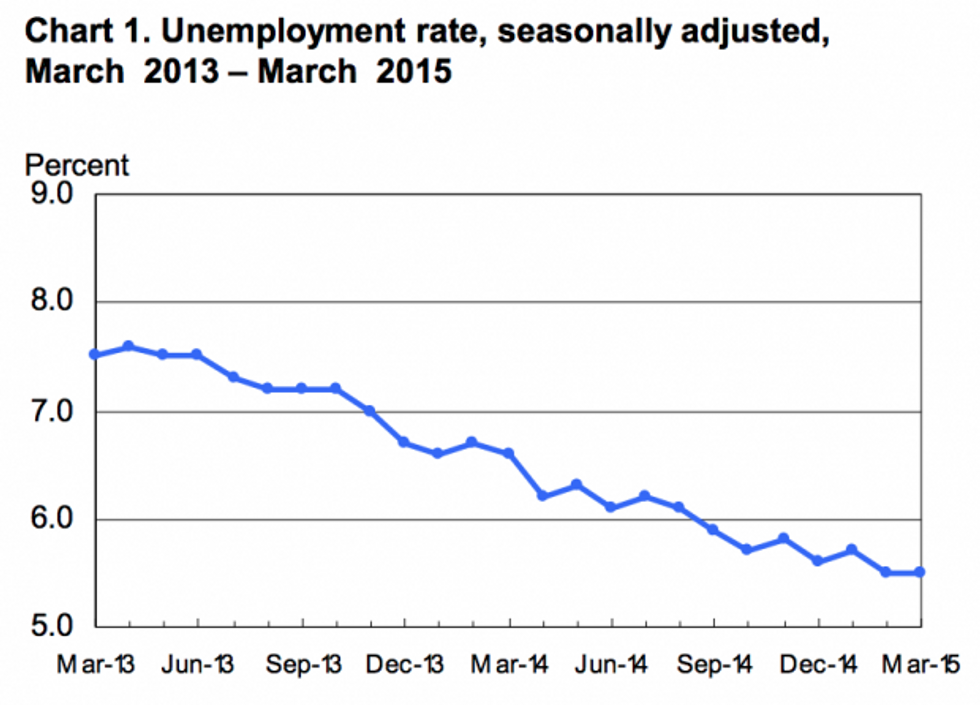 Image: U.S. Bureau of Labor Statistics
That change would have a dramatic impact on how people perceive unemployment.
For example, the official nationwide unemployment rate was 5.5 percent in March. But if the reported number included discouraged workers and others who give up looking for a job for other reasons, the rate would jump to 6.7 percent.
BLS already measures the larger number, which is called the U-5 rate — the U-3 figure is the one that's reported as the official unemployment rate.
Republicans have argued for years that the strength of the economic recovery under President Barack Obama has been overstated, since millions of Americans are still not working. They say the unemployment drop to 5.5 percent in March doesn't really reflect what's going on, and that the larger number is a better reflection of the problems many Americans still face.
One of the more alarming statistics that the government has been less able to hide is the labor force participation rate. That rate, which broadly measures what portion of the population is in the workforce, fell from about 66 percent at the start of the Great Recession to about 63 percent, an historic low.
Republicans have said that drop is due in large part to the onerous regulations that Obama has foisted upon companies, but the Obama administration says the drop was anticipated because the American workforce is aging.
Other sponsors of the bill are Reps. Rick Allen (R-Ga.), Chris Collins (R-N.Y.), Scott Garrett (R-N.J.), Sam Graves (R-Mo.), Brett Guthrie (R-Ky.), Randy Hultgren (R-Ill.), Robert Hurt (R-Va.), Adam Kinzinger (R-Ill.), Jeff Miller (R-Fla.), Mick Mulvaney (R-S.C.), Steven Palazzo (R-Miss.), Todd Rokita (R-Ind.), Bruce Westerman (R-Ark.), Joe Wilson (R-S.C.) and Ryan Zinke (R-Mont.).