In February, police said Natali Castellanos-Tyler lost control of her Ford Explorer in a single car accident, hit a tree and died as a result of her injuries. But the nightmares Castellanos-Tyler's 4-year-old daughter, who was in the SUV at the time of the accident but survived, might suggest more than one car was involved.
What's even more interesting are other recent hit-and-run accidents reported by other people within five miles of this initial crash in Chesterfield County, Virginia, that could support that theory as well.
Craig Tyler, Castellanos-Tyler's husband, told WTVR-TV his daughter screams about a white van.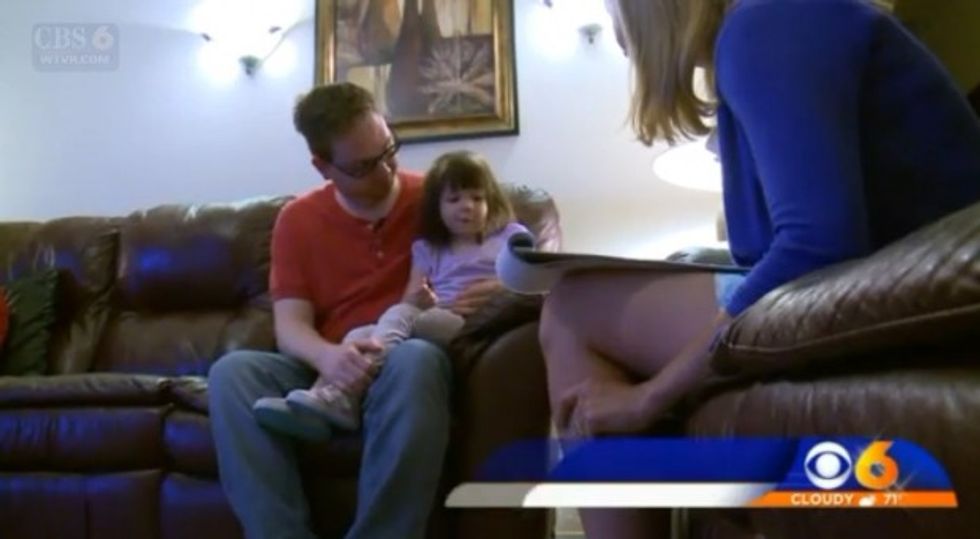 Craig Tyler said his daughter screams of a white van, and he wonders if it was involved in a car accident that killed his wife in February. (Image source:WTVR-TV)
"The nightmares were in the nighttime and now they're coming into the day," Tyler told he news station. "She'll just start walking and she'll start screaming 'the van, the white van!'"
Tyler said he'll question her about it and Elisa has said, "It hurt me — it hurt my car!"
Though Tyler told the news station he was confused by Elisa's outbursts, but then he noticed posts about nearby hit-and-runs involving a white box truck in the area on Facebook.
One of these cases involved 17-year-old Caitlyn Thomas. She described being sideswiped by a white box truck on March 30 on Otterdale Road, about five miles from Castellanos-Tyler's accident. Another took place on March 29 on Otterdale Road as well.
Subasree Thompson told WTVR she was hit by a white truck with two or three men sitting inside.
"He literally braked for two seconds and took off, so I couldn't get a license plate number," Thompson told the news station.
The most recent incident happened on April 3. A Chesterfield County school bus transporting students was also reportedly hit by a white truck, according to the news station.
"It's hard to imagine that somebody would purposely be doing this kind of thing," Wendy Thomas, Caitlyn Thomas' mother, told WTVR. "But three times in one week on the same road is, I feel, more than a coincidence."
The Chesterfield County police told the news station there was no evidence a second vehicle was involved in Castellanos-Tyler's crash, but it is investigating a link between the other incidents.
Tyler said he and his family has "just been praying for the truth to come out."
Watch WTVR-TV's report: