© 2023 Blaze Media LLC. All rights reserved.
Ex-Cop's Clash With Marc Lamont Hill Over Police Violence Gets Heated: 'I'm Looking at the Trail of Dead Black People!
"There is no indication that race is involved at all."
Ex-NYPD detective Harry Houck and commentator Marc Lamont Hill found themselves in a heated shouting match on Tuesday night while discussing the case surrounding Freddie Gray, a black man who died of spinal cord injuries after police in Baltimore, Maryland, arrested him.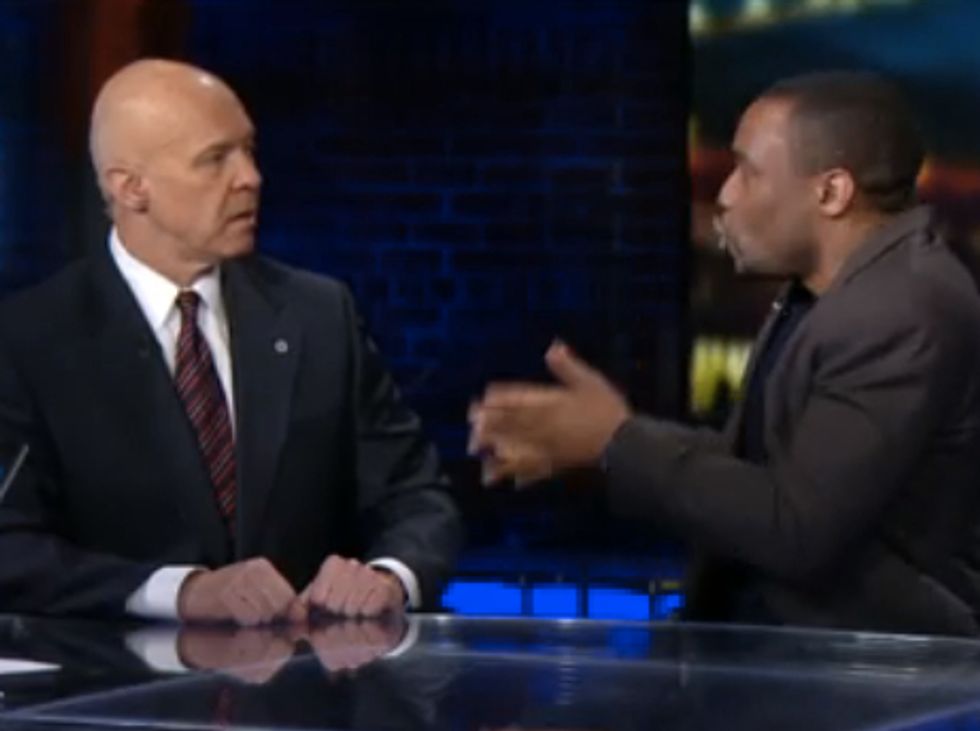 Ex-NYPD detective Harry Houck and commentator Mark Lamont Hill clash over deaths of unarmed black men at the hands of police (CNN)
Houck, who argued throughout the "Erin Burnett OutFront" segment that there's "no indication that race is involved," pushed back against Hill's claims that black people are dying at a "disproportionately high rate" when compared with their white peers.
"There is no indication that race is involved at all," Houck said of the Gray case. "It is a black neighborhood — high-crime neighborhood. What are they going to go around looking for white guys to stop when there's none there?"
He added, "You can't make an assumption that it's because he's black that he was stopped."
But Hill countered that, regardless of the racial demographic, police brutality is the real issue at hand.
"Even if everybody's black, you could still just not abuse people," he said, with Houck agreeing that abuse is absolutely unacceptable, but saying that the details of the case — including the cause of Gray's injuries — are not yet known.
Hill, though, attempted to drive home his belief that the same instances of black individuals dying at the hands of police do not unfold in white neighborhoods — a proposal that Houck wasn't on board with.
"You don't find it curious that even in the high-crime white neighborhoods this stuff doesn't happen with the level of regularity it happens?" he asked, with Houck quickly shooting back, "Of course it does, but we don't hear about it."
Hill wasn't prepared to give up the fight, though, saying that white people are not "turning up dead" from police at the same rate as black people.
"I'm looking at the trail of dead black people at the hands of law enforcement," he said.
Houck, who repeatedly decried police violence, noted that the catalyst in each of the recent deaths of unarmed black men was their decisions to resist arrest.
Watch the clash below:
(H/T: Mediaite)
Want to leave a tip?
We answer to you. Help keep our content free of advertisers and big tech censorship by leaving a tip today.
more stories
Sign up for the Blaze newsletter
By signing up, you agree to our
Privacy Policy
and
Terms of Use
, and agree to receive content that may sometimes include advertisements. You may opt out at any time.