Senate Minority Leader Harry Reid (D-Nev.) on Thursday sharply criticized a Wall Street Journal op-ed for claiming that Republicans "beat Harry Reid" in their battle to pass an anti-human trafficking bill.
"A major newspaper in this country has the audacity to say the GOP, the Republicans, used its advice and consent power to beat Harry Reid," Reid groused on the Senate floor.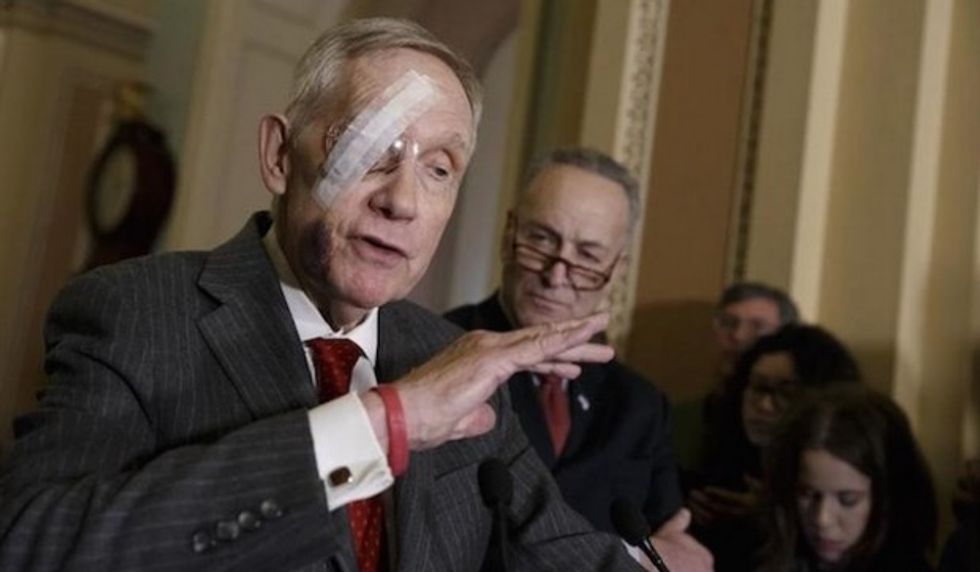 Senate Minority Leader Harry Reid (D-Nev.) complained Thursday about the 'audacity' of a Wall Street Journal op-ed.
The Wall Street Journal praised Republicans for holding its position of not voting to confirm Loretta Lynch as the next Attorney General, until Democrats agreed to the trafficking bill.
The trafficking bill had language that prevented a new program to help victims of trafficking from funding abortions. The final bill does that as well, but Democrats were able to negotiate a change to ensure the program that had this abortion limitation on it was funded by direct appropriations from Congress, instead of fees and fines, one that allowed the bill to pass unanimously on Wednesday.
For decades, appropriated funds have been blocked from funding abortions, and Democrats wanted to ensure this limitation was not expanded to apply to fees and fines. Because of the way the dispute was settled, both sides were able to claim victory, and Reid did just that Thursday by saying Democrats succeeded in not applying the abortion limitation to fees and fines.
"For them to say that they beat Harry Reid... they didn't beat Harry Reid," Reid said. "What they did is beat up on themselves."
Reid also slammed the op-ed for saying Reid accused Republicans of "racism and sexism, as he always does."
"This editorial from the newspaper is really insulting," Reid said. "They said that Reid accused Republican of racism and sexism."
"I dare, I dare anyone to find a single word that I said dealing with race or sex," he said. "I didn't do that."
While some Democrats did imply that the GOP was blocked Lynch because she is a woman or because she is black, Reid seemed to mostly steer clear of lobbing those kinds of charges.
But there was one moment in March in which he seemed to condone the racism charge. Sen. Dick Durbin (D-Ill.) took to the Senate floor and charged that Republicans were making Lynch "sit in the back of the bus." After Durbin uttered that phrase, Reid could be seen nudging a staffer in apparent approval of the comment.
Durbin later refused to apologize for implying racist motives against Republicans. Watch him make the remark, and Reid's reaction, here: