Senator and GOP presidential candidate Marco Rubio (R-Fla.) has joined a House-led effort to give the scandal-plagued Department of Veterans Affairs the ability to fire any employee for cause, not just senior officials.
Last year, Congress passed legislation giving the VA secretary the authority to fire senior officials for corruption or negligence. That bill was a response to the widespread scandal in which the VA was found to be systemically denying veterans quick access to medical care, even as the VA was pretending to get veterans the care they needed.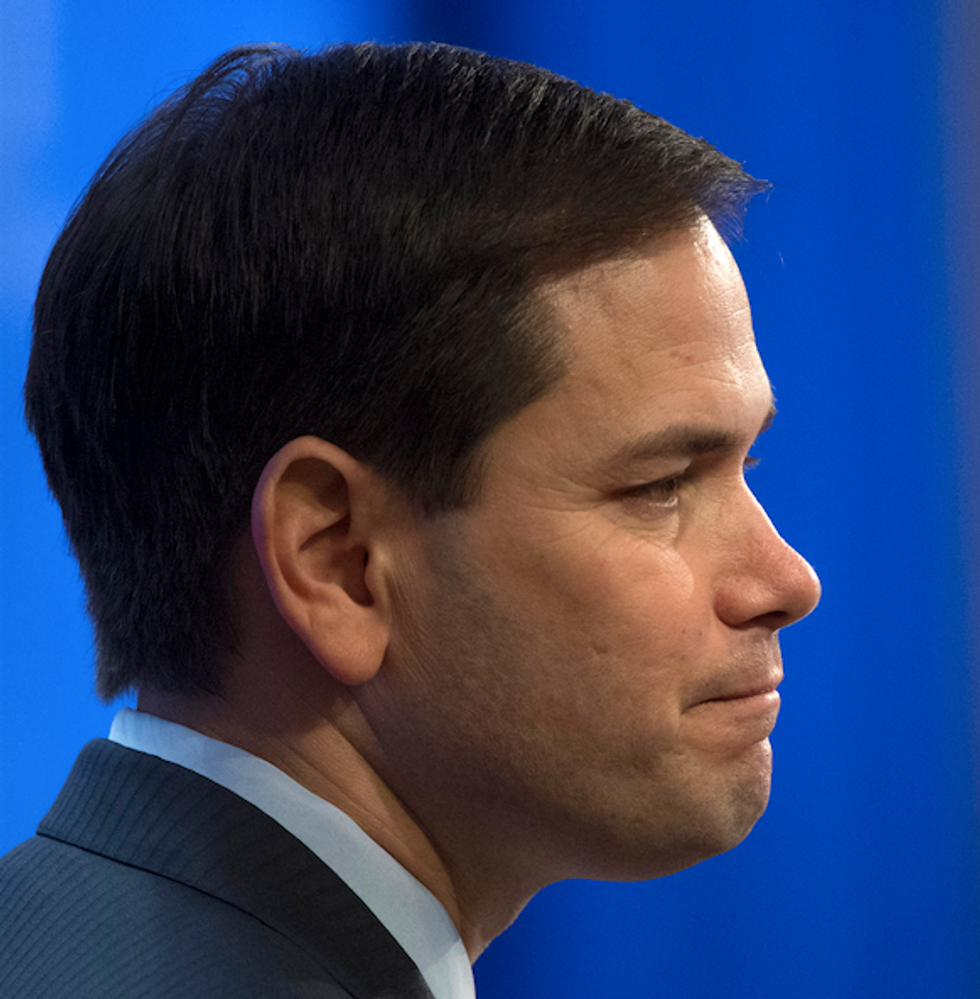 Sen. Marco Rubio (R-Fla.), who is running for president in 2016, joined a House-led effort to let the VA secretary fire anyone for performance or misconduct. Image: AP
But after nearly a year, the VA has removed just a few senior officials, and none have been formally removed because of their role in the scandal. Others who might have been fired for that reason were allowed to retire and keep their full benefits.
In response, House Veterans' Affairs Committee Chairman Jeff Miller (R-Fla.) proposed a bill to let the VA secretary fire anyone he wants based on performance or misconduct. And on Thursday, Rubio — who is now leading in some GOP presidential polls — introduced a companion bill.
"I was proud to lead the effort to give the VA secretary the authority to fire senior executives based on performance, but it's clear additional authorities are needed to deal with the full scope of the problems at the VA," Rubio said Thursday. "This new legislation will leave the VA secretary with no excuse but to hold those responsible for the dysfunction and incompetence plaguing our VA system accountable for their actions while protecting whistleblowers from retaliation."
"We must show our veterans the respect they have earned by removing any employees with terrible performance from the system our veterans rely on," he added.
Miller said that more than a year after the VA scandal broke, it's become clear that the VA suffers from a "near complete lack of accountability."
"Everyone knows accountability is a major problem at the department, and right now VA leaders must work with Congress to solve it," he said. "That's why our focus remains on giving the VA secretary more tools to ensure corrupt and incompetent executives face serious consequences for mismanagement and malfeasance that harms veterans."
House Veterans' Affairs Committee Chairman Rep. Jeff Miller (R-Fla.) first proposed the bill to let the VA fire anyone, not just senior workers. AP Photo/J. Scott Applewhite
The legislation from the two Republicans would authorize the VA secretary fire any VA employee for reasons related to performance or misconduct. Employees designated to be fired could appeal that decision to the Merit Systems Protection Board, and that body would have 45 days to a make a final decision.
The MSPB is known to be opposed to legislation making it easier to fire federal officials. The board has concurred with recommendations to fire a few senior VA officials so far, but it has yet to uphold any VA finding that an employee should be fired because of his or her role in the health care scandal.
Their legislation would also make it harder for the VA to fire or demote a worker if they are a whistleblower. The VA has been known to retaliate against whistleblowers, and earlier this month, Miller's committee heard testimony that in some cases, the VA is improperly accessing the medical records of some whistleblowers.
Elsewhere, the legislation would require the VA to impose longer probation periods on VA employees when it decides to discipline them in this way. It would require a minimum 18 month probation.
Read a copy of their legislation here: