Update 12:35 p.m. EST: The Russian supply capsule was declared a loss Wednesday.
The capsule is expected to burn up harmlessly in the atmosphere, as is the case for all Progress carriers, once they have delivered their shipments and are filled with trash.
"The program plans for these kinds of things to happen. They're very unfortunate when they do," NASA astronaut Scott Kelly told the Associated Press, adding that they should be good on supplies until SpaceX's planned shipment in June.
—
A Russian cargo ship laden with 6,000 pounds of food, fuel and other supplies destined for the International Space Station ran into trouble a few hours after its launch from the Baikonur Cosmodrome in Kazakhstan Tuesday.
By 8:15 a.m. EDT, NASA reported Russian flight controllers confirmed that ISS Progress 59 entered into a slow spin. Attempts to get the cargo ship's telemetry system back under control were not initially successful, and NASA reported that the team at Roscosmos planned to try again later Tuesday.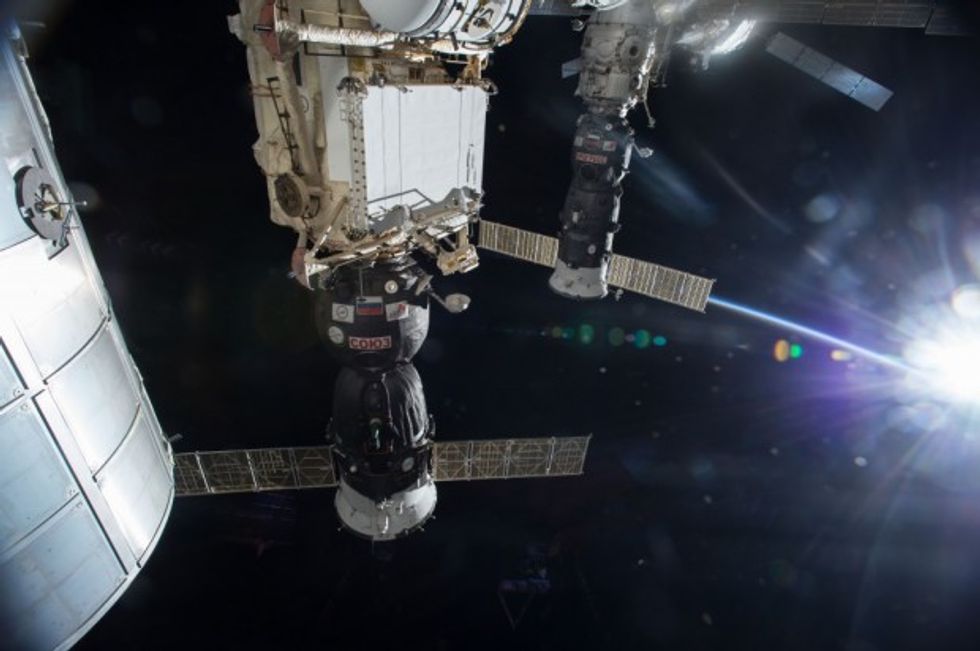 This photo shows ISS Progress 47 docked at the International Space Station. The Progress 59 cargo craft's docking mission was delayed Tuesday when the Russian space agency experienced communication issues with it. A docking attempt is expected for Thursday. (Image source: NASA)
"Right after it separated from the Soyuz booster's third stage, an unspecified problem prevented Russian flight controllers from determining whether navigational antennas had deployed and whether fuel system manifolds had pressurized as planned," NASA said of the problem.
This video reportedly shows the spin of the cargo craft via its on-board camera:
For now, NASA said the six-member crew on the ISS has sufficient supplies to last well through the next scheduled cargo mission, which is in June.
Instead of docking after four orbits today, NASA reported that the the cargo ship was expected to go through 34 orbits with an attempt at docking on Thursday. That plan though, Space.com reported later, was called off as the Russian agency continues to try to get the ship back under control.
NASA spokesman Rob Navias said the docking mission is "indefinitely postponed," according to Space.com.
—
The Associated Press contributed to this report.