Arizona Diamondbacks' pitcher Archie Bradley almost got his glove up in time to snag a searing line drive off the bat of Carlos Gonzales. Almost.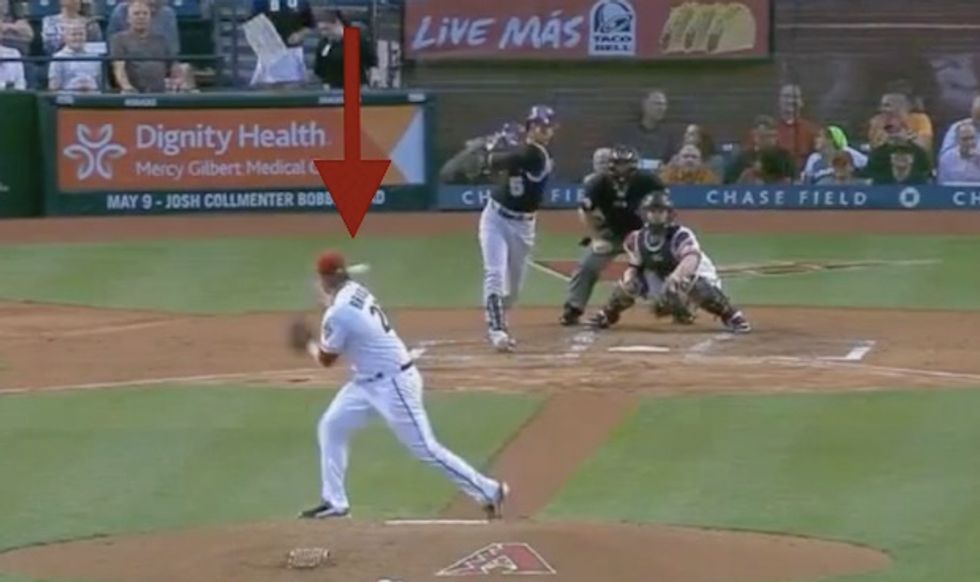 Image source: YouTube
Instead, Bradley was hit squarely on the cheek and dropped to the ground, appearing to be knocked out for a brief time.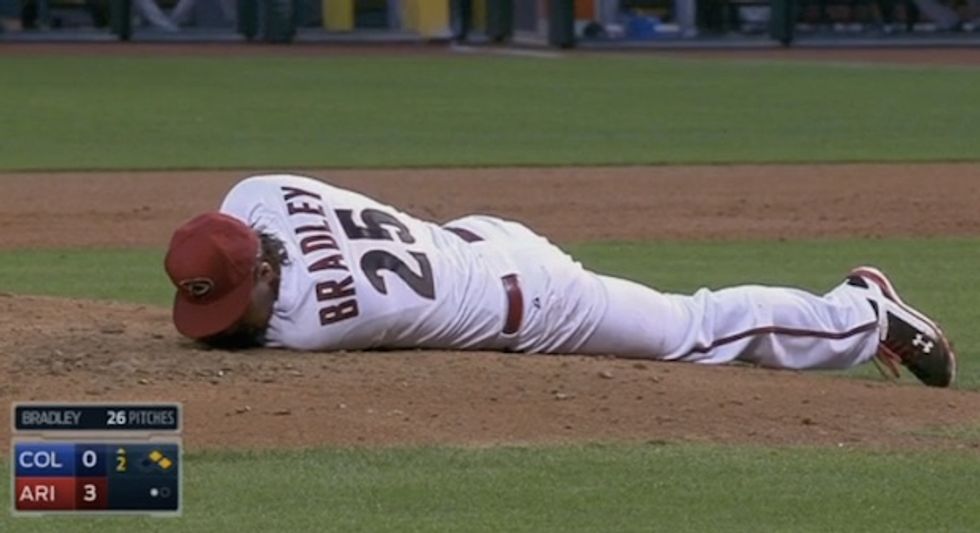 Image source: YouTube
Watch the play:
Trainers rushed to the rookie right-hander's side, evaluating his injury.
A few minutes later, with the crowd cheering, Bradley was eventually able to leave the field under his own power.
Trainers tend to #Ddbacks pitcher Archie Bradley after he was hit in the face by a line drive in the second inning. pic.twitter.com/Eg2J3eLMWl

— David Kadlubowski (@Davidkadlu) April 29, 2015
Major League Baseball reports Bradley did not suffer a concussion, but will likely be sidelined until doctors can fully determine the extent of his injuries.
He does not recall much of what happened after Gonzalez hit the pitch, telling the press, "I saw the pitch going toward the plate and then I woke up, and I was laying down, and I was like, 'Oh, crap, what just happened?'"
Once he was in the locker room, Bradley's first instinct was to call his mom and let her know that he was OK. He told MLB.com that he "FaceTimed" with his mother, "It put a smile on her face."
Bradley shared some photos of his face after receiving treatment.
Pretty ugly huh? In all Seriousness tho thanks for the text, tweets and prayers! Could have been a lot worse! #lucky pic.twitter.com/NasQBYWqkz

— Archie Bradley (@ArchieBradley7) April 29, 2015
__
Follow Mike Opelka (@Stuntbrain) on Twitter.