The sound of speeding motorcycle startled Floyd Briggs, so he ventured out to the street in his Chickasha, Oklahoma, neighborhood to investigate.
Turns out a motorcyclist had been eluding police on a high-speed chase Saturday evening, and Briggs wasn't about to let it continue.
"I said 'I gotta stop this guy before he hurts a little kid,'" Briggs told KFOR-TV.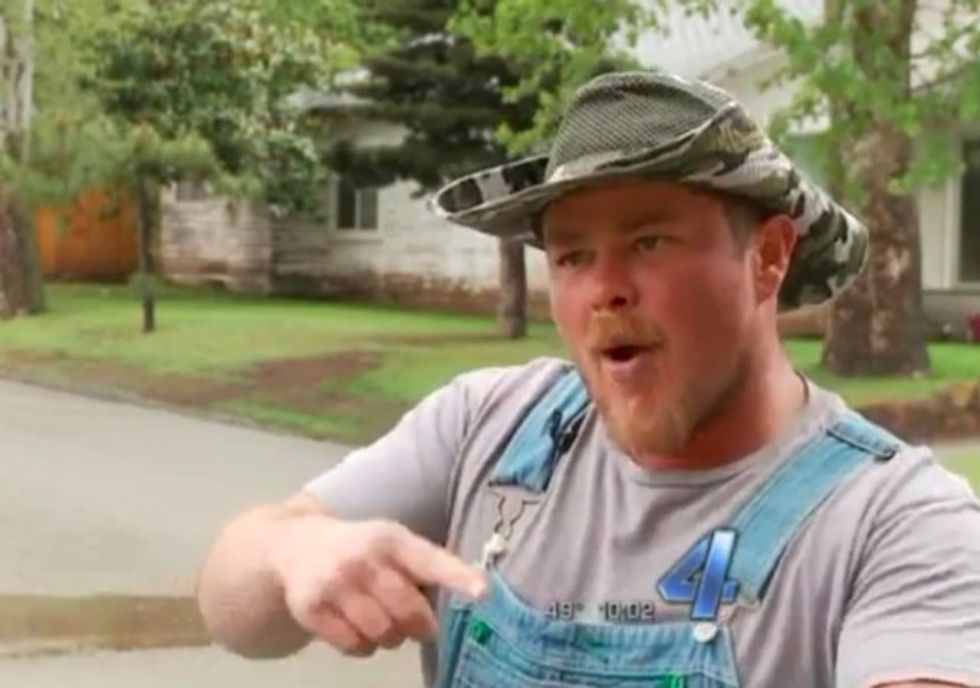 Image source: KFOR-TV
So Briggs positioned himself in the middle of the street. "And I run out here, kinda gettin' ready for him," he told KFOR. "Yeah, I ain't no football player, either."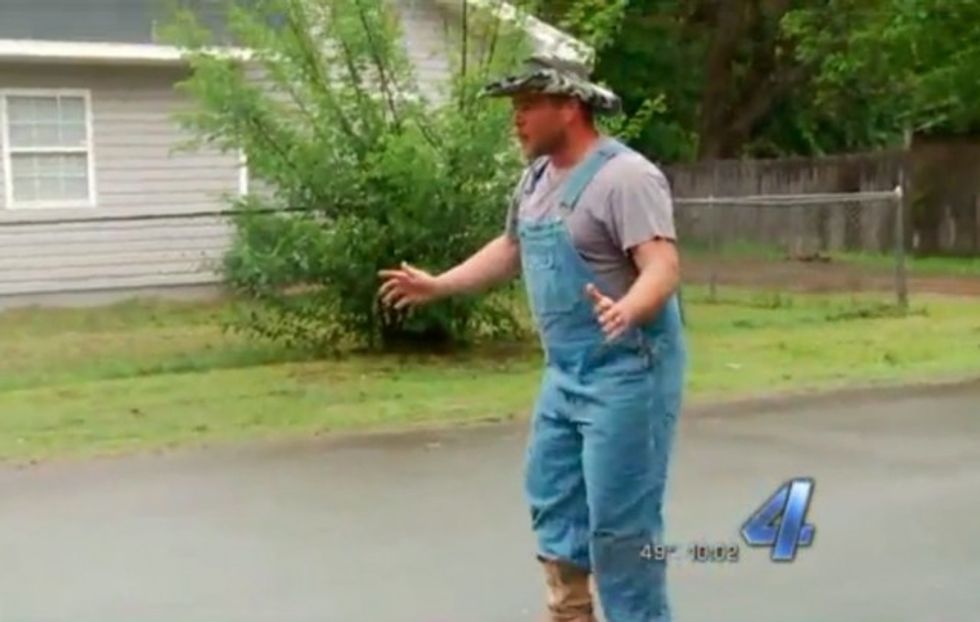 Image source: KFOR-TV
Michael Coppedge, clocked at 63 mph in a 30 mph zone, was headed straight for Briggs — but then thought better of it, swerving the motorcycle around the bearded obstacle and crashing.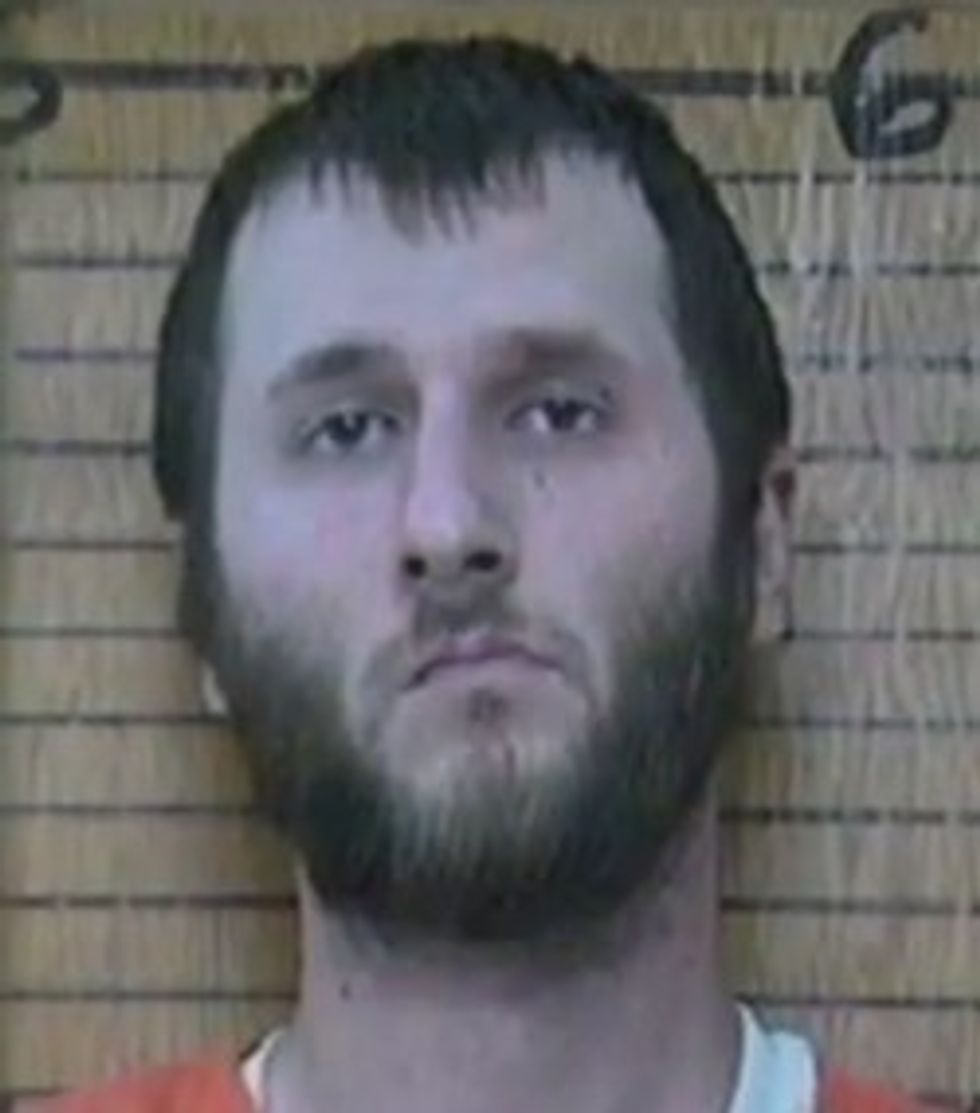 Michael Coppedge (Image source: KFOR-TV)
"And he laid that bike over about here and slid all the way to that pickup," Briggs told KFOR. "Got up, run around that fence right there, and I just went after him."
It wasn't an easy foot chase. "I was running out of steam pretty quick," Briggs told the station. "I'm not very aerodynamic."
But Briggs' efforts were enough that Coppedge ran smack-dab into police with their guns drawn, the Chickasaw News reported.
And the reason Coppedge didn't stop for police in the first place? No license or insurance.
"That's not a serious thing right there," Briggs remarked to KFOR. "You get a ticket, slap on the hand, pay your fine, and go fix your problem."
After being treated at a hospital for minor injuries and a stint in jail, Coppedge was released Monday afternoon and faces charges of eluding police, reckless driving, operating a motor vehicle without a license, leaving the scene of a property damage collision and failure to comply with compulsory insurance law.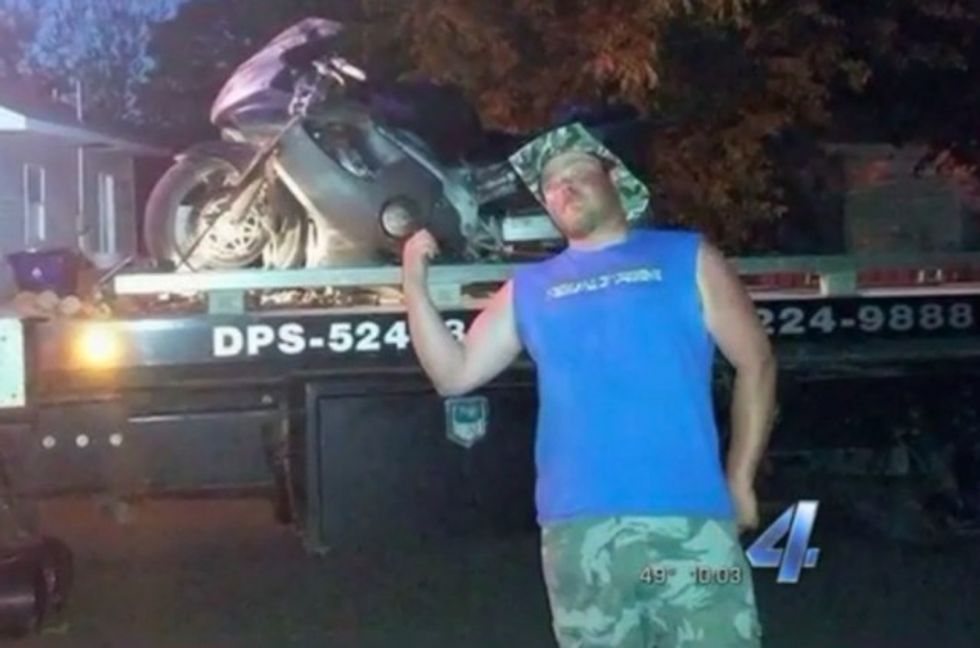 Image source: KFOR-TV
While Briggs is pleased everything ended well, the Kansas native adorned in camo isn't so proud of one thing: his salty speech.
"I did use some language that just isn't how I talk," Briggs told the station. "Some of the words I used, I was pretty worked up. I'm sorry for that."
—
Follow Dave Urbanski (@DaveVUrbanski) on Twitter