It's something that could be dangerous for them to admit openly, but some citizens of Arab countries have been quietly sending messages of support for Israel in an apparent effort to work toward finding what connects Jews, Muslims and Christians rather than focusing on what drives them apart.
The Middle East-focused news site Al-Monitor discovered Christian and Muslim men and women living in the Arab world who have sent messages voicing support for the Jewish state and even the Israel Defense Forces. The return address on some of the messages was stunning.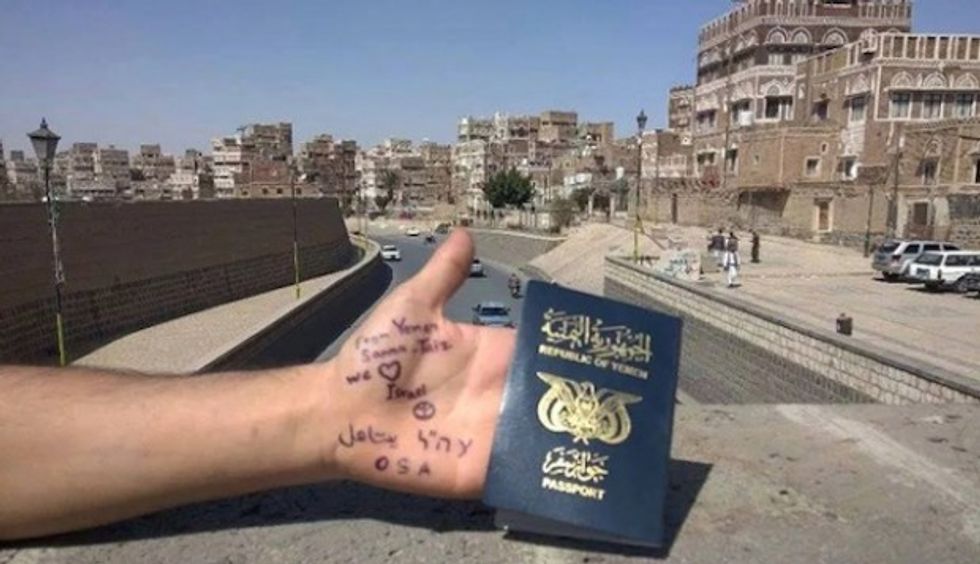 The Yemeni citizen who sent in this message of love for Israel could face retribution at home where the Sunni government is battling Shiite Houthi rebels. (Image source: Facebook/BeTzahal)
Al-Monitor reported that the messages began coming in after a young Israeli Arab man wanted to convince those in his community that the IDF isn't an "army of evil."
But his appeal went far beyond the borders of Israel and drew very interesting responses.
M. is one of very few in the Israeli Arab Muslim community who has served in the IDF and was identified by Al-Monitor only by his first initial presumably for his safety.
The responses he received, including videos and photos, have been posted on the Arabic and Hebrew Facebook page BeTzahal, which means "in the IDF."
Al-Monitor reported that the messages were sent from countries including Iraq, Saudi Arabia, Egypt, Tunisia and Jordan:
One young woman from Saudi Arabia filmed a green Saudi passport. Her voice plays in the background, against a street scene in Jeddah, with a message for the people of Israel: "Good evening. I am a young woman from Jeddah in Saudi Arabia. I am a member of one of the better-known tribes of the Hijaz, and I am showing you Darajeh Square, a famous landmark in Jeddah. I'd like to send a message of peace and love to Israel and its dear citizens. I know it is surprising that a Saudi Arabian citizen sends a message to the people of Israel, but it is a basic principle of democracy that everyone is free to voice an opinion. I hope the Arabs will be sensible like me and recognize the fact that Israel also has rights to the lands of Palestine."
"I want to send a message of peace and love to the dear Israeli people," an Iraqi man said. "I decided to shoot this video and tell you, 'True, we are two countries that do not have friendly relations, but that doesn't matter. I believe that the number of people who support Israel here will grow consistently.'"
The same Iraqi explained to M. in a private message that he was motivated to make his video because of "everything that is happening to us here in Iraq — the killings, the terrorism, the veritable bloodbath — [which] showed us that Israel has nothing to do with it. There are many young people living in Iraq today who have no religion. They are fed up with the religious wars between Sunnis and Shiites and want to live their lives without religion."
While many Arab men in the Druze and Bedouin communities serve in the IDF, the majority of Muslim and Christian Israeli Arabs do not.
See some of the other messages from the Arab world at Al-Monitor and on the Facebook page BeTzahal.