The Fraternal Order of Police has suggested that Baltimore State's Attorney Marilyn Mosby may not be able to run a fair, impartial investigation of the death of Freddie Gray at the hands of police, in part because of her close relationship with the Gray family's lawyer.
Mosby on Friday announced charges against six Baltimore police officers for manslaughter, second-degree assault and misconduct related to Gray's death. Gray suffered a fatal spinal injury while in police custody, an event that led to rioting in the city this week.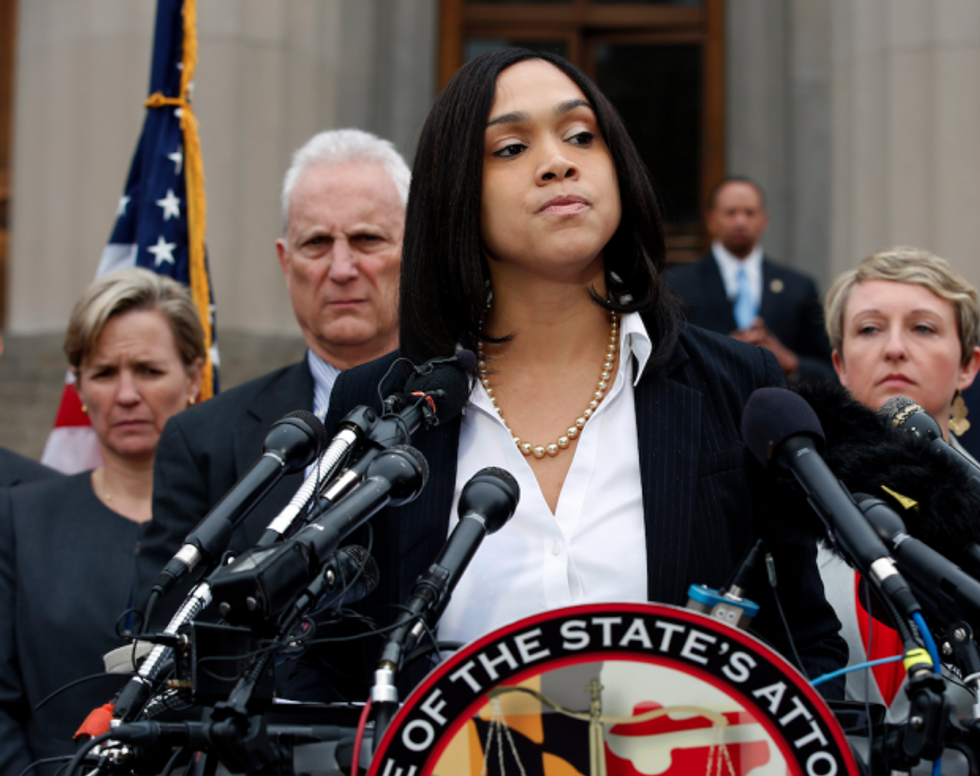 Baltimore State's Attorney Marilyn Mosby is being questioned by a major police association about her close ties to the lawyer representing Freddie Gray's family. Image: AP
Just before Mosby announced that charges were filed, the Fraternal Order of Police's Baltimore City Lodge asked Mosby to appoint a special prosecutor to investigate Gray's death because of her "conflicts of interest" in the case.
"While I have the utmost respect for you and your office, I have very deep concerns about the many conflicts of interest presented by your office conducting an investigation in this case," wrote Gene Ryan, president of the Baltimore lodge.
"These conflicts include your personal and professional relationship with Gray family attorney, William Murphy, and the lead prosecutor's connections with members of the local media," he wrote. "Based on several nationally televised interviews, these reporters are likely to be witnesses in any potential litigation regarding this incident."
An Open Letter to State's Attorney Marilyn Mosby 5/1/2015 pic.twitter.com/iUJ7elR3bq

— Baltimore City FOP (@FOP3) May 1, 2015
Ryan's letter also indicated that the investigation could somehow be skewed given that Mosby's husband, Nick, is a Baltimore City councilman.
"Most importantly, it is clear that your husband's political future will be directly impacted, for better or worse, by the outcome of your investigation," Ryan wrote. "In order to avoid any appearance of impropriety or a violation of the Professional Rules of Professional Responsibility, I ask that you appoint a special prosecutor to determine whether or not any charges should be filed."
Mosby's biography says she is the youngest chief prosecutor of "any major city in America," and said she is a Boston native who joined the State's Attorney Office after graduating from Boston College Law School.
While Mosby said she is charging the six officers with "homicide," Ryan rejected that conclusion.
"As tragic as this situation is, none of the officers involved are responsible for the death of Mr. Gray," he wrote. "To the contrary, at all times, each of the officers diligently balanced their obligations to protect Mr. Gray and discharge their duties to protect the public."