Some people keep guns in their homes to protect themselves. Others just use medieval hammers.
Devyn Breeden, a Columbia, Missouri, high school student, was running late to school Thursday when he said he heard a noise downstairs. He didn't want to go see what – or who – it was while being unarmed so he picked up the medieval hammer his dad, Gene Breeden, had bought for him at a renaissance fair, KOMU-TV reported.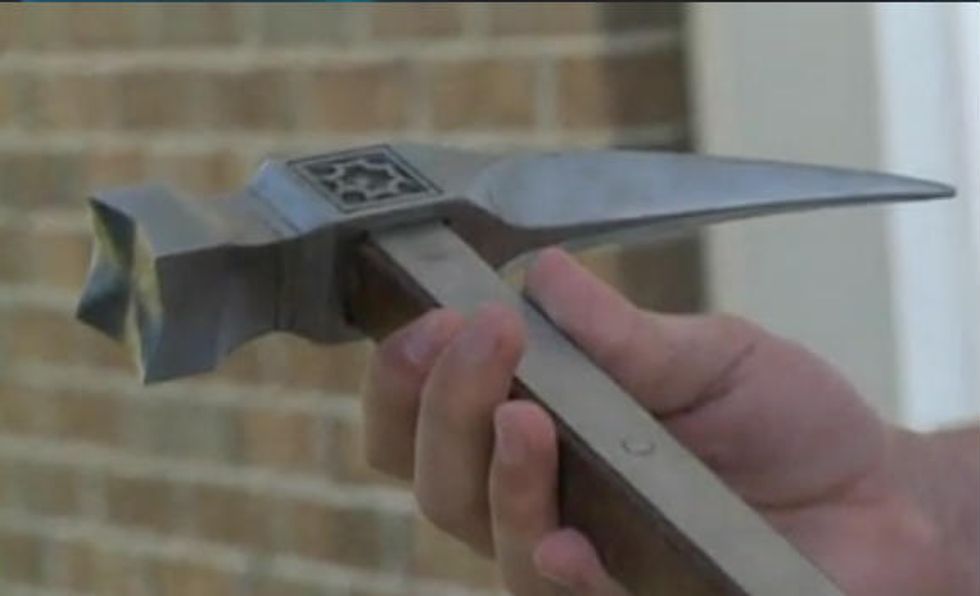 Image source: KOMU-TV
Once downstairs, Breeden came face to face with a 5-foot-9-inch tall man wearing a mask and carrying a knife.
"For a moment I just froze because of the shock, disbelief and also anger. Like, how dare he enter this home?" Breeden said. Breeden couldn't call 911 because his cellphone wasn't working but it turns out he didn't need to after all.
"He saw me first and bolted out the door," Breeden told the Columbia Missourian.
But Breeden wanted to make sure he wouldn't be seeing him again so he ran after the intruder wielding his medieval hammer. Once the intruder was gone, Breeden ran upstairs to text his dad from his computer.
"Someone invaded our home. I'm still shaking," the message said.
Gene Breeden came home from work right when he heard the news. The dad picked up a shower rod before going upstairs "just to make sure," but by then the criminal was far gone thanks to the medieval weapon.
"I just always thought it was good to have something to defend yourself with. I've kind of run him through the scenario, 'Hey, grab this first," Gene Breeden said.
(H/T: KOMU-TV)
–
Follow Jon Street (@JonStreet) on Twitter