Boxer Floyd Mayweather Jr. apparently revoked the press credentials of three sports reporters for his much-heralded "fight of the century" against Manny Pacquiao Saturday — and all three have been critical of Mayweather regarding his history of domestic violence.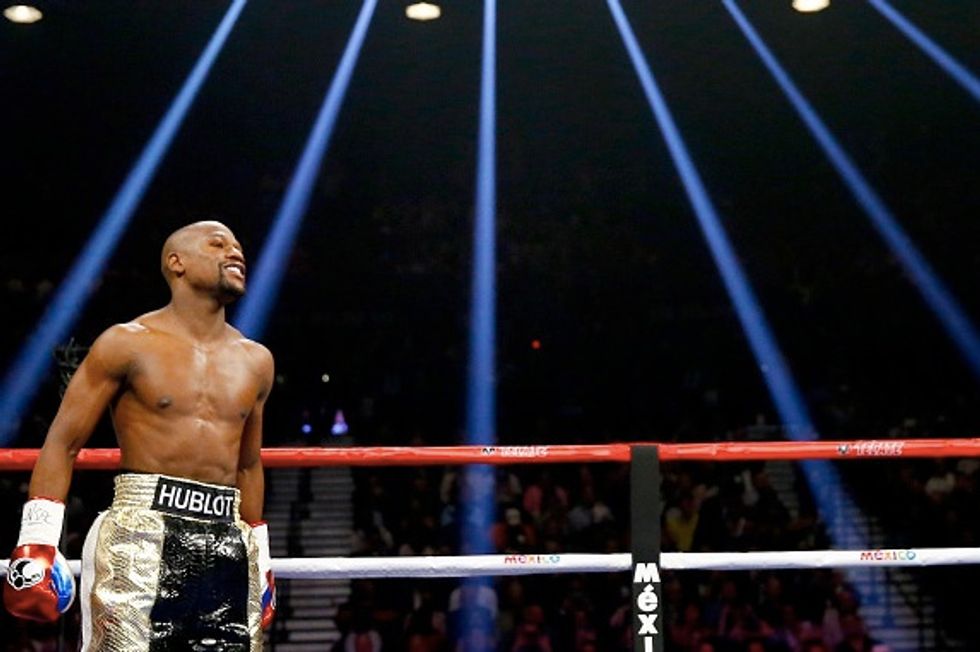 Floyd Mayweather Jr. smiles during the welterweight unification championship bout on May 2, 2015 at MGM Grand Garden Arena in Las Vegas, Nevada. (Image source: Al Bello/Getty Images)
The journalists in question are CNN's Rachel Nichols, ESPN's Michelle Beadle and USA Today's Martin Rogers.
No fight for me or @MichelleDBeadle. Mayweather's team told my producer the camp was blocking my credential. https://t.co/JTjjXadPp8

— Rachel Nichols (@Rachel__Nichols) May 2, 2015
I, along with @Rachel__Nichols, have been banned from the MGM Grand Arena for the fight tonight by the Mayweather camp. #TheFightGame

— Michelle Beadle (@MichelleDBeadle) May 2, 2015
In addition to banning @Rachel__Nichols and @MichelleDBeadle, Mayweather declined to credential @mrogersUSAT, who has written great DV stuff

— Chris Mannix (@ChrisMannixSI) May 2, 2015
Thank you so much to everyone who reached out with messages of support today. I'm at Excalibur, watching closed circuit. Moving forward :)

— Martin Rogers (@mrogersUSAT) May 3, 2015
Nichols on Saturday tweeted a difficult interview she conducted with Mayweather in late 2014 which say indicated was the straw that broke the camel's back:
Here's my interview with Floyd Mayweather from this past fall, the same week the Ray Rice video was leaked: https://t.co/yFiBhEQhFb

— Rachel Nichols (@Rachel__Nichols) May 2, 2015
Mayweather's publicist Kelly Swanson denied the allegations: "Nobody was banned from the arena, OK?" Swanson told the Huffington Post.
While HBO Sports ended up credentialing Beadle, she had already left town:
After hearing my credential was pulled, I went home. Told this morning that HBO was able to get it re-approved late last night.

— Michelle Beadle (@MichelleDBeadle) May 2, 2015
Nichols broke it down further from her perspective:
Have had a bunch of folks asking questions about the Mayweather issue. Here's what happened: After asking tough questions of Floyd Mayweather on my program, I was not offered press credentials to cover tonight's fight. In an email dated April 23, I was told I would only be credentialed for the run-up events through the week, but in bold, italic letters the email stated "you do not have any access Saturday to any services or events." A CNN producer revisited the issue with the Mayweather camp on April 29, confirming to Mayweather's publicist that I would be in Las Vegas, and the publicist replied that I would still be denied a fight night credential. I was told the same thing when I arrived at the credential office in person on May 1, by two separate officials, in front of several other people. It doesn't surprise me that now, after facing significant backlash, the Mayweather camp has reversed its position. But despite this, and other outside parties generously offering me their seats, I will not attend the fight. I will also not let fear of retaliation prevent me from asking the tough questions the public deserves answers to in the future.
—
Follow Dave Urbanski (@DaveVUrbanski) on Twitter