On the heels of violence in the streets of Baltimore, a whopping 96% of Americans said they believe more racial unrest awaits the U.S. this summer, according to a new Wall Street Journal/NBC News poll.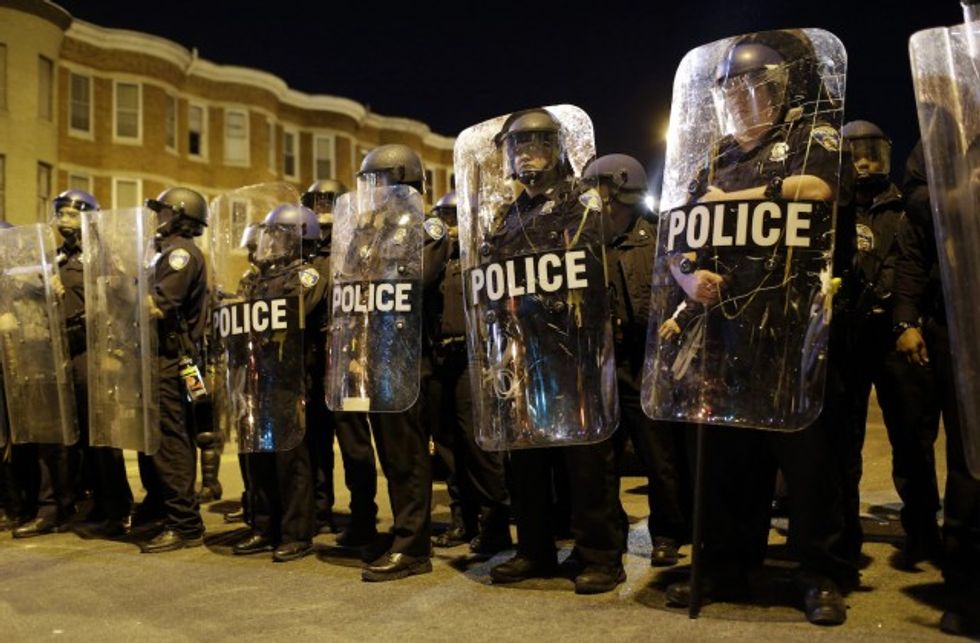 Police stand in formation as a curfew approaches, Tuesday, April 28, 2015, in Baltimore, a day after unrest that occurred following Freddie Gray's funeral. (Image source: AP/Patrick Semansky)
But blacks and whites were not on the same page in regard to the reasons for the recent racially fueled disturbances.
More from the Journal:
Asked to choose between two possible explanations for recent events, 60% of blacks said they reflected "long-standing frustrations about police mistreatment of African Americans." Some 27% of black respondents said the disturbances were caused by people who used protests over an African American man dying in police custody "as an excused to engage in looting and violence."

But among whites, the balance of opinion flipped: 58% said people were seizing an excuse to loot, while 32% said the events reflected long-standing frustrations with police.

While most people in the survey predicted further racial disturbances this summer, a smaller share expected them to hit close to home. The poll found that 53% of whites and 46% of African Americans said it was likely there would be a racial disturbance in the metropolitan area nearest to them.
The Journal added that the survey was conducted April 26-30, when Baltimore's Freddie Gray, a black man who died in police custody, was buried — and when violence hit the city's streets. In addition, the polling was finished before Friday's announcement that six police officers were being charged in Gray's death, the paper said.
(H/T: Drudge Report)
—
Follow Dave Urbanski (@DaveVUrbanski) on Twitter