There's a lake in Oregon that is draining into a six-foot hole. Where that water goes though, nobody really knows.
Lost Lake in Mount Hood National Forest is draining into what Jude McHugh, a spokeswoman Willamette National Forest, told the the Bend Bulletin is a lava tube.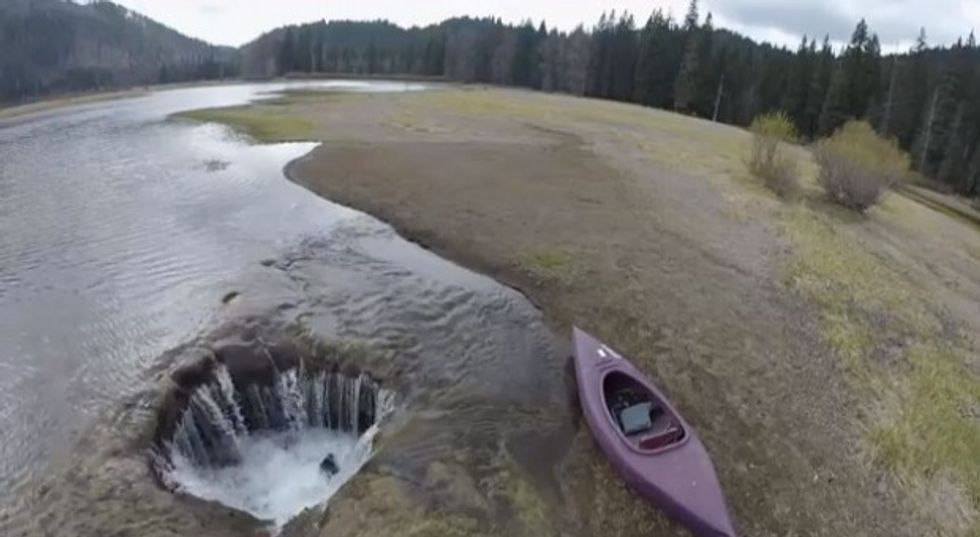 Image source: YouTube
"It fills up in the winter, when input exceeds the rate of draining, and then it goes dry and it's a meadow," McHugh told the newspaper.
The water draining into the hole could flow into some subterranean outlet, but she said it most likely goes into an aquifer. Watch this video from the Bulletin showing the hole:
Here's another video filmed by a visitor to the park a few years ago showing the drain:
According to a paper from Oregon State University researchers, Lost Lake sees its highest water levels at more than one meter in the spring with winter snowmelt and its lowest at the end of summer. This paper noted that the water from Lost Lake is "inferred to re-emerge in Clear Lake."
McHugh added that some people have tried to plug the hole, which she said is unauthorized and inadvisable because it would result in flooding that could impact a local road.
(H/T: Daily Mail)