His real name is Jonathan Restrepo, but drivers in Florida might have easily mistaken him for Spiderman.
Restrepo was reportedly high on crystal meth when he jumped out of his girlfriend's car April 26 and landed on top of another car. He then proceeded to surf from the top of one vehicle to another and at one point even landed inside of a convertible that was going 20 mph, WPBF-TV reported.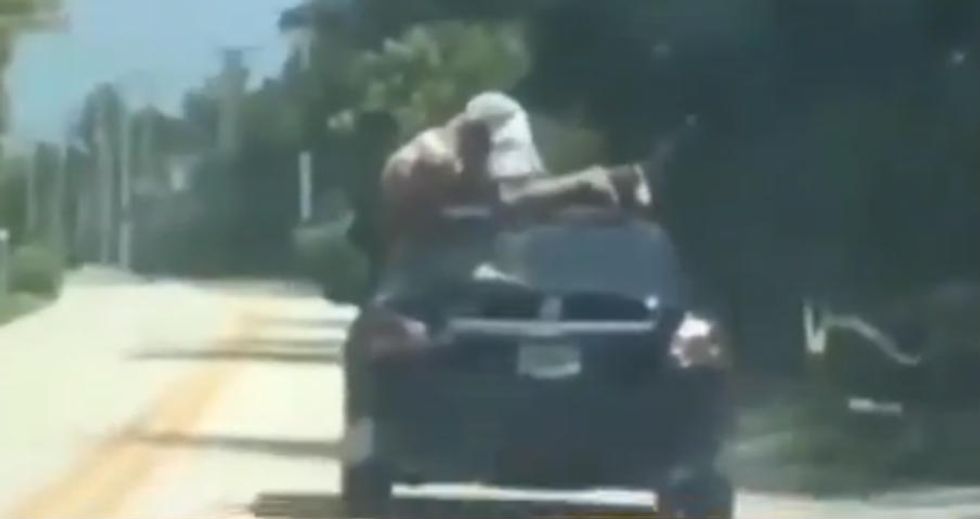 Image source: WPBF-TV via YouTube
One traveler who recorded part of the charade using his cellphone later compared Restrepo to an animal: "He was running around like a monkey with his tongue out, waving his arms in the air, jumping on top of cars."
One driver, Joe Brogna, said Restrepo landed on top of his vehicle and started screaming, "Help me, help me! They're trying to kill me. Let me in, let me in!"
The driver of a moving Nissan Altima car encountered Restrepo after he landed on the roof of their vehicle and peered in through one of the windows. But even that didn't stop the driver from pulling over, according to WPBF.
The driver of the car on which Restrepo is seen riding in the video said she refused to stop anywhere but at a police station and called 911 when she noticed the strange man on her car.
Eventually confronted by police coming from the opposite direction, Restrepo made a mad dash off the top of the car and ran for a patch of grass. The man who recorded the video said that's when Restrepo ran in the opposite direction of police and then ran back toward them.
"He was really confused, just acting crazy. I've never seen anything like it," the man who recorded said.
Police were then able to catch up with Restrepo and ordered him to the ground. He reportedly told the officers who arrested him that he had been using crystal meth and that someone else was after him.
Restrepo was charged with public intoxication, disorderly conduct and criminal mischief. He was treated at nearby hospital but later released, WPBF reported.
(H/T: WPBF-TV)
–
Follow Jon Street (@JonStreet) on Twitter