© 2023 Blaze Media LLC. All rights reserved.
Experts Demonstrate a Step-by-Step Action Plan to Protect Your Family During a Violent Home Invasion
"My ultimate goal should be to protect my family from harm, end of story."
It's a scenario that many people prepare for, but hope to never be in. Regardless of the odds, it's important for Americans to be prepared to protect themselves and their families in the event of a home invasion.
In an attempt to help residents be prepared for such a scenario, Houston NBC affiliate KPRC-TV teamed up with experts like former U.S. Secret Service agent Jim Napolitano and Col. Bernie McCabe, a former member of U.S. Special Operations, to form an actionable plan to survive a real home invasion.
Screengrab via KPRC-TV
Firstly, understand the "ultimate goal," Napolitano said.
"My ultimate goal should be to protect my family from harm, end of story," he told KPRC-TV.
Watch as the news station walks viewers through a staged home invasion:
video platformvideo managementvideo solutionsvideo player
The report goes on to lay out an action plan for a typical two-parent home:
With a typical family, both adults need to snap into immediate action. One adult is in charge of grabbing a weapon (usually a loaded gun) and holding off the attackers, while the other adult must rush in and gather all the children and lead them to the safe room, where that adult will lock the room down and immediately call 911 for help.

What is a safe room? It can be any room, but generally it will be a closet or bathroom with no windows, a special steel security door (that you have installed), a reinforced, heavy-duty door frame and three separate deadbolt locks spaced evenly apart.

Inside that safe room, you should have a second weapon locked up in a gun locker. You should have a cellphone you never remove from that room and a flashlight.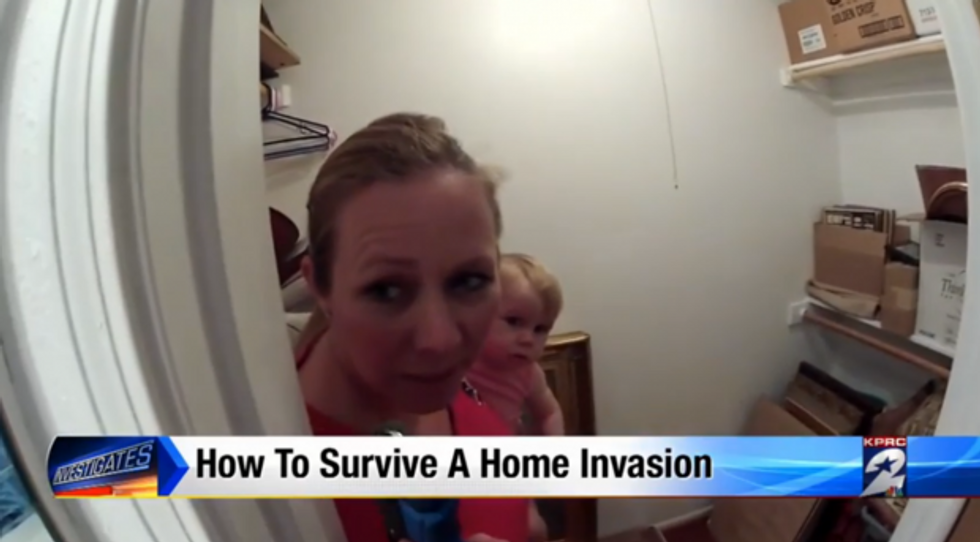 Screengrab via KPRC-TV
For the other armed adult not in the safe room, the experts recommend staying close to the safe room and away from any open areas. Find a "protected position," possibly behind a wall, where you can safely and effectively open fire on the attackers if necessary.
As the home intruders wander through the house, they likely will have no idea they are walking right into "the fatal funnel," where the homeowner is waiting for them to come down the hallway, the report adds.
Here's an easy four-point review of the action plan from KPRC:
1. Get your children to the safe room

2. Secure safe room and call 911

3. Stop or hold off the attackers with a weapon

4. Wait for the police to arrive
The men also offered some advice to people who "don't have a gun and don't believe in guns."
Channel 2 experts say you have to improvise your weaponry. A $30 fire extinguisher -- available in any hardware store -- that fires retardant is an ideal choice. That's because the fire extinguisher is easy to use. You will hit what you aim at, and it will both stun and blind your attackers with fire retardant.
The experts, of course, recommend firearms training to ensure anyone who is handling a gun knows exactly how to use it.
Read KPRC-TV's entire special report here.
---
Want to leave a tip?
We answer to you. Help keep our content free of advertisers and big tech censorship by leaving a tip today.
more stories
Sign up for the Blaze newsletter
By signing up, you agree to our
Privacy Policy
and
Terms of Use
, and agree to receive content that may sometimes include advertisements. You may opt out at any time.