White House press secretary Josh Earnest said it's "common sense" to think that the money Iran would get from sanctions relief under a nuclear deal would be used to rebuild the nation's struggling economy, and not to fund terrorism.
"The pressure they are responding to is an economic one," Earnest said Tuesday. "So, given additional economic resources, a common-sense analysis would be that they would use those economic resources to try to relieve that economic pressure they are feeling."
But he added: "I'm not going to make any predictions about what they are going to do, and I'm certainly not going to be in a position to prescribe what they should do. This is a sovereign country that will make their own decisions."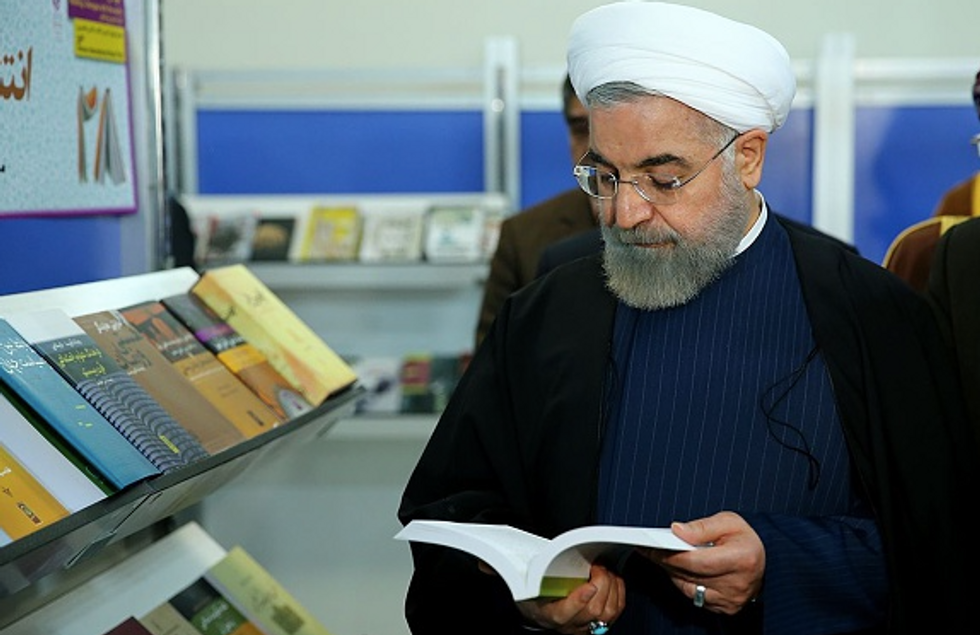 Iranian President Hassan Rouhani looks at books during the 28th Tehran International Book Fair, May 05, 2015. (Pool/Iranian Presidency Press Office/Anadolu Agency/Getty Images)
The U.S.-led nuclear talks with Iran have a June 30 deadline to hammer out the final details after a framework agreement was reached in April. Under the deal, Iran would be allowed to continue to enrich uranium for peaceful purposes and receive sanctions relief so long as the government does not move forward with nuclear weapons ambitions.
Earnest was asked whether the United States is concerned that Iran will use the money from sanctions relief to fund Hezbollah or other terrorist organizations.
"It's the hope of the Iranian people that the influx of resources will be devoted to meeting the needs of the population there and strengthening the economy that have taken a terrible toll on the daily lives of millions of Iranians," Earnest said.
Earnest said that the international community united behind President Barack Obama for tough sanctions that prompted the citizens of Iran to pressure their leaders to negotiate.
Nevertheless, even during tough sanctions, Iran did not use its limited resources to help the nation's struggling economy, Earnest said.
"The fact is, even while these sanctions have been in place, we've not seen Iran significantly scale back their support for terrorism or destabilizing activities in the region," Earnest said.