The Baltimore Police Department's investigation into the death of Freddie Gray may not support some of the prosecution's charges, including its most serious, sources told CNN.
Officials briefed told CNN that the police investigation found the knife Gray was carrying at the time of arrest was illegal under Baltimore city code. Baltimore City State's Attorney Marilyn Mosby previously said it was legal, giving officers no grounds to arrest him.
One source added that that homicide investigators briefed by the medical examiner did not believe the cause of death would be homicide, but instead fall short.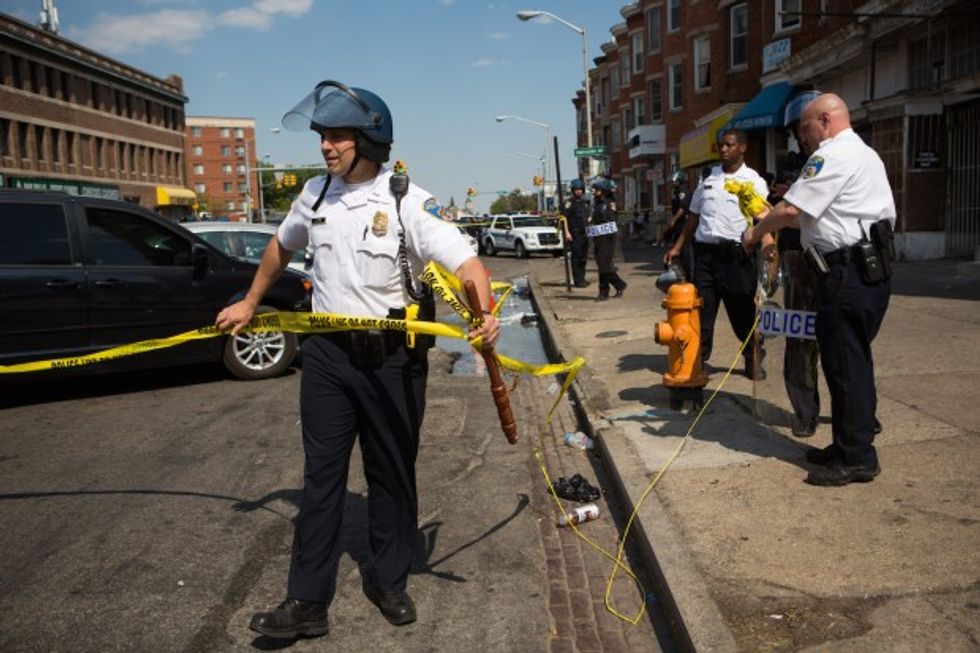 An officer takes down police tape after an incident on North Ave., near the site of recent riots and only several blocks away from where Freddie Gray was arrested last month, May 4, 2015 in Baltimore, Maryland. (Photo by Allison Shelley/Getty Images)
Further, officials said that the police investigation did not support a second-degree murder charge, since prosecutors need to prove there was an intent to kill Gray. Instead, officials told CNN at most a manslaughter charge was warranted.
Many in the Baltimore police force have been openly critical of Mosby for filing the charges.
The Fraternal Order of Police's Baltimore City Lodge said it had "deep concerns" about Mosby's "many conflicts of interest" prosecuting the case. Organization president Gene Ryan also contended the officers were not responsible for Gray's death.
"As tragic as this situation is, none of the officers involved are responsible for the death of Mr. Gray," he wrote. "To the contrary, at all times, each of the officers diligently balanced their obligations to protect Mr. Gray and discharge their duties to protect the public."
Gray's mysterious death in police custody ignited riots in Baltimore and protests around the nation. Six officers have been charged in his death.
—
Follow Oliver Darcy (@oliverdarcy) on Twitter