A U.S. airstrike strike killed a senior Al Qaeda leader in the Arabian Peninsula along with his eldest son and other militants, the terrorist organization announced in a new video posted online.
Nasr al-Ansi's death was announced by al-Qaida operative Khaled Batarfi in a video posted on the Internet Wednesday.
Al-Ansi, believed to have been close to al-Qaida's late leader Osama Bin Laden, has made several video appearances on behalf of the group's Yemen branch. In January, he announced that the Yemen branch was responsible for the attack on the offices of a French satirical magazine that killed 12 people.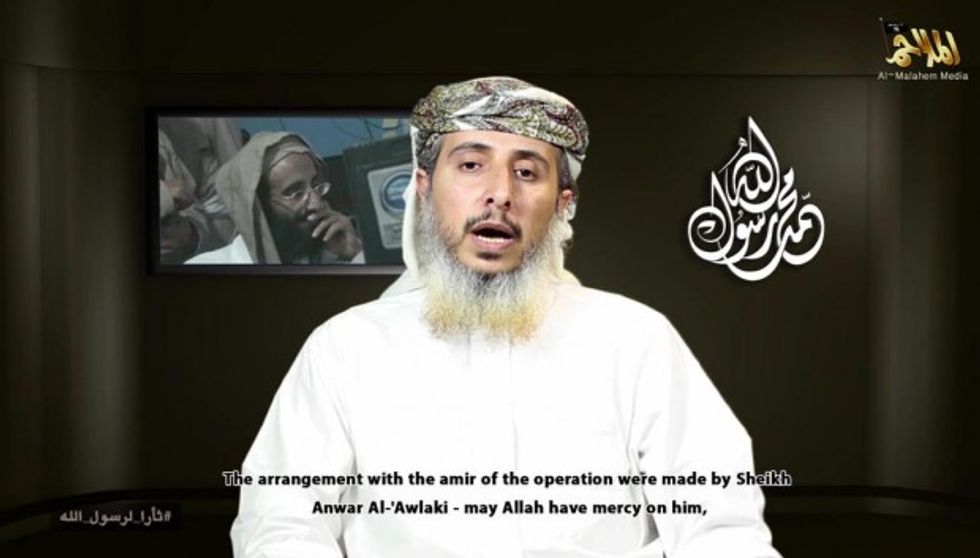 Image source: Screen grab
Secretary of Defense Ash Carter declined to confirm Wednesday during a press briefing whether the senior terrorist leader was killed.
"I cannot give you a specific response on this particular strike. We just don't talk about those and certainly not from this podium," he said.
"I will say though that to the general question of AQAP in Yemen, we continue to apply pressure there. Obviously, the circumstances have changed in Yemen," Carter added. "And said earlier, it's more when you have a stable government in a country, it gives you more opportunities for counter-terrorism operations. But we do have other ways of doing that, and we're keeping up the pressure on Al Qaeda, and we intend to continue to do so."
An unidentified U.S. official did, however, confirm to CNN that al-Ansi was dead, but would not say whether it was a result of a U.S. airstrike.
The Associated press contributed to this report.
—
Follow Oliver Darcy (@oliverdarcy) on Twitter