Story by the Associated Press; curated by Oliver Darcy.
—
LONDON (AP) — An exit poll projected a surprisingly strong showing for Prime Minister David Cameron's Conservative Party in Britain's election Thursday, suggesting it is within touching distance of forming a new government.
The opposition Labour Party fared worse than expected, the exit poll suggested, and Cameron's coalition partner, the Liberal Democrat Party, was expected to lose most of its seats.
The biggest surge was for the separatist Scottish National Party, which was expected to take all but one of the seats in Scotland.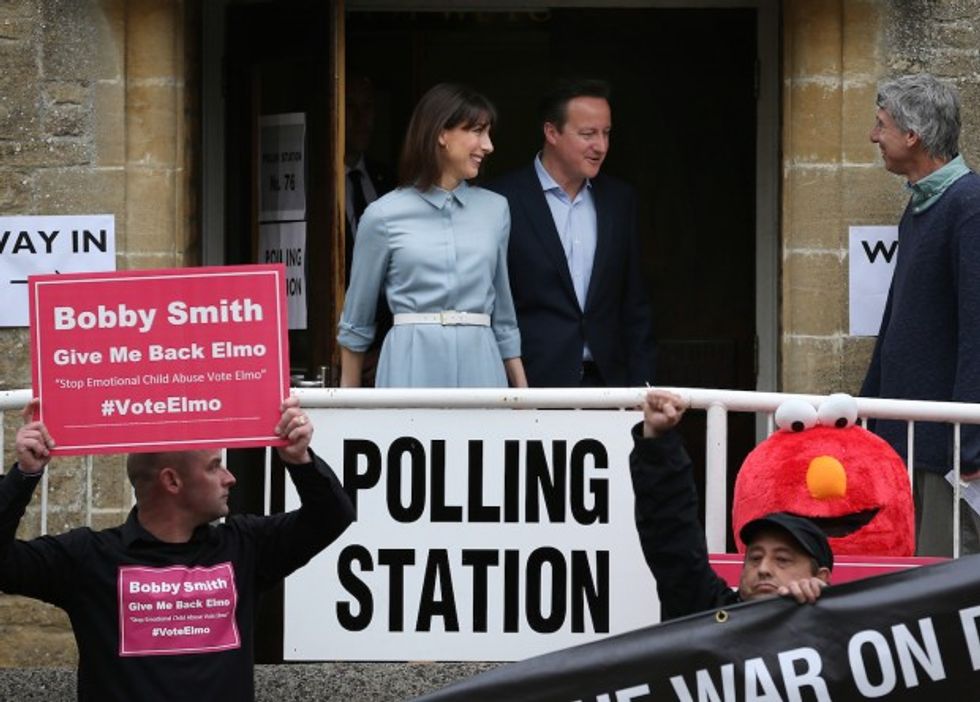 Prime Minister David Cameron and his wife Samantha pass demonstrators as they leave a polling station after casting their vote in the general election on May 6, 2015 in Spelsbury, England. (Photo by Peter Macdiarmid/Getty Images)
The survey was conducted by pollsters GfK and Ipsos MORI for Britain's broadcasters and released as polling stations closed at 10 p.m. (2100 GMT). The first results from around the country were due before midnight.
The exit poll projected that the Conservatives would get 316 seats — up from 302 and far more than had been predicted — and Labour 239 — down from 256. The Liberal Democrats would shrink from 56 seats to 10, and the Scottish National Party would grow from six to 58.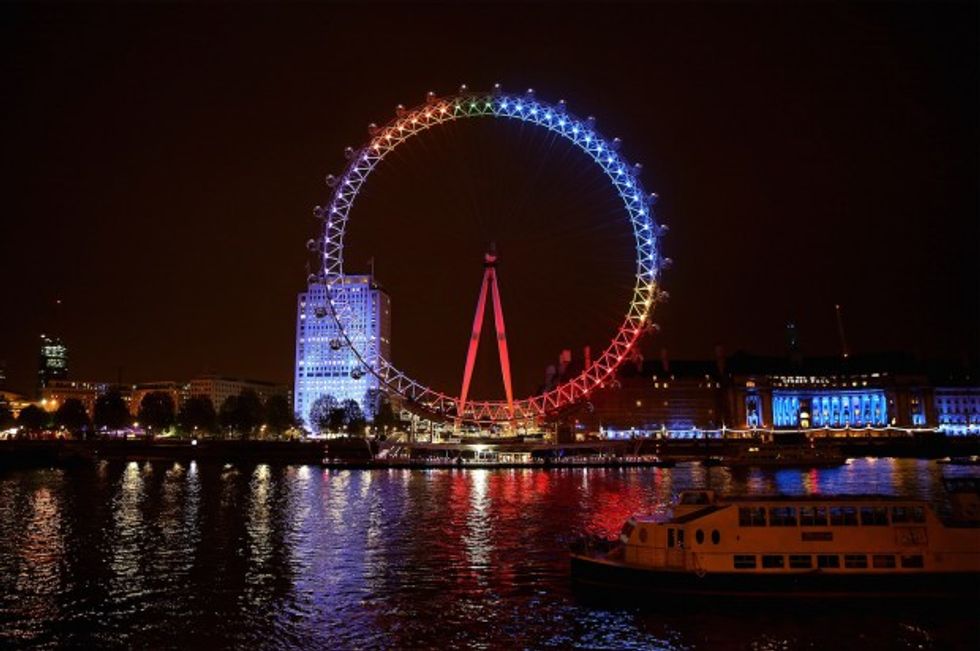 Facebook lights up the London Eye with the nation's general election conversations. On Election Day, the London Eye shows discussion of the main political parties on Facebook at London Eye on May 7, 2015 in London, England. (Photo by Tim P. Whitby/Getty Images for Facebook UK)
If the exit poll is accurate, the Conservative Party would be in a commanding position to form the next government by seeking coalition partners from smaller parties.
Cameron's Conservatives and Ed Miliband's Labour Party had both seen support fall as voters turned elsewhere — chiefly to the Scottish Nationalists, who will dominate north of the border, and the anti-immigrant U.K. Independence Party. UKIP ran third in opinion polls but Britain's electoral system means it can win at most a handful of seats.
Across this nation of 64 million people, voters streamed to schools, churches and even some pubs for a say in their country's future.
"This is the most exciting election I can remember," said Lesley Milne, 48, from Glasgow, who supports the Scottish National Party. "It's time to shake up the politicians in London and the SNP are the people to do it."
The carefully stage-managed campaign lacked impromptu drama. But television debate appearances in which the public put questions directly to the politicians made plain that many distrust promises to safeguard the economy, protect the National Health Service from severe cutbacks and control the number of migrants from the European Union.
Cameron and Miliband were both up early to vote. The prime minister voted in his Oxfordshire constituency with his wife, Samantha, while Miliband cast his ballot alongside his wife, Justine, in northern England. Liberal Democrat leader Nick Clegg, the deputy prime minister in Cameron's government, walked hand-in-hand with his wife Miriam to the polls in the city of Sheffield.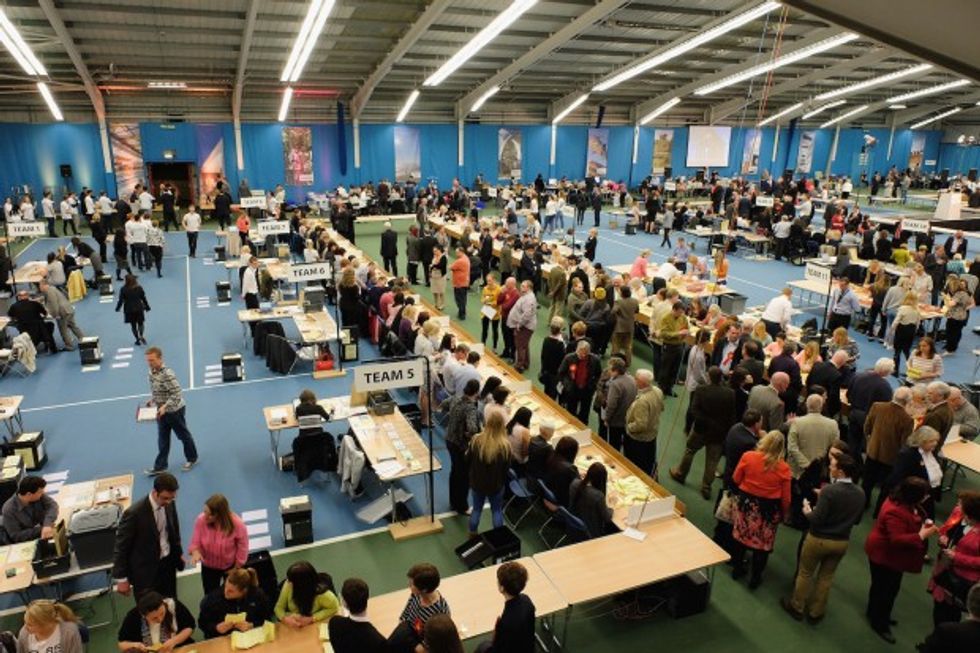 The count is well underway at Sunderland which for the five past elections has been the first to count the votes and declare its winners on May 7, 2015 in Sunderland, England. (Photo by Ian Forsyth/Getty Images)
Britain's economy — recovering after years of turmoil that followed the 2008 financial crisis — was at the core of many voters' concerns.
In one of London's poorest communities, Whitechapel, home to a large ethnic minority population, voters struggling in the wake of the worst recession since the 1930s wanted a change in leadership.
"The first priority is the economy, the second one is creating more jobs, and the third is living expenses — they're going higher and higher," said Shariq ul-Islam, 24, a student from Whitechapel's large Bangladeshi community.
[sharequote align="right"]"The first priority is the economy, the second one is creating more jobs..."[/sharequote]
Just a few minutes away is the City of London, the traditional financial district where many bankers earn salaries that their Whitechapel neighbors can only dream of.
Here, Christopher Gardner, a 34-year-old finance industry official, had trust in the Conservatives.
"There are some issues that have been caused by austerity previously — they're the only people that I'm confident will resolve that," he said.
In Scotland, voters turned out in droves, with lines at polling stations and a large turnout in the capital, Edinburgh.
About 50 million people were registered to vote, and turnout appeared to be high across the United Kingdom's four parts — England, Scotland, Wales and Northern Ireland. There was an excitement about taking part — if only for the pleasure of being involved in a big national event.
Many used social media to spread the news that they had voted. Facebook said that for the first time in a British general election, users have access to the "I'm a Voter" button. More than 1.3 million people had used it as of Thursday morning.
Dogs and other creatures also featured on polling day. The hashtag #DogsAtPollingStations was one of the top 10 trends in Britain on Twitter, where many people posted fun photos of pups they took to — or spotted — at polling stops.
.@independent front page: "Shock exit poll points to Conservative victory" #GE2015 http://t.co/2j6NgvwYmx

— Andrew Peng (@Andrew Peng) 1431035320.0
.@DailyMailUK front page: "CAMERON 'HEADING BACK TO NUMBER 10'" #GE2015 http://t.co/Wh1igv9LQV

— Andrew Peng (@Andrew Peng) 1431034885.0
It's not just canines that offered a talking point on election day, when British broadcasters are banned from reporting on political news until polls close.
At the polling station where Miliband cast his vote, someone brought along a black lamb on a leash. Another voter linked an image of a horse, together with a woman in equestrian gear exiting the polling station.
Denmark's prime minister also popped into a British polling station — though she wasn't voting. Helle Thorning-Schmidt was in South Wales to support her husband, Stephen Kinnock, a Labour Party candidate for the constituency of Aberavon.
A video posted on YouTube showed the couple emerging from a polling station after Kinnock, the son of former Labour leader Neil Kinnock, cast his vote.
Asked how it felt to have a husband sitting in the parliament of another country, Thorning-Schmidt said she was happy for him because he worked hard campaigning.
"I don't know anyone who works as hard as Stephen," she said. "Today I am simply proud."
Asked how they would celebrate his win, she said: "Let's wait and see how things go today, but we will be very tense."
—