Neighbors in one Florida town are becoming disturbed by a small drone that keeps zooming around their property without their permission.
"It's like Terminator 2," one of the neighbors said in a video shot of the drone sent to WKMG-TV.
"Right, it's coming after us," a man in the video said.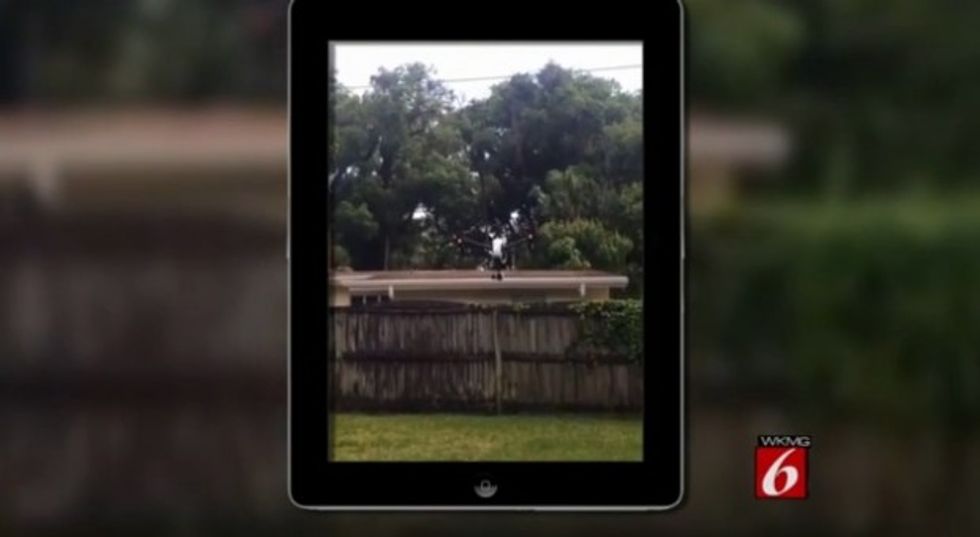 Image source: WKMG-TV
Jennifer Doran, another person who has seen the flying craft three times in Winter Park, Florida, told the news station that she saw the drone when she got out of her car above one of her garden flowers.
Doran expressed that residents are nervous the drone is taking video of them without their permission.
"We probably, in the last month, have seen every couple days a different drone," Doran told WKMG. "Like, it was just looking right at me. They're recording children in bathing suits or they're recording the teenager across the street, who lays out in her front yard in her bikini. It's unsettling. Kids can't be kids without someone flying over and taking pictures or recording them and you don't know if they're using it for malicious purposes. You don't know if it's going to appear on the Internet, appear in some pictures somewhere. You just don't know and that's really disturbing."
Watch WKMG's report:
video platformvideo managementvideo solutionsvideo player
Eventually, the pilot of the aircraft was tracked down.
The news station went to the unidentified man's home and spoke with his roommate who said when he is flying, you can see a stream of video coming in from the drone. He didn't know if it was recorded though or just a live stream.
In an emailed statement to WKMG, the drone pilot said it was a hobby he did for "personal, recreational enjoyment." He added that he was lawfully operating the device.
The news station went on to note that according to the Federal Aviation Administration's laws, as long as he is flying below 400 feet and not for commercial purposes, he is in compliance.
Here's more on the FAA's laws for recreational drone use:
Fly below 400 feet and remain clear of surrounding obstacles

Keep the aircraft within visual line of sight at all times

Remain well clear of and do not interfere with manned aircraft operations

Don't fly within 5 miles of an airport unless you contact the airport and control tower before flying

Don't fly near people or stadiums

Don't fly an aircraft that weighs more than 55 lbs

Don't be careless or reckless with your unmanned aircraft – you could be fined for endangering people or other aircraft
A bill that could be signed by Gov. Rick Scott though would make it illegal to take video or pictures of private property or people without consent.
Aviation attorney Timothy Ravich said that a case could be made that the drone is trespassing at this point.
"Trespass as defined under Florida law is invasion of someone's personal property without their consent, so that's sort of an easy definition to more or less apply," Ravich said, according to WKMG, noting that a reasonable amount of personal airspace would be about 400 feet above one's property and hobbyist drones are required by law to fly below that level.
—
From page image via Shutterstock.