State troopers trail every governor's movements for protection, even when that movement is in another state, entirely for political reasons — say, Iowa or New Hampshire. In some states, the issue of taxpayer dollars spent guarding presidential stump speeches has been prickly.
Wisconsin Gov. Scott Walker's political action committee announced it would cover travel expenses for Walker, including the state police that accompany him. Other governors simply say state police are required by law to guard them wherever they travel.
One Democratic contender, who left the statehouse this year, didn't have any real presidential travel under his belt while in office. Another large state is considering a change in the law to force future White House seekers to reimburse the state treasury.
No incumbent governor or recent ex-governor has formally declared their candidacy for 2016, but several have made their intentions clear (that's not including former Republican Govs. Mike Huckabee of Arkansas and Jeb Bush of Florida, both of whom left office in 2007 and would have no overlapping campaign activity for the 2016 cycle.)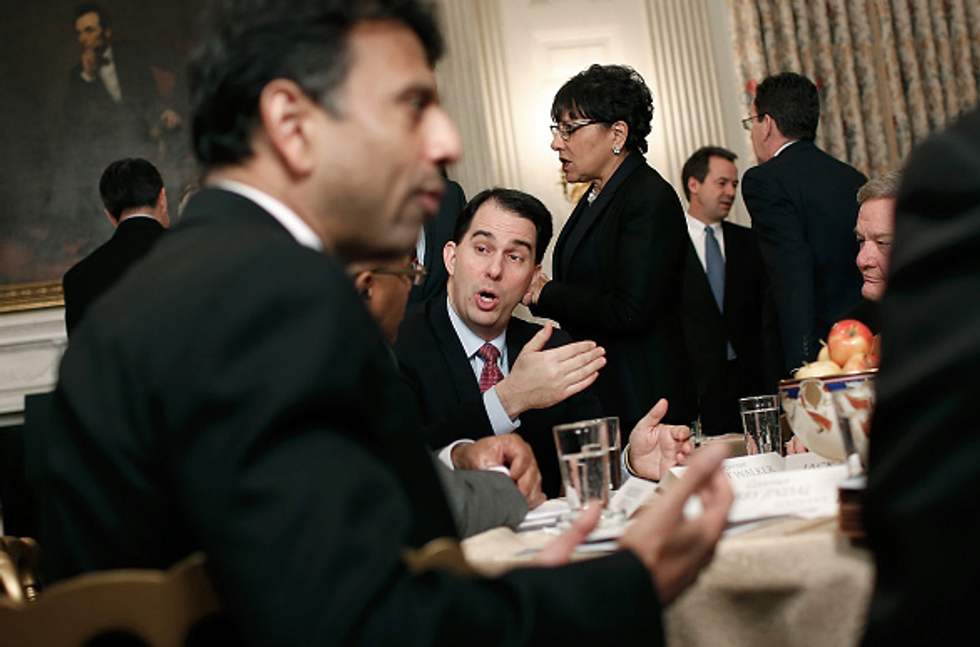 Wisconsin Gov. Scott Walker and Louisiana Gov. Bobby Jindal converse with fellow state governors at a meeting of the National Governors Association at the White House, Feb. 23, 2015 in Washington. (Win McNamee/Getty Images)
TheBlaze asked several governors and recent ex-governors who have signaled their intentions to run for president whether their respective states are covering the cost of their political travel, with expenses such as lodging and flights, and whether they'll reimburse their states for mandatory security costs.
Scott Walker
"Taxpayers are not paying any part of the governor's Our American Revival travel," said AshLee Strong, a spokeswoman for Walker's PAC. "Additionally, Our American Revival is paying for all hotels, flights, rental cars and any other travel expenses for the troopers when they are on political trips."
Wisconsin taxpayers will still cover the salary costs for the state troopers accompanying Walker out of state, but Walker's PAC will reimburse the state for the troopers' travel, Strong said.
Bobby Jindal
Louisiana Republican Gov. Bobby Jindal caused a bit of a stir recently after reports that the state spent $2.2 million on travel expenses related to his protective detail in the last fiscal year, up from $1.6 million in 2008 when Jindal took office, the Associated Press reported.
"The state does not pay for the governor's unofficial travel," Mike Reed, a spokesman for the Louisiana governor's office, told TheBlaze in a written response.
On the question of reimbursing police, Reed said it's up to security to decide when and where to go in guarding the governor.
"The state police has a legal duty to provide protection," Reed said. "As far as how, when, and where they do that – that's up to them. The governor trusts them to do their job – and he is grateful for their service."
Lincoln Chafee
Lincoln Chafee, the former Rhode Island governor running for the Democratic presidential nomination, did not visit early primary states while serving in the office from 2011 to 2015, at least not for campaign purposes, his spokeswoman said.
"Governor Chafee did not visit Iowa while in office. He attended one New England governor's meeting in Bretton Woods, New Hampshire," Chafee spokesman Debbie Rich told TheBlaze.
AP
The conference was a meeting of New England governors and premiers from eastern Canada in July 2014. Rich said Chafee did not engage in campaign activity while in office.
Martin O'Malley
The only other former Democratic governor expected to enter the presidential race, Martin O'Malley of Maryland, has faced some scrutiny for spending $137,000 in the past fiscal year on out-of-state travel, according to NBC News 4 in Washington. All of that was used for his security detail as O'Malley made at least 23 trips outside of Maryland in fiscal year 2014, including to Iowa, New Hampshire and South Carolina.
O'Malley's fundraising group, O'PAC, did not respond to multiple phone and email inquiries from TheBlaze.
Chris Christie
Beyond planning his own likely presidential campaign, New Jersey Gov. Chris Christie was also the chairman of the Republican Governors Association in a year with several high-profile competitive gubernatorial contests.
The state of New Jersey spent $492,420 in the last year and $1.15 million over Christie's time in office for the Executive Protection Unit to guard the governor while he traveled throughout the country, according to a Watchdog.org analysis.
"These are the same standards and practices that every other former governor has followed when it comes to their security detail," Christie spokesman Kevin Roberts told TheBlaze.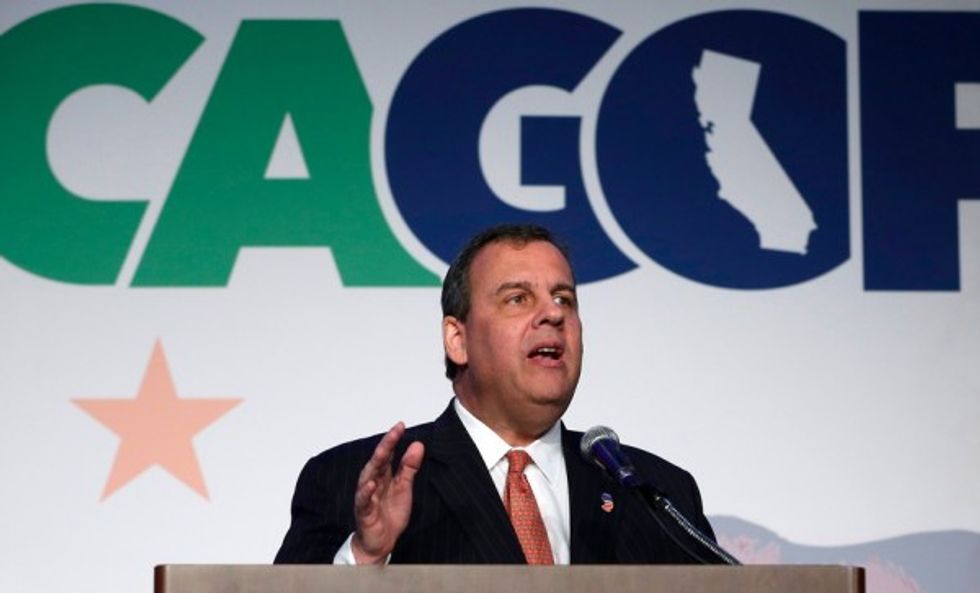 AP/Rich Pedroncelli
Roberts referenced comments from Christie in 2012 when the governor was asked about the cost to taxpayers for out-of-state travel. Christie said then that he doesn't have a choice in whether the state police travel with him.
"No more than when I go on vacation should I have to pay for them personally, should a campaign or political party have to pay for my protection, which is not determined by me or by the campaign but is determined by the policies of the state police based upon the threat matrix they're looking at, at the time regarding my personal safety and what they believe is the professional law enforcement approach to it," Christie said in 2012.
Rick Perry
Texas lawmakers are considering a change in the law to force state officeholders to reimburse the state treasury for political travel.
This comes after the Texas Tribune reported the state spent an average of $1 million a year on former Gov. Rick Perry's out-of-state travel since he began a failed presidential campaign in 2011, until his final year in office in 2014. Perry is weighing another run for the White House in 2016.
"If you're going to have conservative government, but you've got a security detail, and travel expenses for that security detail [are] picked up by the state, and it's strictly political activity, there's no value for the state," state Rep. Lyle Larson, a San Antonio Republican who sponsored the bill, told the Tribune. "Then they should reimburse regardless of what party affiliation."
Perry received the same type of protection as previous administrations. Travis Considine, spokesman for RickPAC, said he thinks it's "unfortunate" that personal security for a governor would be an issue.
"Taxpayers did not pay for Governor Perry's political travel," Considine told TheBlaze.
"For 14 years, Rick Perry was governor of Texas no matter where he went," Considine said. "The Department of Public Safety has a policy of providing security for governors and their families everywhere they travel, as they have done for several administrations. It's unfortunate that we live in a world where security is an issue, but the governor appreciated the men and women who protected him and his family during his service to our state.
John Kasich
Another governor strongly hinting at running is John Kasich of the pivotal swing state of Ohio. Kasich's office did not respond to repeated phone calls and emails from TheBlaze.
In April, Kasich's supporters established the group New Day for America to raise money and cover the governor's travel to New Hampshire, Iowa and other states.
Earlier this year, the Associated Press reported that the state covered the $3,462 cost for Kasich to travel to Washington for Israeli Prime Minister Benjamin Netanyahu's speech to Congress, but there have otherwise been few political dustups over Kasich's out-of-state trips.