Three years ago, Melissa Dohme lay on the pavement in front of her Florida home, soaked in blood. She had been stabbed 32 times by her ex-boyfriend.
One of the first responders who arrived on the scene was Cameron Hill, a firefighter and paramedic. "It was so bad," Hill recalled in 2013, "you couldn't tell she was blond."
He helped load Dohme onto a helicopter, and then, he said, he felt a "sixth sense." He knew it wouldn't be the last he saw her.
Monday night, he proposed to her at the pitcher's mound at a Tampa Bay Rays game.
When Melissa Dohme was attacked by an ex-boyfriend in 2012, an EMT named Cameron Hill came to her rescue and helped save...

Posted by Tampa Bay Rays on Monday, May 11, 2015
Dohme, now an advocate for survivors of domestic abuse, was preparing to throw out the first pitch when out ran a man to hand her the ball. It said in ink: "Will you marry me?" Hill got down on one knee and opened up a small box.
She said yes, they kissed — and then she threw the pitch to her new fiancé.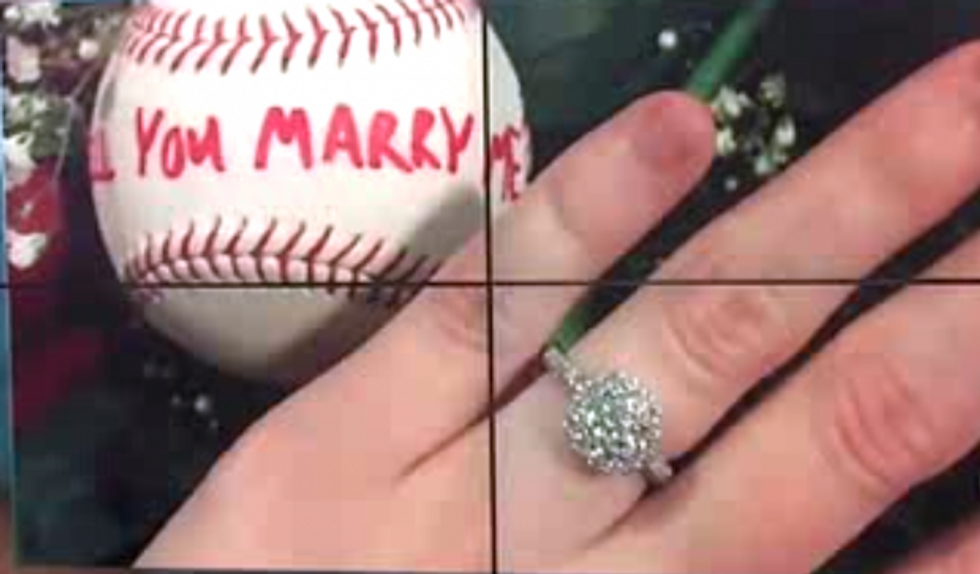 Image source: WFTS-TV
Dohme was stabbed in the face, back, arms and shoulders. She spent three weeks in the hospital after that horrific night, the Tampa Bay Times reported. She suffered a stroke and a severed nerve that affected her balance and partly paralyzed her face. But she walked out of rehab on her own, traveled the world, and went back to school to become a nurse.
She and Hill reconnected 10 months after her attack, when she spoke at a Clearwater church. Initial awkwardness gave way to feelings of love. Pretty soon, they were inseparable.
Dohme's ex-boyfriend, Robert Burton Jr., pleaded guilty to attempted murder and is serving life in prison.
Dohme told the Tampa Bay Times in 2013, "When I look back on that night, I can't think of it as all bad anymore because I met Cameron."
"He's the one I've been waiting for. My fairy tale."
(H/T: Washington Post)