South Korea's spy agency went back slightly on its statement that North Korea had killed its defense chief for falling asleep during an event attended by Kim Jong Un, saying shortly afterward that he perhaps was just purged.
At the original news from the Seoul's National Intelligence Service reporting the execution of Hyon Yong-chol by anti-aircraft gun, the Associated Press noted that it had a spotty track record when it came to accuracy of information regarding the happenings in secretive North Korea.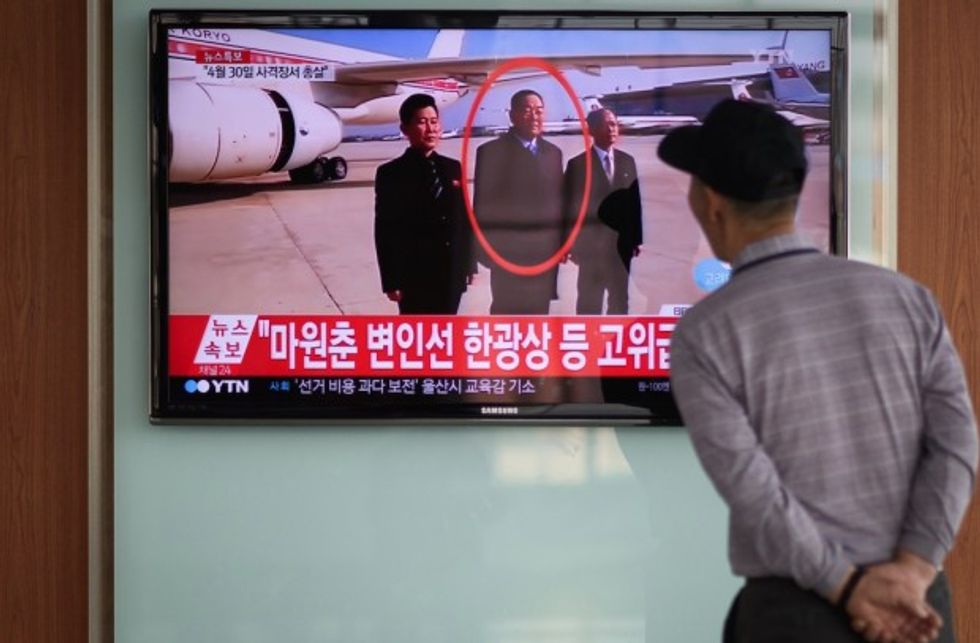 A man watches a television showing news coverage of the reported execution of North Korea's defence minister Hyon Yong-Chol, at a railway station in Seoul on May 13, 2015. North Korean leader Kim Jong-Un has had his defence minister executed with anti-aircraft fire for insubordination and dozing off during formal military rallies, South Korean intelligence said, hinting at possible instability in the Pyongyang leadership. (ED JONES/AFP/Getty Images)
South Korean lawmaker Shin Kyoung-min told ABC News that he had his doubts about Hyon's execution as well.
"We've seen Hyon even yesterday on TV. If North Korea really executed their number-two man in charge of defense, they would make sure he disappears on every single program. That's definitely their style," he said.
Shortly afterward, NIS said it could at least confirm he was "purged."
"We do have intelligence information that he had been killed by gunfire but that is yet to be verified," a spokesman for the NIS told ABC News, clarifying its earlier statement.
Cheong Seong-chang with the Sejong Institute told ABC this latest backpedalling calls into question the reliability of information coming from NIS.
The Korea Herald said Kim Jong Un's purges since he took office could show that his power is weakening.
"Purges and executions could take place against those including technocrats who might have raised questions over the viability or feasibility of Kim's economic and other projects that he has dogmatically pushed for," Chang Yong-seok at Seoul National University told the Korea Herald. "Kim might have felt a sense of inferiority and growing pressure to press with them and make them successful. Thus, he might have eliminated those who looked skeptical of his initiatives," he said, noting that doubts might be emerging among the power elites over Kim's handling of state affairs."
(H/T: UPI)