Update: The spy agency in South Korea later clarified that its intelligence had not verified the North Korean defense chief's execution, but confirmed he was "purged."
Original story follows. 
—
SEOUL, South Korea (TheBlaze/AP) — South Korea's spy agency says it has information that North Korea executed its defense chief for sleeping during a meeting and talking back to young leader Kim Jong Un.
Lawmaker Shin Kyoung-min said the National Intelligence Service told a closed-door parliamentary committee Wednesday that People's Armed Forces Minister Hyon Yong Chol was executed in Pyongyang in late April.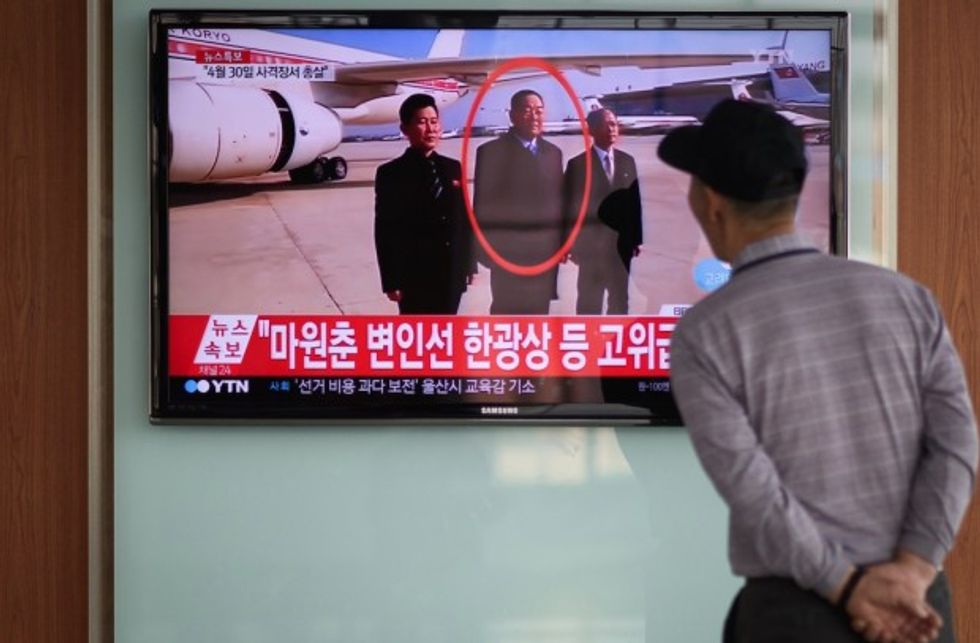 A man watches a television showing news coverage of the reported execution of North Korea's defence minister Hyon Yong-Chol, at a railway station in Seoul on May 13, 2015. North Korean leader Kim Jong-Un has had his defence minister executed with anti-aircraft fire for insubordination and dozing off during formal military rallies, South Korean intelligence said, hinting at possible instability in the Pyongyang leadership. (ED JONES/AFP/Getty Images)
The intelligence service told lawmakers that Hyon was killed by an anti-aircraft gun.
"The NIS official said it had been confirmed by multiple sources," Shin Kyoung-min told Reuters, adding that "it is still just intelligence, but he said they were confident."
NIS didn't tell lawmakers how it got the information and wouldn't comment when contacted by the Associated Press.
Kim Jong Un has orchestrated a series of purges since taking power in late 2011, among them were reportedly that his uncle and an ex-lover. Reuters reported that other executions, according to NIS, included 15 officials this year.
Watch Reuters' report:
South Korea's spy agency has a spotty record of tracking developments in North Korea. Information said about the secretive, authoritarian state is often impossible to confirm.