An education organization that advocates for responsible Hollywood entertainment is taking direct aim at McDonald's, accusing the fast-food chain of supporting the sexual exploitation of children on television via the company's recent sponsorship of the cartoon "Family Guy."
The Parents Television Council released a statement on Thursday that calls for McDonald's to "stop sponsoring TV programming with jokes about sexually exploiting children," urging the public to reach out to the company to voice their frustrations. 
At the center of the complaint is the fact that the 250th episode of Fox's popular cartoon "Family Guy" reportedly joked about bestiality, pedophilia and date rape, thus McDonald's sponsorship — which has reportedly been ongoing throughout the current TV season and has unfolded during past seasons — is seen by the Parents Television Council as entirely inappropriate.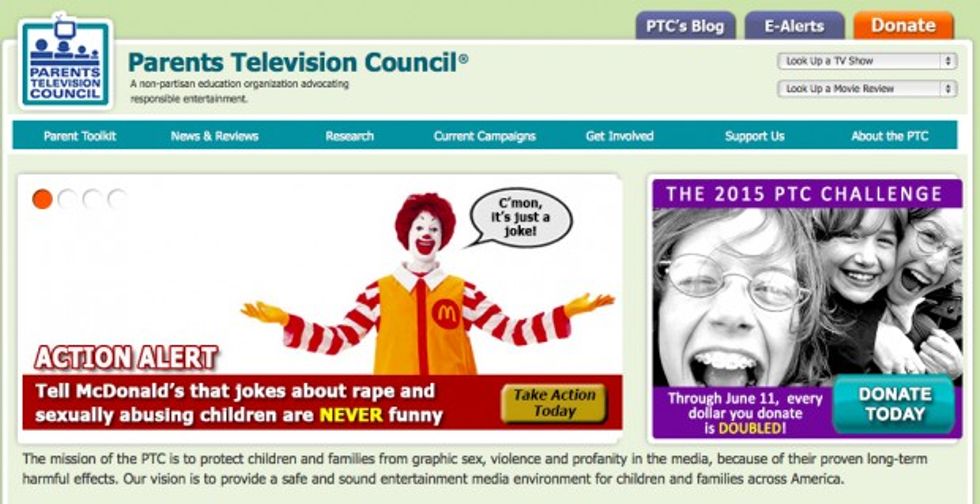 A screen shot from the Parents Television Council website
"The maker of Happy Meals is underwriting jokes about statutory rape, date rape, and other sexually exploitative content on a prime-time broadcast television cartoon watched by millions of children," Parents Television Council president Tim Winter said in a statement. "And McDonald's executives are struggling to understand why their sales are dropping? Ray Kroc must be spinning in his grave."
Winter said that McDonald's is a family friendly brand and should disassociate with shows that are seen as being harmful to kids, claiming in a press release that "more than half a million children watched 'Family Guy's' 250th episode."
The Parents Television Council has setup a website that allows parents to send the following form letter to McDonald's' CEO Deborah Wahl:
Dear Ms. Wahl:

I am disturbed to see McDonald's ads appearing once again on episodes of Fox's Family Guy; especially in light of your recent promise to move McDonald's marketing in a more positive direction.

Ms. Wahl, in announcing McDonald's new marketing strategy, you yourself said that McDonald's is moving from a philosophy of "billions served" to "billions heard," but it seems you still haven't heard the voices of hundreds of thousands of concerned moms, dads, aunts, uncles, and grandparents who don't want children exposed to messages like those above. You still haven't heard the voices of the more than 90% of Americans who believe there is too much sex and profanity on television.

The environment in which a message runs in part of the message. If you want McDonald's to inject more "positivity" into its advertising and marketing, you're not going to get there by paying for jokes about date rape and child sexual predation.

Content like that seen on Family Guy does not reflect well on the McDonald's brand, and continued association with this kind of content will make me think twice about doing business with McDonalds.

Thank you
Read more about the McDonald's debate here.
This isn't the first time that the Parents Television Council has gone after McDonald's for buying commercial time during "Family Guy."
In 2013, the organization lambasted the fast-food company for buying time during an episode in which a pedophile said, "Hey, Ma. We got any pictures of me when I was a kid? Maybe something in a tub?," according to the International Business Times.
Winter also penned an open letter to McDonald's decrying its advertising policies in January 2014.