Glenn Beck on Tuesday slammed New York City Mayor Bill de Blasio's progressive "contract with America" -- which includes a $15 an hour minimum wage and a universal pre-kindergarten program -- as a "kill all small businesses" plan.
"Bill de Blasio is thinking about running for president of the United States, I don't know if you know that. Fabulous!" Beck said with heavy sarcasm on his radio program. "There is no way that minimum wage can be raised to $15 in small towns and survive. It would destroy Middle America. Just destroy us. ... Can you imagine what it would do even in New York City, where prices are already skyrocketed?"
Beck said raising the minimum wage would cause "massive unemployment," since employers could no longer afford to pay some of their employees' salaries, or it would force them to dramatically raise their prices to cover the additional cost.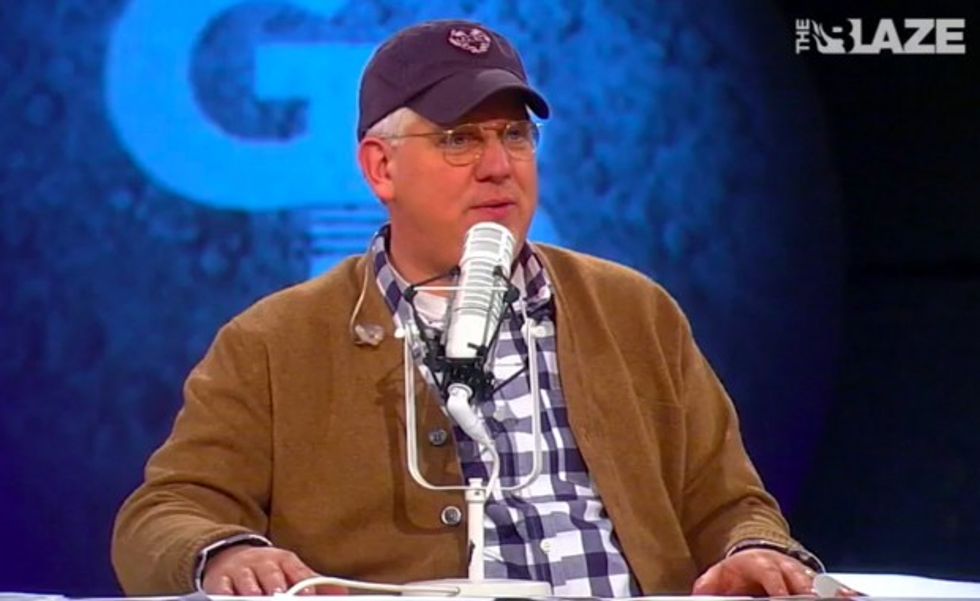 Glenn Beck speaks on his radio program May 19, 2015. (Photo: TheBlaze TV)
"Pass comprehensive immigration reform to grow the economy and protect the exploitation of low wage workers," Beck continued, reading more of de Blasio's proposal. "Are you crazy?"
"How does that grow the economy, by all of a sudden granting amnesty to 12 to 20 million people who are here?" Beck's co-host Pat Gray demanded. "It just makes it OK for them to be here completely and solidifies the fact that, you know, American citizens aren't going to have those jobs. I don't care American citizens of what color, they're not going to have those jobs."
Beck was skeptical that de Blasio has any real potential in the presidential field, but said there is a pull between the "full-fledged socialist" side of the Democratic party with Elizabeth Warren, and the "Marxist" side of the party with Barack Obama.
"She's full-fledged socialist. She would have us looking like Denmark overnight," Beck said. "He's a full-fledged Marxist revolutionary."
Beck continued reading from de Blasio's 13-point plan, stopping on the proposal for paid family leave. As Beck sees it, a company should attempt to accommodate employees in the event of an illness or emergency, but eventually, they also need someone doing the job of the person who is gone.
"Can you imagine how bad you would be if you fired somebody because their wife had cancer and was in the hospital? Nobody would want to do that!" Beck said. "But at some point you're like, I have to have a CFO. "
Since the government wouldn't be paying the salary of the employee who is away, or the person who is temporarily there to do their work, Beck noted that de Blasio's paid family leave proposal would be yet another expense that a small business owner likely couldn't afford.
"You can't make it. This is a 'kill all small businesses' plan," Beck concluded. "It's small business genocide."
[mlbvideo content_id=121739583]
The full episode of The Glenn Beck Program, along with many other live-streaming shows and thousands of hours of on-demand content, is available on just about any digital device. Click here to watch every Glenn Beck episode from the past 30 days for just $1!