If you're given to concerns that artistic content might offend Muslims, then a stage play titled "Muhammed Gets a Boner" might ring a few alarm bells.
Except that this play was part of an anti-censorship benefit in New York City.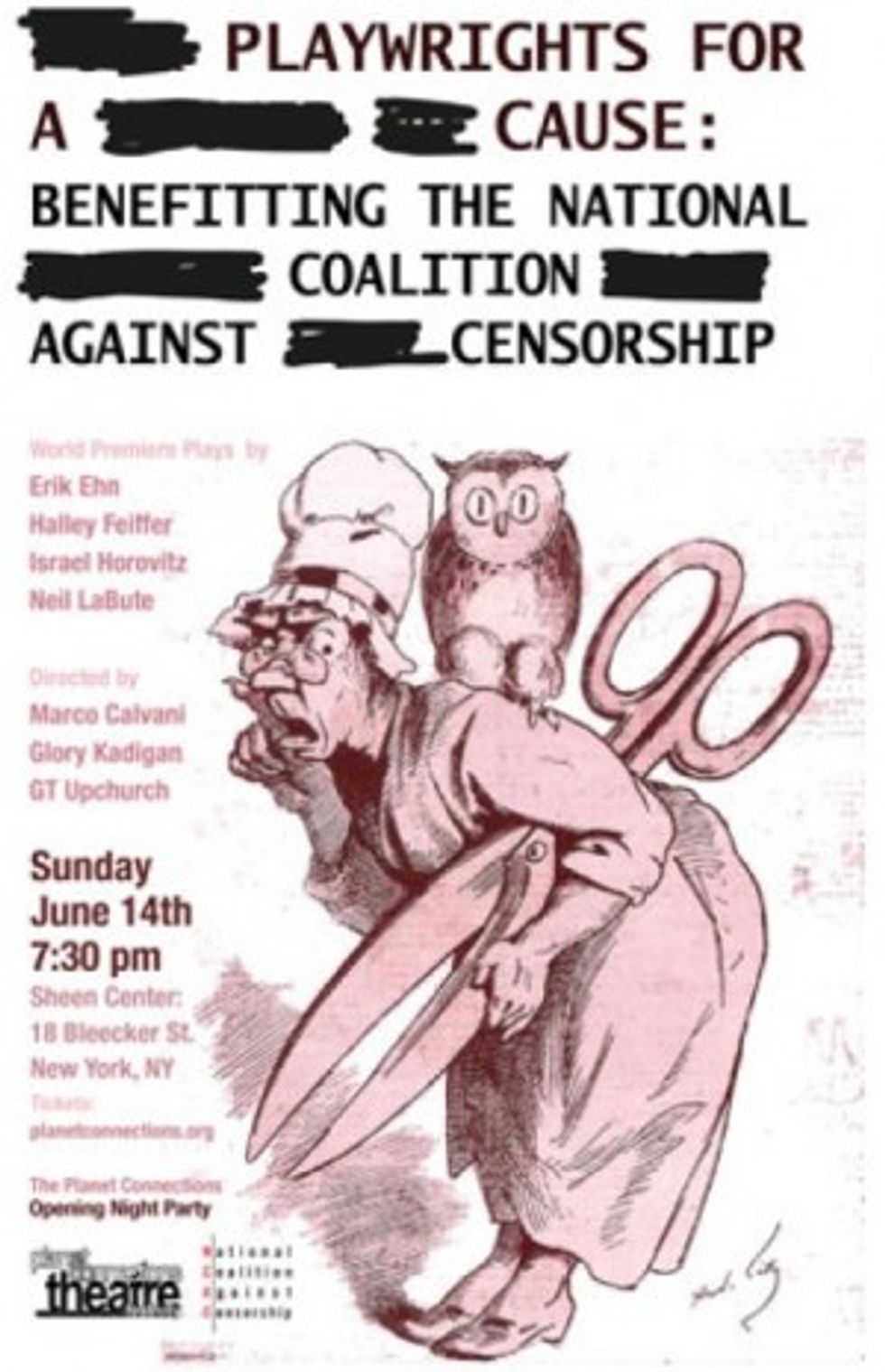 Image source: planetconnections.org
No matter, though — the Sheen Center shuttered the Playwrights for a Cause event for the National Coalition Against Censorship because of anti-Muslim concerns.
"When an artistic project maligns any faith group, that project clearly falls outside of our mission to highlight the good, the true, and the beautiful as they have been expressed throughout the ages," William Spencer Reilly, executive director of the Sheen Center, told the New York Times.
While the event contract was signed in February, Reilly only became aware of the play's title about a week ago; once he looked at the script, he told the Times, he chose to cancel the whole deal over the play's "clear offense to Muslims."
The year-old Sheen Center — funded by the archdiocese of New York and named for former Archbishop Fulton J. Sheen — "will not be a forum that mocks or satirizes another faith group," Reilly added.
The Times did not refer to the play's title in its story but did correspond with director Neil LaBute:
Mr. LaBute's one-person play, which was written for the event, is about an actor asked to perform in an offensive satire. A description posted online reads: "The prophet 'Mohammed' stands on a barren stage, recalling the first time he made love to a white woman. Is this reality or a theatrical convention? Where do the lines between 'satire' and 'censorship' intersect or is nothing sacred when it comes to the theater?"

The play's title refers to "Mohammed" as having an erection. In an email, Mr. LaBute said that the play did not depict "the actual prophet 'Muhammad' (spelled differently than my title)," but declined to say more, citing his desire to preserve the audience's sense of surprise.
The Sheen Center's decision didn't sit well with LaBute, who released the following statement:
"By design, this event was meant to shine another light on censorship and it was unexpected to have the plug pulled, quite literally, by an organization that touts the phrase 'for thought and culture' on their very website. Both in life and in the arts, this is not a time to hide or be afraid; recent events have begged for artists and citizens to stand and be counted and i sincerely hope that we will find a space that helps us do just that."
"The management of The Sheen Center actually suggested that we alter the title of Neil LaBute's play, and alter the content of some of our panelists' speeches," Glory Kadigan, artistic curator of Playwrights for a Cause, told Playbill. "Which we find completely out of line with the anti-censorship mission of the benefit."
[sharequote align="center"]"... The Sheen Center actually suggested that we alter the title of Neil LaBute's play ..."[/sharequote]
The event cancellation followed a thwarted terror attack outside a draw-Muhammad contest in Garland, Texas, earlier this month that raised furious debate over the essence and costs of free speech in America.
While the event has found a new home at the New York Theatre Workshop, LaBute decided that he shouldn't include his play.
"Unfortunately the event was starting to become all about my play and its title ..." he noted. "I had hoped my work would be viewed on its own merits rather than overshadow our message or become a beacon of controversy. I am honestly not interested in stirring hatred or merely being offensive; I wanted my play to provoke real thought and debate and I now feel like that opportunity has been lost and, therefore, it is best that I withdraw the play from Playwrights for a Cause."
LaBute has seen his plays — "In the Company of Men," "The Shape of Things" — turned into feature films; he also wrote and directed a number of movies, including "Your Friends & Neighbors" and "Nurse Betty." In addition, LaBute wrote "Bash: Latter-Day Plays" and was eventually disfellowshipped from the Mormon church.
(H/T: Mediaite)
—
Follow Dave Urbanski (@DaveVUrbanski) on Twitter