Update: Somerset Academy issued a written apology to Mackenzie Fraiser and will allow her to resubmit her assignment, according to the Liberty Institute. The apology read:
"After reviewing the facts of this particular situation, Somerset Academy recognizes that the teacher and assistant principal incorrectly implemented [Department of Education] guidelines….Somerset Academy of Las Vegas and its Administrators apologize for this advertent error. The student will be allowed to resubmit her original presentation, inclusive of her religious beliefs."
Original story is below.
--
When a sixth-grader was given an "All About Me" PowerPoint assignment that was intended to include details about her life and an "inspirational saying" of her choice she planned to share John 3:16 in an effort to illustrate the importance of her Christian faith — but she claims that her teacher wouldn't allow it.
The educator reportedly said that "Bible verses or quotations from the Book of Mormon" weren't permitted.
It wasn't until a few months later that Mackenzie Fraiser, 12, told her parents about the purported scripture prohibition after she was given a separate assignment about self-esteem by the same teacher at Somerset Academy near Las Vegas, Nevada.
The revelation came after her parents suggested she consider including a Bible verse in that latter assignment; she immediately informed them of her teacher's previous claims about not invoking scripture in the classroom.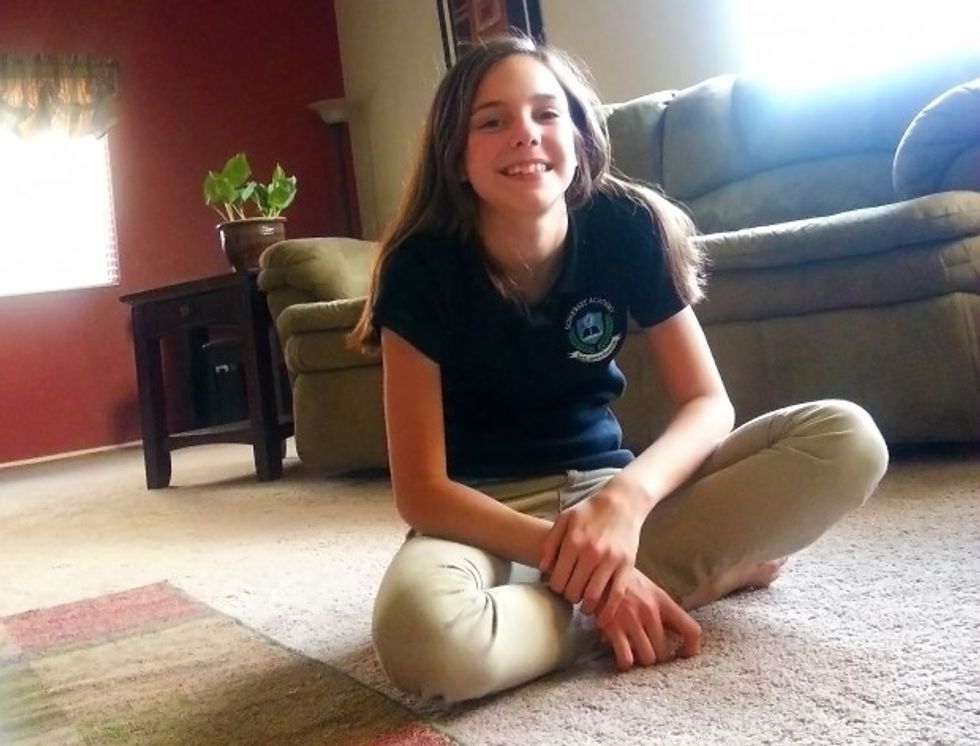 Mackenzie Fraiser is taking action after her teacher reportedly said she couldn't include a Bible verse in an assignment (Liberty Institute)
"We were talking about [that], as a Christ follower, she gets her self-esteem from being made in the image of God," Mackenzie's father Tim Fraiser told TheBlaze. "She was kind of leery if [she] had said anything about God [that she] was going to be in trouble."
Fraiser, the pastor of Grace Point Church in North Las Vegas, Nevada, said that he emailed the teacher, assuming that there had been a miscommunication — but then he received a response from the assistant principal at the public charter school that affirmed that his daughter's recollection of events was correct.
Here's Fraiser's initial email to the teacher:

Screen shot via Liberty Institute
And here's the reply sent by Jenyan C. Martinez, an assistant principal at the school: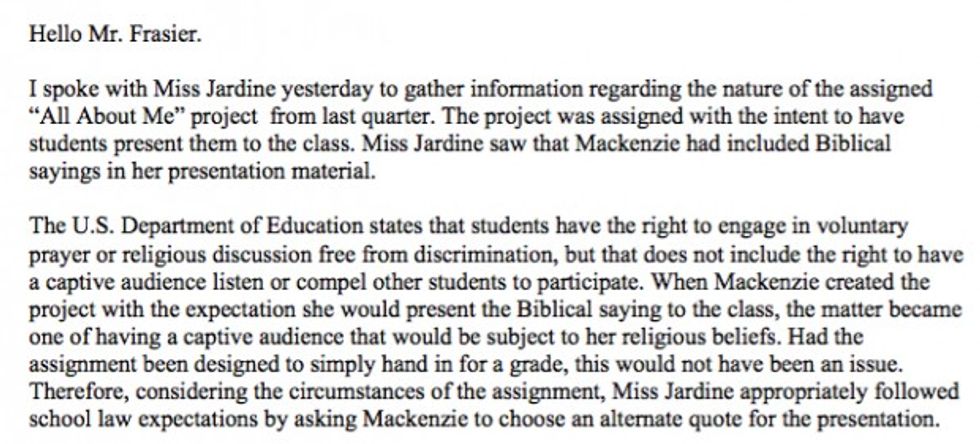 Screen shot via Liberty Institute
Liberty Institute attorney Jeremy Dys told TheBlaze that the law is very clear on the matter and that the teacher and assistant principal were in the wrong for precluding Mackenzie — or any other student for that matter — from including scripture in classwork.
"When students go to school they do not lose their First Amendment rights," Dys said. "It chilled her speech and, as such, what the school is teaching these kids right now is that it is wrong to reference their faith at school. If they don't apologize for this mistake ... then the lesson that these students will take away is that it is wrong to reference their faith in school."
The attorney said that he believes that the incident is likely a simple mistake and misunderstanding and that it will hopefully be remedied without the need to go to court. As for Mackenzie, Fraiser told TheBlaze that his daughter is "holding up very well" in light of the case.
"She's a very quiet girl, but she's also very strong," he said.
Somerset Academy told the Las Vegas Review-Journal in a statement sent through its charter school manager Academica Nevada that students' civil liberties are extremely important, and that the incident is under review.
"We strive to comply in every way with the directives set forth by the U.S. Department of Education with regard to religious expression in public schools," the statement read.
The Liberty Institute is seeking an apology for Mackenzie as well as the right for her to resubmit her initial assignment to be graded along with the scripture that she originally intended to include.