Legendary journalist Bob Woodward shot down the notion that President George W. Bush lied to get America involved in the Iraq War in 2003 — and strongly implied President Obama didn't make the right call by ordering the U.S. troop pullout.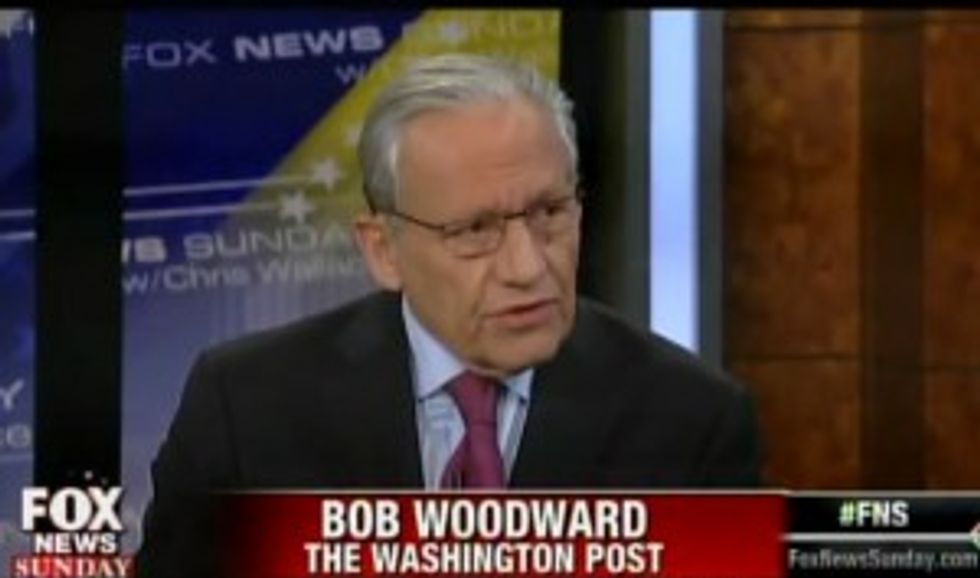 Image source: YouTube
Appearing on Fox News Sunday, the Washington Post icon and bestselling author noted that Bush made mistakes leading up to the war — but came down hard on the "line" saying Bush lied.
"I spent 18 months looking at how Bush decided to invade Iraq ... lots of mistakes, but it was Bush telling George Tenet the CIA director, 'Don't let anyone stretch the case on WMD.' And he was the one who was skeptical," Woodward told host Chris Wallace.
More from Woodward:
"And if you try to summarize why we went into Iraq, it was momentum. That war plan kept getting better and easier, and finally at the end people were saying, 'Hey, look, it'll only take a week or two.' And early on it looked like it was going to take a year or 18 months, and so Bush pulled the trigger. A mistake certainly can be argued, and there's an abundance of evidence. But there was no lie in this that I could find."
But as for Obama's decision to pull out all the troops from Iraq, Woodward strongly implied that he would have been better off following the military's advice by keeping 10,000 to 15,000 troops in Iraq "as an insurance policy."
"And we all know insurance policies make sense," Woodward added. "We have 30,000 troops or more in South Korea still, 65 years or so after the war. When you're a superpower, you have to buy these insurance policies, and he didn't in this case. I don't think you can say everything is because of that decision — but clearly a factor."
(H/T: The Gateway Pundit)
—
Follow Dave Urbanski (@DaveVUrbanski) on Twitter