The families of the 12 people still missing after a vacation home in Wimberly, Texas, was ripped from its foundation in the rapid flood waters of the Blanco River are coming to grips with what they think has happened while also hoping for a miracle.
Julie Shields got a call early Saturday morning from her sister Laura McComb.
"We are floating in a house that is now floating down the river," McComb told Shields, the sister recalling it to KXAN-TV. "Call mom and dad. I love you, and pray."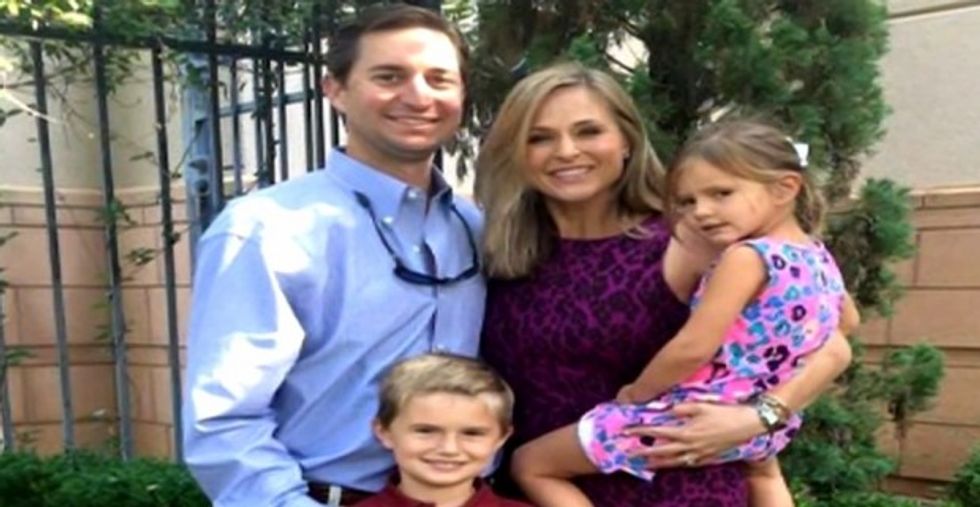 Jonathan McComb was rescued on the bank of the Blanco River, but his wife, Laura McComb, and two children, in addition to others who were in a house that was swept away, remain missing. (Image source: KVUE-TV)
Shields told the news station McComb said she saw a light from what she thought was rescue helicopter.
"And I just expected to go to Wimberley High School the next day and find her," Shields said. "When she wasn't there, I knew something was very, very wrong."
Shield's told KVUE-TV that her sister and others in the house didn't think it would get as bad as it did, and then it was too late.
Hays County Emergency Operations Center spokesman Trey Hatt said the "search" for the 12 people, which included adults and children from two families, was over Monday night, suggesting they didn't expect to find survivors. Recovery efforts resumed Tuesday.
McComb's husband, Jonathan McComb, was rescued and taken to a hospital in San Antonio with serious injuries.
"He is absolutely devastated. He did everything he possibly could to save them," Shields told KVUE. "What happened was the house slammed into a bridge and the house broke in two and they had all been in the house together holding hands but when the house hit the bridge and it separated, he got separated from everyone else."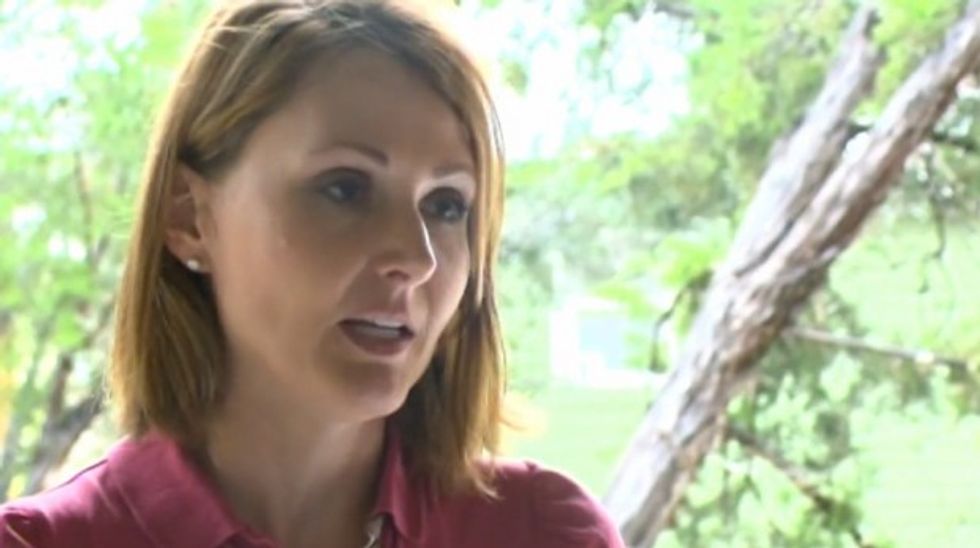 Shield's voice broke as she told the news station she and her family have begun to accept that her sister and her children are most likely gone. (Image source: KVUE-TV)
Laura McComb and her two children, 6-year-old Andrew and 4-year-old Leighton McComb, remain missing.
Though still holding out for a miracle, Shields told KVUE "we all know and we have accepted that they're gone."
In Houston, about 180 miles from Wimberly, the area's waterways continue to swell with several more inches of rain.
Mayor Annise Parker said at a news conference Tuesday morning that "we're on the alert for folks in their houses as the bayous continue to rise."
The National Weather Service said about 11 inches of rain fell in six hours in parts of southwest Houston.
Watch this aerial footage of the flooding in the city:
Authorities said three people have died in Harris County, Texas — which includes Houston — and between 500 and 700 homes have sustained some level of damage.
Houston METRO canceled its morning transit services, and Harris County district courts canceled morning jury service. Storms also knocked out power in parts of the city.
About 20 school districts in the area were either closed or had delayed opening.
—
The Associated Press contributed to this report.