End of year shows staged at several kindergartens in the West Bank and Gaza featured the small children dressed as terrorists, complete with military fatigues and waving toy machine guns as props.
Israel Radio's Palestinian affairs reporter Gal Berger posted some images being shared among Palestinians.
גן ילדים בעזה. טקס סיום שנה. לא הביאו עוגה אבל היתה הפעלה pic.twitter.com/27kMEgKgwp

— Gal Berger גל ברגר (@galberger) May 24, 2015
Berger wrote, "They didn't bring a cake but they had an activity."
The images were incongruous, on the one hand festive balloons and streamers and even a pink bunny, and on the other, the kids in camouflage striking militaristic poses such as this set of photos from Ramallah:
ארנב ורוד. גן ילדים בעין עריק (אזור רמאללה) https://t.co/cFjX22WArdpic.twitter.com/0cXGZRAGGF

— Gal Berger גל ברגר (@galberger) May 25, 2015
In one scene, the children were stretched out flat on the ground with their guns as if waiting to ambush.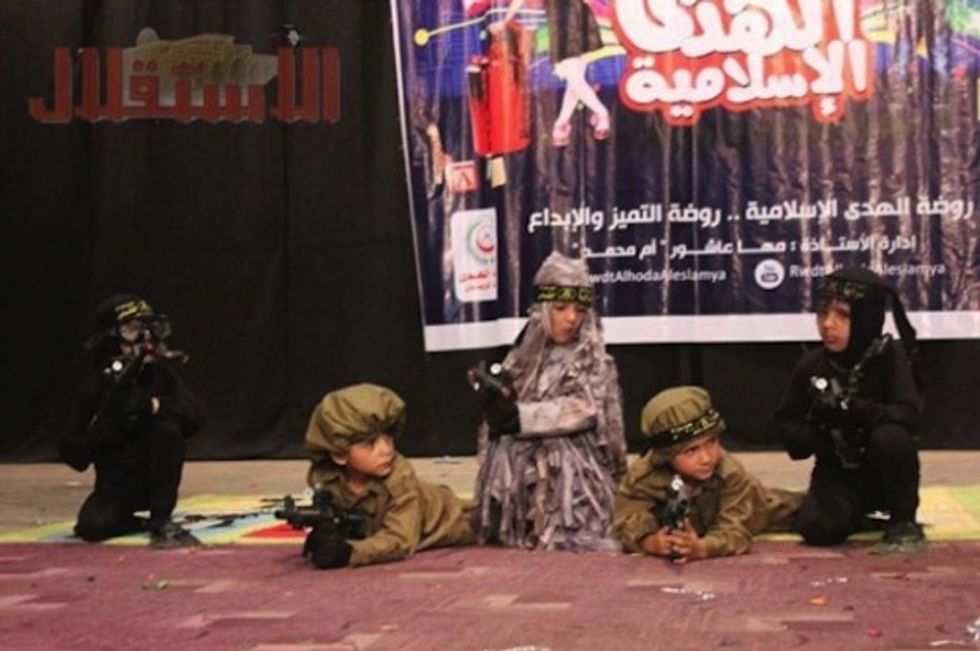 One part of the dramatization had the kids waiting in ambush for their victims. (Image source: Twitter)
The Palestinian Shehab News Agency noted that the graduation ceremony was meant to simulate military training "in support of the resistance."
"Resistance" is a term used by Palestinians to describe violent acts against Israelis, including firing rockets and suicide bombings.
The pro-Israel group Stand With Us wrote on Facebook, "Child abuse through a kindergarten play? … The indoctrination of hatred seems to begin younger and younger with every tragic story like this one."
Israellycool, a pro-Israel blog, remarked (referring to the possibility they might one day become suicide bombers), "They blow up so quickly."
(H/T: Israellycool)